Monaco vs Arsenal preview: Gunners could not cope in 3-1 defeat, admits Per Mertesacker
Arsenal face the weight of history in trying to overturn a home deficit from the round of 16 first leg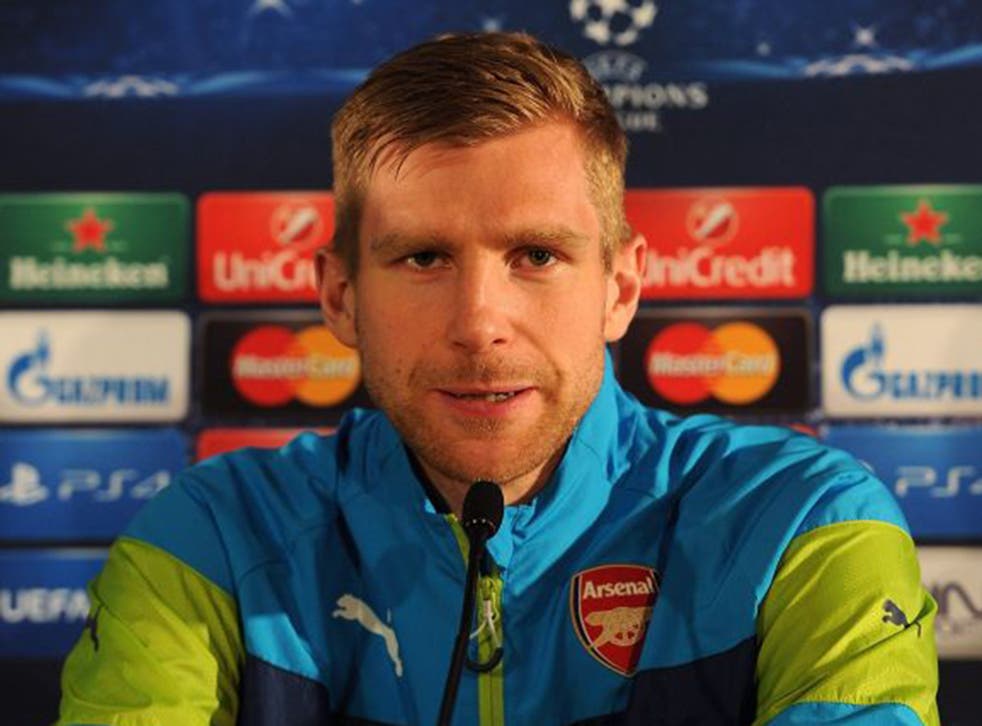 Per Mertesacker has admitted that the Arsenal "couldn't cope" with the pressure in their first leg 3-1 defeat at home to Monaco last month as they try to cling on to their Champions League lives in the principality tomorrow.
Arsenal face the weight of history in trying to overturn a home deficit from the round of 16 first leg, something no club has managed to do in the competition's new post-1992 format and Mertesacker's admission revealed just how much the side struggled at the Emirates. Wenger is without Tomas Rosicky, still suffering from a sickness, and Alex Oxlade-Chamberlain, but Gabriel Paulista comes back into the squad.
Mertesacker said: "That is a mental thing for [the second leg]. We know that first leg we weren't really up for it mentally as well. From the start you could feel that and at times we could feel that there was a bit of a pressure and we couldn't cope with that. We feel like, especially after that game, we moved on and improved a lot. That is why we are very confident that, even away from home, we can beat any team in the world."
Returning to the club at which he established his name in Europe, Wenger also said that Olivier Giroud would be given the chance to make amends for his desperate performance in the first leg when he missed three good chances and was substituted.
Arsenal 1 Monaco 3 player ratings

Show all 24
Wenger said: "He actually owes the revenge [on Monaco] to himself. He owes a great performance for himself as all the greatest strikers want to do as best as possible on the pitch. He missed a few opportunities in the first leg but what striker doesn't miss an opportunity? Once he has an opportunity I really think he is at the international level. I believe this. He has the right mental level. We have to trust the people who play at this kind of level."
Wenger said that there were no concerns about the conditions at the Stade Louis II where a game last month against Montpellier had to be postponed because of heavy rain. "It is a little bit [of a concern]," Wenger said. "There were two concerns when I was the manager.
The quality of the pitch was not fantastic. I have just been up there – it is good, very good.
"The second thing is when it rains in the south of France, it rains. It doesn't drizzle. They had to postpone a game against Montpellier recently because of the rain. Apparently the conditions will not be bad on the raining front."
Mertesacker said that the players had spoken as a group since the first leg about their shortcoming. "We speak a lot to each other even when we win a game. You have to learn after a defeat the same when you win. We always try to improve our game, improve especially our unit as a defending unit.
"It's always a topic after a game to analyse things what things went right and went wrong. After that fixture obviously there were a lot of things that went not so well. Especially a few decisions were not going for us."
Register for free to continue reading
Registration is a free and easy way to support our truly independent journalism
By registering, you will also enjoy limited access to Premium articles, exclusive newsletters, commenting, and virtual events with our leading journalists
Already have an account? sign in
Register for free to continue reading
Registration is a free and easy way to support our truly independent journalism
By registering, you will also enjoy limited access to Premium articles, exclusive newsletters, commenting, and virtual events with our leading journalists
Already have an account? sign in
Join our new commenting forum
Join thought-provoking conversations, follow other Independent readers and see their replies