Nemanja Matic return: Jose Mourinho's big gamble vindicated ahead of Chelsea vs PSG
The Blues take on PSG on Wednesday night bidding for a place in the last eight of the Champions League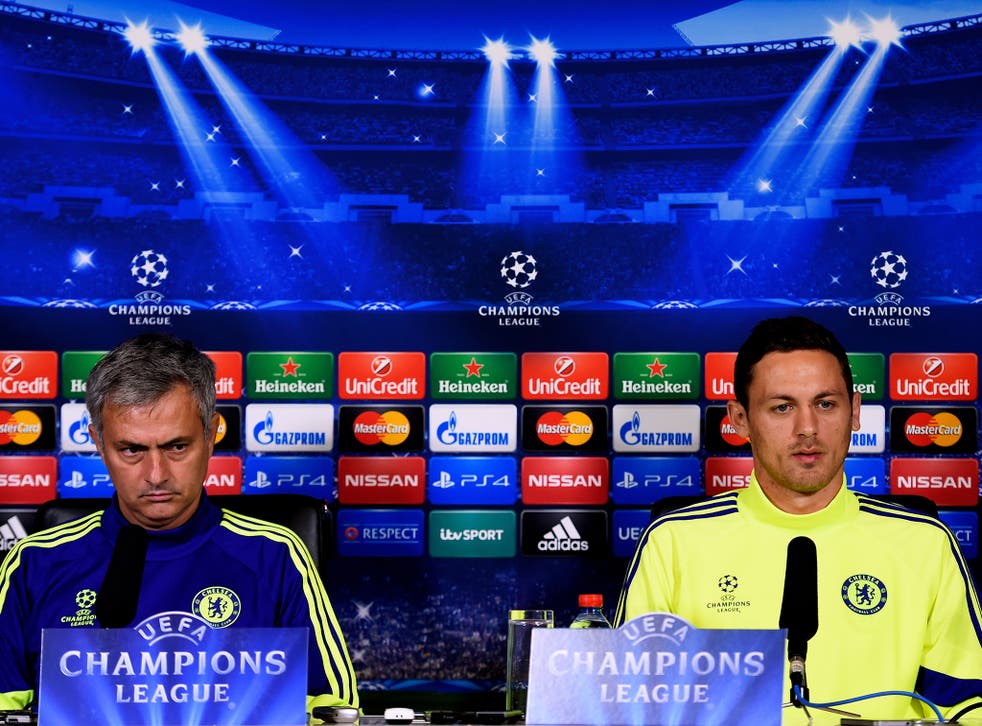 If there has been a player who has embodied the Jose II era of Chelsea's history, the second reign of Mourinho, then it is hard to look beyond the rangy figure of Nemanja Matic, who returns to the side against Paris Saint-Germain with his Football Association suspension also now spent.
Not because Matic is the most controversial of Mourinho's second round of signings: that is Diego Costa. And not because he is the most high-profile, a status that belongs to Cesc Fabregas. Rather because Matic has vindicated the faith shown in him by Mourinho who persuaded Chelsea to re-sign the Serb for £21m after he was first allowed to leave as part of the deal that brought David Luiz from Benfica in 2011.
Re-signing Matic in January last year was a difficult deal for Chelsea because it acknowledged a mistake was made in letting him leave in the first place. Rarely has more rested on a player succeeding, not that Mourinho ever entertained any doubts. If you wanted to know just how highly he rates Matic and the midfielder's rare qualities, then it was evident at the club's Cobham training ground yesterday.
"If I was here," Mourinho said, "a left-footed player – 1.95m tall, a midfielder – would never, never, never leave. Never."
Not that he is angry at the club for selling Matic four years ago; rather, he says he understands why they came to the decision. But it was the kind of call a club is liable to make, he reflected, when the manager changes more often than is right and there is an absence of a guiding "philosophy" to approach fine-margin decision making in player trading.
Yet most of all, Mourinho's pledge that there will never be another Matic mistake – never another player permitted to leave without some conditions attached – showed just what power the modern manager wields. Chelsea may yet sell and buy back players in the future, Mourinho said, but they will do so on their own terms.
As they face PSG for a place in the last eight of Europe's elite, the story of Matic – his sale and reacquisition – has had a profound effect on the way in which Chelsea do business, Mourinho said. The most powerful clubs can now hedge against the loss of a potential first-team player by insisting on clauses that give them an option to buy players back.
"I think now I brought also a little bit of my experience," he said, "not just as a coach, also at a business level. I think [with players] at these [young] ages it is good for the 'father club' to be protected because at these ages sometimes the evolution of the players, is sometimes good and sometimes bad. It is important to keep control of the situation.
"These days, when you have a player, you can loan him or sell him but you have ways of being in control of his future. At the same time I think Chelsea were brave by bringing him [Matic] back. If in this world you want to do the best for your club, you don't protect yourself from possible critics. You simply do what you think is the best.
"And at that time we wanted a midfield player. We had three or four but the best one was a former Chelsea player. Chelsea were brave to say, 'We are sure this is the right one. We are sure he is going to be a success here.' No critic will be stronger than that. Of course, we read a few comments but this is part of the business.
"Probably in the future, the next time Chelsea does a deal with a young player then Chelsea will keep control. Another aspect of that is also the fact that Chelsea had so many first-team managers in these years. It is difficult for the club's board to have a certain philosophy on the table, to have a philosophy is much easier for our board."
PSG 1 Chelsea 1 player ratings

Show all 22
The return of Matic to the Chelsea first team against PSG, and also on Sunday against Southampton, shows the remarkable strength of this squad at a time of the season when many teams are carrying injured players. Only John Obi Mikel trained away from the Chelsea first team at Cobham on the eve of their Champions League second leg, leaving Mourinho with a breadth of choice.
It is less obvious which way he will go compared to last year, when Chelsea chased a two-goal deficit at home against the same opposition, but it would be safe to assume that he has a plan. This is the competition Mourinho first won 11 years ago and he now finds himself the kind of establishment scalp he once sought himself. Chelsea's elimination would represent the greatest result of PSG's Champions League history.
The two occasions when Mourinho has won the Champions League in the past, with Porto in 2004 and Internazionale in 2010, he has left the club that summer. This time, he says, if he makes it to three European Cups, it will be a different story.
"I left Porto and Inter by my desire. If I win with Chelsea I will not leave by my desire. To leave Chelsea, I need the club to sack me. I don't leave by my own decision, which I did in the other clubs. Even Real Madrid, without a cup. I am here to stay until Mr [Roman] Abramovich wants me to stay."
To return full circle to Matic, his signing is indicative of what Mourinho calls "the cooperation" he enjoys between his Russian boss and the club's director, and leading light, Marina Granovskaia, as well as technical director Michael Emenalo. They wield a lot of power now and the £21m spent on Matic might well prove worth the money for the lesson learnt alone.
"It is good to have him [Matic] back," Mourinho said, "but we did well without him. I joke with him that while he was out, we won a final, and we beat West Ham at West Ham. So we did well without him. But he is very important in the balance of our team."
Register for free to continue reading
Registration is a free and easy way to support our truly independent journalism
By registering, you will also enjoy limited access to Premium articles, exclusive newsletters, commenting, and virtual events with our leading journalists
Already have an account? sign in
Register for free to continue reading
Registration is a free and easy way to support our truly independent journalism
By registering, you will also enjoy limited access to Premium articles, exclusive newsletters, commenting, and virtual events with our leading journalists
Already have an account? sign in
Join our new commenting forum
Join thought-provoking conversations, follow other Independent readers and see their replies