Arsenal overcome a spirited Ostersunds FK to plant one foot firmly in the last 16 of the Europa League
Ostersunds FK 0 Arsenal 3: Nacho Monreal opened the scoring on a chilly night in Sweden, before an own goal and neat Mesut Ozil finish left the Gunners firmly in control of the tie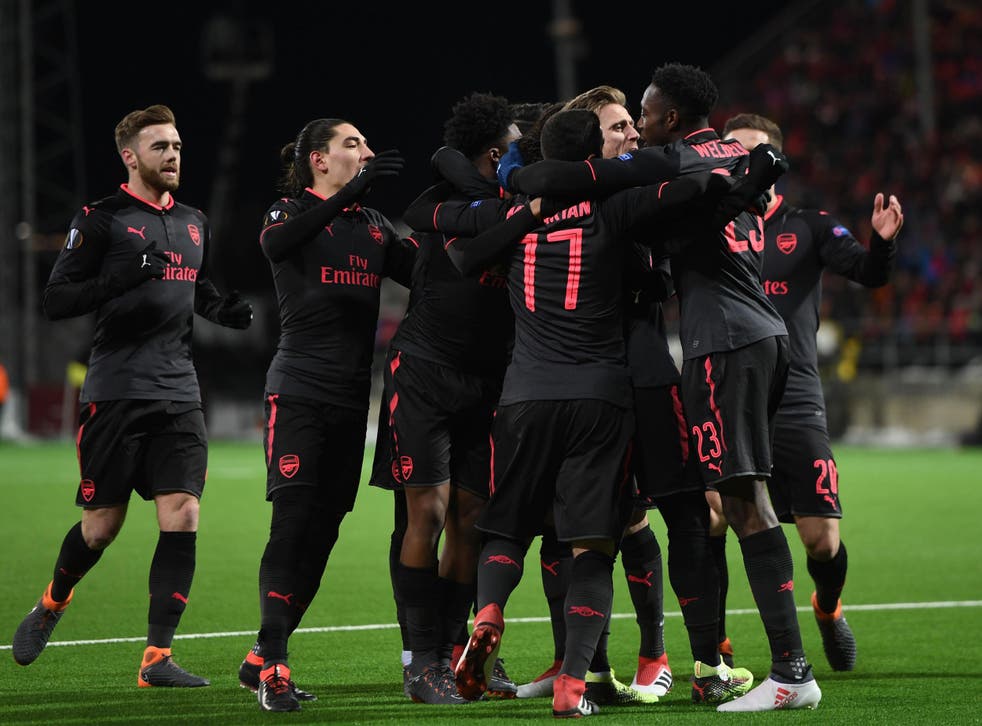 Arsenal overcame a spirited Ostersund side and a biting winter chill to plant one foot firmly in the last 16 of the Europa League. There was to be no romantic triumph for Graham Potter, the host's inspirational manager, whose side conceded two away goals before finding their feet, eventually losing this first leg 3-0. Next week's trip to the Emirates is likely to be a learning experience and little more.
But the score failed to portray a match which Ostersund controlled for large chunks, harrying the Gunners in possession and creating several sights of goal. For all the world-class talent Arsene Wenger let loose on the Jamtkraft Arena's astroturf, it was in goal where the difference was made.
David Ospina, Arsenal's captain for the night, made several important saves including a late penalty, while his counterpart Aly Keita presented Nacho Monreal with the opener and should have kept out the third from Mesut Ozil.
It was the biggest night in Ostersund's history and the 9,000 capacity home crowd were determined not to let the result spoil the party, treating their esteemed guests to relentless drum-beating and chants in temperatures around a numbing -7C.
Arsene Wenger showed his intent as he named a strong starting XI, with Ozil, Henrikh Mkhitaryan and Alex Iwobi flitting behind Danny Welbeck, who led the line in the absence of the injured Alexandre Lacazette and ineligible Pierre-Emerick Aubameyang, and they quickly took ownership of the ball, pinning their hosts back.
Ostersund soaked up waves of early pressure, so Potter must have been frustrated when that work was undone so carelessly in the 13th minute. First, Keita handed over possession cheaply from a goal-kick, and although Mkhitaryan's shot was brilliantly blocked to deny a certain goal, Arsenal were given another gift from the resulting corner when Keita spilled Iwobi's skimmer, allowing Monreal to tap in from a couple of yards.
A little more than 10 minutes later and Arsenal's early dominance paid dividends again when Hector Bellerin's cross was half cut out by Tom Pettersson, only to be regained by the lively Mkhitaryan who drove the ball across the six-yard box. Welbeck was lurking at the back post but it never reached him, turned in by the centre-half Sotirios Papagiannopoulos as he tried to intercept.
But the second goal seemed to settle Ostersund's players to their task, as if they no longer had anything to lose. They started to show some of the fluency and self-confidence which had seen them knockout Galatasaray and Hertha Berlin earlier in the competition. The game totally changed and the chances flowed. The forward Salisu Gero miscued a close-range header, Saman Ghoddos flashed a volley which needed tipping over the crossbar, before he robbed Ainsley Maitland-Niles in midfield and saw another well-hit strike saved by Ospina.
Potter's abilities to affect a game at half-time are well renowned, and he made a double change at the break, bringing on Gent loanee Tesfaldet Tekie and English midfielder Jamie Hopcutt. His side quickly picked up where they left off, pressing high and probing around the Arsenal box, but shortly before the hour mark Ostersund suffered a passage of play which extinguished their faint hopes.
The Spanish referee David Borbalan turned down a credible penalty claim when Shkodran Mustafi bundled into Tekie, ignoring the Jamtkraft Arena's roar, and from the counter-attack which followed, Mkhitaryan picked out Ozil whose underwhelming shot trickled through the worryingly porous Keita.
In the final throes, Bellerin conceded a penalty with a trip in the box. But there was Ospina again, diving to his right to save Pettersson's penalty and deny Ostersund the goal their performance deserved.
Register for free to continue reading
Registration is a free and easy way to support our truly independent journalism
By registering, you will also enjoy limited access to Premium articles, exclusive newsletters, commenting, and virtual events with our leading journalists
Already have an account? sign in
Register for free to continue reading
Registration is a free and easy way to support our truly independent journalism
By registering, you will also enjoy limited access to Premium articles, exclusive newsletters, commenting, and virtual events with our leading journalists
Already have an account? sign in
Join our new commenting forum
Join thought-provoking conversations, follow other Independent readers and see their replies