Paris Saint-Germain: Can world's richest club rule Europe?
PSG are backed by Qatari millions but that is no guarantee of success
John Lichfield
Tuesday 07 August 2012 00:00 Comments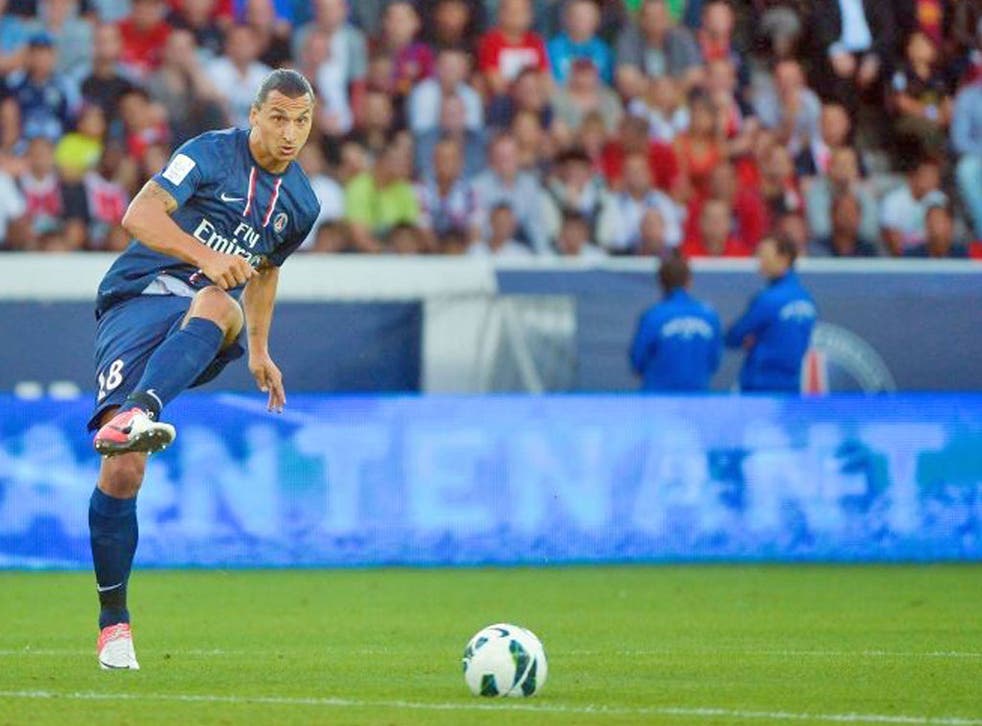 The French Ligue 1 football season starts on Friday but the title has already been awarded. "The question is not whether they will win the league but when," wrote France Football magazine this week. "The question is not whether they will be champions but how often."
For most of their 42 years of existence, Paris Saint-Germain, the only professional club in the French capital, have been a crisis waiting to happen. After spending €200m on transfers in 12 months – including Sweden striker Zlatan Ibrahimovic and Brazil defender Thiago Motta from Milan this summer – PSG are now a European footballing giant waiting to be born.
Maybe.
Domination of the French league for years ahead already seems assured. Ibrahimovic's post-tax salary of around €15m is almost as high as the annual budget of Troyes, the poorest club in Ligue 1. Given President François Hollande's plans for a 75 per cent marginal tax on earnings over €1m, the Swede's total pre-tax salary and payroll charges could rise to €80m. This would exceed, for one player, the total annual budget of Bordeaux, the fifth-richest French club.
Paris Saint-Germain, not Manchester City, could now reasonably claim to be the weathiest football club in the world. One year ago, they were taken over by Qatar Sport Investment, a joint venture of the Qatari government and Qatari Olympic Committee. In other words, PSG are owned, by the state of Qatar itself (annual GDP $100bn), not a mere member of the Abu Dhabi royal family
"What can we do?" said Nicolas Tavernost, chairman of Bordeaux. "They are living in the millionaire's row in Paris. The rest of us are all living in the poor suburbs."
Rolland Courbis, former coach of Olympique Marseille, says: "We are going to have get used to the idea that coming second in Ligue 1 is like winning a title – just like the guy who comes second to Usain Bolt in the Olympic 100 metres."
"The only question is whether PSG will win the Champions' League within the next five years."
With Leonardo as director of football, Carlo Ancelotti as their coach and three or four players of the highest class – Ibrahimovic, Thiago Motta, Javier Pastore, Jérémy Menez – PSG hope to challenge the Ibero-Anglo-German-Italian domination of the Champions' League this season.
PSG will surely dominate Ligue 1, after other leading clubs lost their stars to the Premier League in the close season. To dethrone Chelsea or compete on equal terms with Barcelona, Real Madrid or the Manchester clubs may take a little longer.
Good though Ibrahimovic and Thiago Motta are, they are not Lionel Messi and Cristiano Ronaldo. Neither of them is young. Ibrahimovic is 30 and Thiago Motta 29. Despite rumours in the French media of a €100m bid for Manchester City's Mario Balotelli, PSG are not yet capable of shopping for "galacticos".
That is not just a question of money. It's a question of the media profile, and sporting level, of Ligue 1, compared to La Liga or the Premier League. "For PSG to join the European elite, the Qatari cash will have to raise the entire level of French league football," a French football executive told The Independent. "It might eventually happen if the cash trickles down to other clubs and French TV rights become more attractive abroad."
"As things stand, PSG are mostly spending their riches outside France. And Hollande's new tax regime will make it even harder for the other French clubs to keep or attract the best players."
All the same, the oil riches pouring into PSG are part of a broad Qatari strategy. Like the Barcelona midfield, everything connects.
The tiny emirate is not just buying clubs and players. It is buying a spurious, worldwide image of itself as a great footballing nation before it stages the 2022 World Cup.
Qatar is not just splashing money around; it hopes that its new football empire will be self-sustaining.
The Qatari-owned TV station Al-Jazeera has set up a French sports channel, Be-In Sport, which has bought up part of the rights to Ligue 1 and Champions League matches this season. The international "sell-on" rights for French football will be handled by Al-Jazeera.
The arrival of Ibrahimovic has already boosted foreign interest in French football. Higher TV fees from abroad will generate more cash for the Qataris and more for the other clubs in the French league. The higher the profile of Ligue 1 as a whole, the better the chances of PSG attracting the biggest stars and joining the European elite.
Last season, many PSG fans were dubious about the Qataris' intentions. The failed bid for David Beckham in mid-season suggested that the new owners were more interested in shirt sales and short-term publicity than results on the field.
In December PSG appeared to be heading for their first league title since 1994. They were top of Ligue 1 when Leonardo and the Qataris fired the home-grown coach, Antoine Kombouaré, and replaced him with the higher-profile figure of Ancelotti, the former Chelsea manager. The team became erratic. The unfancied Montpellier eventually pipped PSG for the title in May.
Some PSG fans have deeper objections to the pipeline of cash now connecting them to the Gulf (not a complaint heard very often from Manchester City supporters). They dislike the way that the new owners keep local fans at arms' length. They dislike the American-style, formal entertainment at matches, such as officially- scheduled Mexican waves.
A spokeswoman for this dissident section of PSG support is the economist Violette Nahmias, a lecturer at the elite Parisian political college, Science-Po. She says in her blog, "Mauvaise Joueuse" (Bad Sport) that some PSG fans feel they have been deprived of their club.
"This new PSG doesn't seem to want local supporters at all. It wants global consumers," she told The Independent.
The big transfers this summer have answered one criticism. The "new" PSG are not just interested in shirt sales and short-term media buzz. They want success on the field, starting, but not ending, with a first French league title in 29 years.
The disappointing second half of last season may suggest that PSG are not guaranteed a walkover. "Football, luckily, is not a game of Monopoly," says the retired Auxerre coach, Guy Roux, who took the small Burgundy club from amateur status to the French league title in 1996. "There are 38 matches to play. Clubs which seem weaker than before, like Lyon, Marseille and Bordeaux, could spring a surprise."
In truth, while PSG have been building, the other big French clubs have been quarried for their talent as usual – mostly by clubs from the English Premier League. Lille have lost Eden Hazard to Chelsea. Montpellier have lost their leading goalscorer, Olivier Giroud, to Arsenal. It is likely, as France Football gloomily predicted, that the PSG "elephant" will crush the 19 "mice".
The history of PSG is, however, one of grandiose plans and spectacular crises. The club was created in 1970 as a shotgun marriage between two struggling teams. Although they have built a loyal base of supporters, PSG remain an artificial club with no deep roots of tradition or identity – much less than either Chelsea or Manchester City have.
In a sense, the Qatari experiment is history repeating itself. PSG were created from almost nothing to occupy the Parc des Princes, The "new" PSG are being created to satisfy the sporting and commercial ambitions of princes of the Gulf.
Chelsea and City have shown that mega-money can, eventually, buy success. But they were already clubs with great traditions competing in a tough domestic league. Turning PSG into a European giant may prove to take more than even endless money can buy.
Register for free to continue reading
Registration is a free and easy way to support our truly independent journalism
By registering, you will also enjoy limited access to Premium articles, exclusive newsletters, commenting, and virtual events with our leading journalists
Already have an account? sign in
Join our new commenting forum
Join thought-provoking conversations, follow other Independent readers and see their replies