Pep Guardiola charged by Uefa for wearing T-shirt promoting justice campaign for dead journalist
Bayern Munich manager breaks Uefa regulations by wearing garment during press conference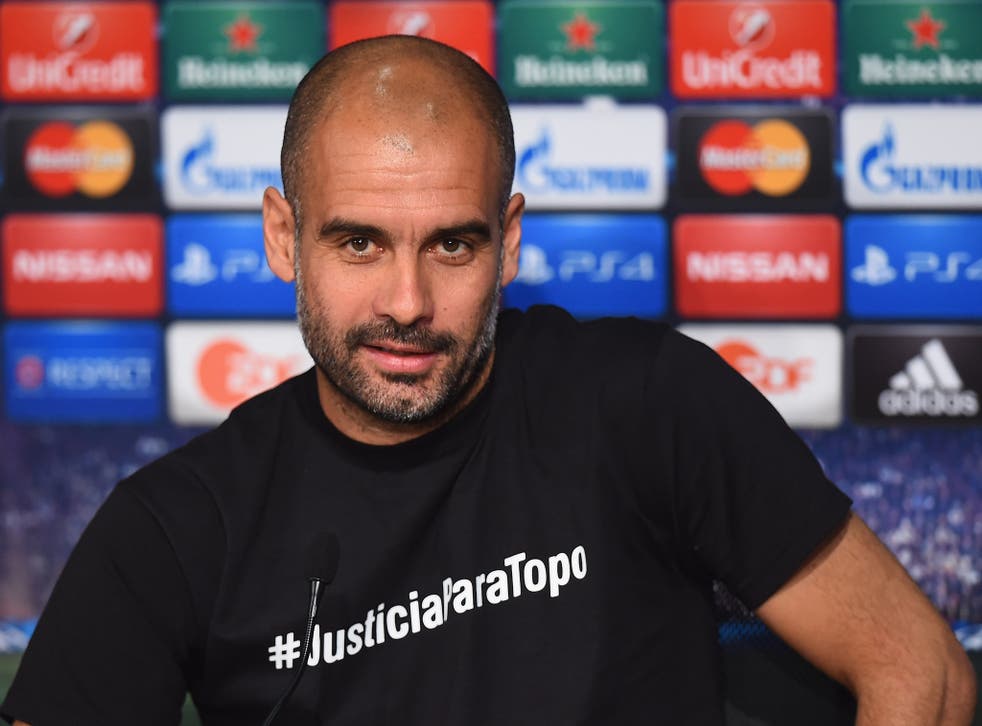 Bayern Munich's boss Pep Guardiola has been charged by UEFA for wearing a T-shirt promoting a campaign for justice surrounding the death of an Argentine journalist.
Guardiola wore the T-shirt stating "Justica para Topo" at a press conference before the second leg of the Champions League match against Porto.
It relates to a campaign, backed also by Lionel Messi, calling for an investigation into the death of journalist Topo Lopez in a car accident at the World Cup.
His car was reportedly smashed into by a vehicle driven by two suspected criminals, being pursued by the police.
UEFA's regulations prohibit the use of "sporting events for manifestations of a non-sporting nature" and the governing body has charged Guardiola with an "incident of non-sporting nature".
Porto boss Julian Lopetegui has also been charged following his dismissal from the bench during the 6-1 win by Bayern.
The cases will be dealt with by UEFA's disciplinary body on 21 May.
PA
Register for free to continue reading
Registration is a free and easy way to support our truly independent journalism
By registering, you will also enjoy limited access to Premium articles, exclusive newsletters, commenting, and virtual events with our leading journalists
Already have an account? sign in
Register for free to continue reading
Registration is a free and easy way to support our truly independent journalism
By registering, you will also enjoy limited access to Premium articles, exclusive newsletters, commenting, and virtual events with our leading journalists
Already have an account? sign in
Join our new commenting forum
Join thought-provoking conversations, follow other Independent readers and see their replies