Atletico Madrid could be forced to sell stars due to complex financing and political turmoil in hunt for new stadium
An Independent investigation has unearthed searching questions about the financing of Atletico's new stadium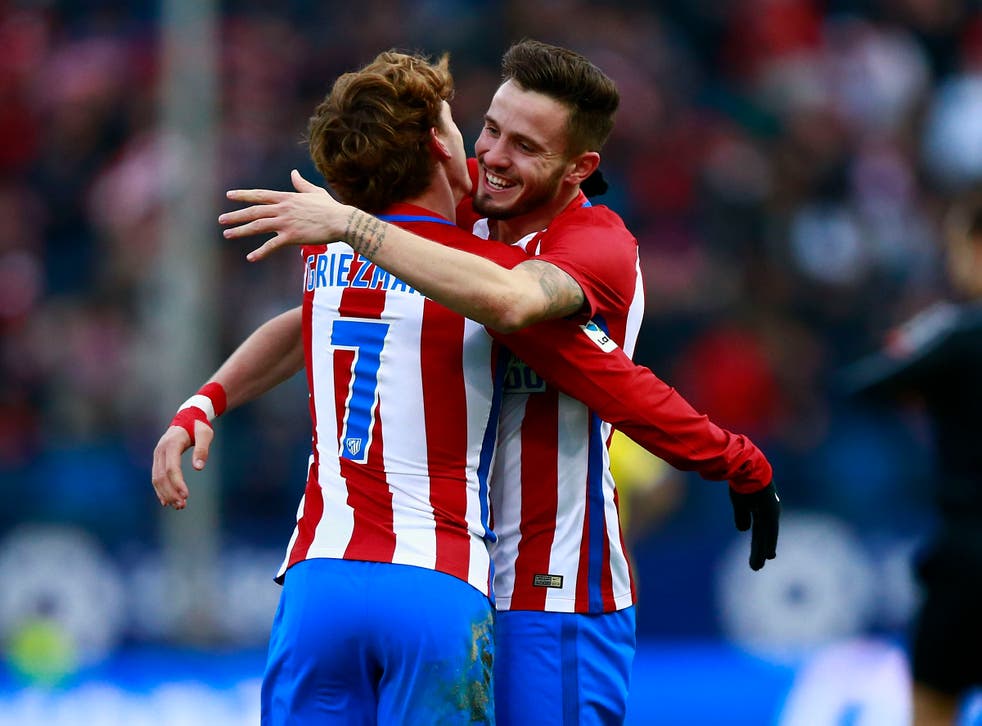 Atlético Madrid could be forced into a fire-sale of the club's top talents due to the complex financing they have used to push through their controversial move to their new home for next season.
The Spanish outfit first talked about leaving their current Estadio Vicente Calderon for the former athletics stadium La Peineta on the other side of the city almost three decades ago, but the project was held up at various times for financial, legal and logistical reasons until Atletico's chief executive Miguel Angel Gil Marín and president Enrique Cerezo involved both Chinese investors the Wanda Group and Mexican billionaire Carlos Slim to secure the funds required to speed up the move for the start of the 2017/2018 season.
The full details of this financing have not been made public, but it is understood that a €160 million loan to Slim's bank Inbursa must be paid back quickly or the Mexican could gain control of the club's shares.
Jose Luis Sánchez, a leading figure of fans group Señales de Humo, is hugely concerned that the chaotic nature of Atlético's finances - still beset by heavy debts - means repayment of this loan will require the liquidation of the club's most saleable assets - such as €100million-rated France forward Antoine Griezmann and €60million-plus homegrown midfield pair Koke and Saúl Ñíguez as soon as next summer.
In a bar steeped in the shadow of the Calderón, Sánchez revealed details of the mess to The Independent before last Tuesday's 2-3 Copa del Rey defeat at home to Las Palmas.
"Nobody had any problem with the Estadio Calderón," Sánchez says. "Its location is ideal, 20 minutes walk from Plaza Mayor or Puerta del Sol. It is perfectly communicated, surrounded by heavily populated barrios to feed their stands - Carabanchel, Aluche, and the city centre. There was no kind of problem. But the objective was something else - to make money off the site, and use that money to fill the hole the board had generated themselves with their bad management and negligence."
The sale of the Calderón site has featured prominently in Atletico's official club accounts since an accounting sleight of hand dating from 2003 when Gil Marín and Cerezo took control of Atletico's club shares. That takeover was declared "fraudulent" by Spain's Supreme Court in January 2014, with Señales de Humo among those who fought the legal case, however, due to legal wheels moving incredibly slowly, the statute of limitations had already passed and the current board could just ignore the ruling and remain in charge.
Over this time Atlético had been working on and off with the local city council, who were especially keen to find a use for their athletics stadium, which was lying idle after being refurbished as part of Madrid's three consecutive failed bids for the 2012, 2016 and 2020 Olympic Games.
Many of the local politics and business figures who worked with Atlético on the move over the last decade have been embroiled in corruption issues - with 'Operación Calderón' judicial investigations touching regional Madrid president Ignacio González and city mayor Alberto Ruiz-Gallardón, both of the conservative Partido Popular. Meanwhile, Catalan construction group FCC, who were to adapt the athletics stadium for football use and also build the residential towers on the Calderón site, went bankrupt after Spain's property bubble burst.
In November 2014 Carlos Slim, one of the world's richest men who is heavily involved in football in his home country and at Spanish Segunda Division side Real Oviedo, stepped in to become the biggest shareholder in FCC, one of whose specialities is building sports facilities. In 2015, the company stepped back from the Calderón project, with Slim's Inbursa Bank providing €160 million to Atlético so they could complete then stalled construction work at La Peineta.
Through recent months, Atlético and friendly local reporters have regularly trumpeted progress at the new stadium. Most loudly when it was announced in early December that it would be called the 'Wanda Metropolitano' - confirming the sale of naming rights to the Chinese entertainment conglomerate who bought 20% of the clubs shares for €45 million in Jan. 2015.
That announcement came at a slickly choreographed ceremony replete with computer generated images of happy fans comfortably attending games at the futuristic looking new stadium, but Sánchez says that the reality on the ground is quite different.
"FCC are working on the stadium and the surroundings within 40 metres around it," he says. "From there it is all just fields. It is not planned properly, no work has begun on infrastructure, and no plans have even been published. That is the current situation, just eight months before next season begins."
Political infighting between the Madrid Ayuntamiento [town hall] lead by current mayor Manuela Carmena, who is close to the left-wing 'Podemos' party, and the central government run by the Partido Popular, is further complicating matters. There has been disagreement over the money Atletico will pay to take over the deeds of the 'Peineta' site, which has been valued at €45 million, while work has yet to begin on the light-rail, metro and road links required.
During a debate in September, opposition Socialist city councillor Mercedes Gonzalez joked that "helicopters" would be needed to bring 70,000 fans to the new ground for games.
"Now UEFA are saying there will be Champions League games at 7PM from next season," Sánchez says. "So people will be going to the stadium just when others are driving home from work. The authorities know that the transport chaos would collapse Madrid. From a technical point of view building the [required] infrastructure is not difficult, but there is a big political fight going on with a very complex mix of interests. Then there is the financial question as a lot of [public] money is required."
Nevertheless Atlético continue to maintain that all will be fine - and the club are already selling season tickets for 2017/18 at the new stadium, and sharing regular updates on the construction works via social media. Cerezo told reporters at the announcement of a lighting system for the new ground in October that "new services, parking, restaurants, metro, everything" would be ready on time.
The project to redevelop the city centre Calderón site, plus the long demolished former Mahou beer factory alongside, looked very lucrative a decade ago when Spain's property market was inflating out of control. Initial plans to construct 25 to 35 storey residential towers by the river Manzanares have since had to be revised, after a legal challenge lead by Señales de Humo themselves. Sánchez says that under current market and planning conditions, Atlético's chiefs will find it difficult to raise the money required to pay off the loan to Slim's bank.
"They are talking about apartment buildings, in different phases, until they can get the money they want," he says. "In theory this money goes into the account of Atlético Madrid. And Atlético Madrid with this would pay off the loan to Slim. But the board have already lost money with this operation. At the moment you cannot see any way that they will get that €160 million - maybe they will get less."
Sánchez maintains that there must be pressing financial or other reasons for Cerezo and Gil Marín to keep pushing ahead with the move despite all the obvious issues which would otherwise lead them to wait another year at least.
"For sure behind all this is there are some financial motivations, but we do not know," he says. "Until they find a way out of this the club's accounts do not reflect the real financial situation. So they have a [legal] problem of responsibility as the administrators of that company. Furthermore, if they do manage to sell the site, and get the accounts sorted, the club would be more attractive to potential buyers. So they could sell their shares, which they gained by fraudulent means, and come out of it all well. They could sell the club to Wanda, or to Slim, or to whoever."
Perhaps aware of the tightness of the timing, Atletico have already asked La Liga's authorities for permission to play their opening home games of 2017/18 somewhere else. Sánchez suspects the club plan to establish facts on the ground to ensure the team definitely cannot play at the Calderón next year - though the club have declined to comment on any of the issues raised in this report.

"We suspect that during the summer, during the night, they will try and knock down the stadium, demolish it," he says. "Or there will be lots of events there, the pitch will be removed, and never replaced. Something must happen, because if not the logical thing would be to play in your own stadium if the new stadium is not yet ready."
The current uncertainty has coincided with the worst run of results of coach Diego Simeone's five years in charge of Atlético, who won just one of five La Liga games either side of the Wanda Metropolitano announcement last autumn. The Calderón crowd has been mostly quiet about the stadium move, but a plan to 'modernise' the club's badge has drawn loud protest during games - including last Saturday's underwhelming 1-0 home win over Real Betis.
"When things go badly on the pitch, it all comes together and the fans realise what is going on," Sánchez says. "There have been protests already about the badge change. If this is not is not sorted out, also the transport issues, the sporting side, there will be another perfect storm. Gil Marín and Cerezo see Simeone as something of a shield, behind him they are happy. But if they do not make a profit on the Calderón they still need to pay Inbursa. Then they will have to sell players for sure."
Join our new commenting forum
Join thought-provoking conversations, follow other Independent readers and see their replies