Mauricio Pochettino brings focus to PSG fashion project as club finally discovers character
French side avenged their final defeat from last season to eliminate Bayern over two quarter-final legs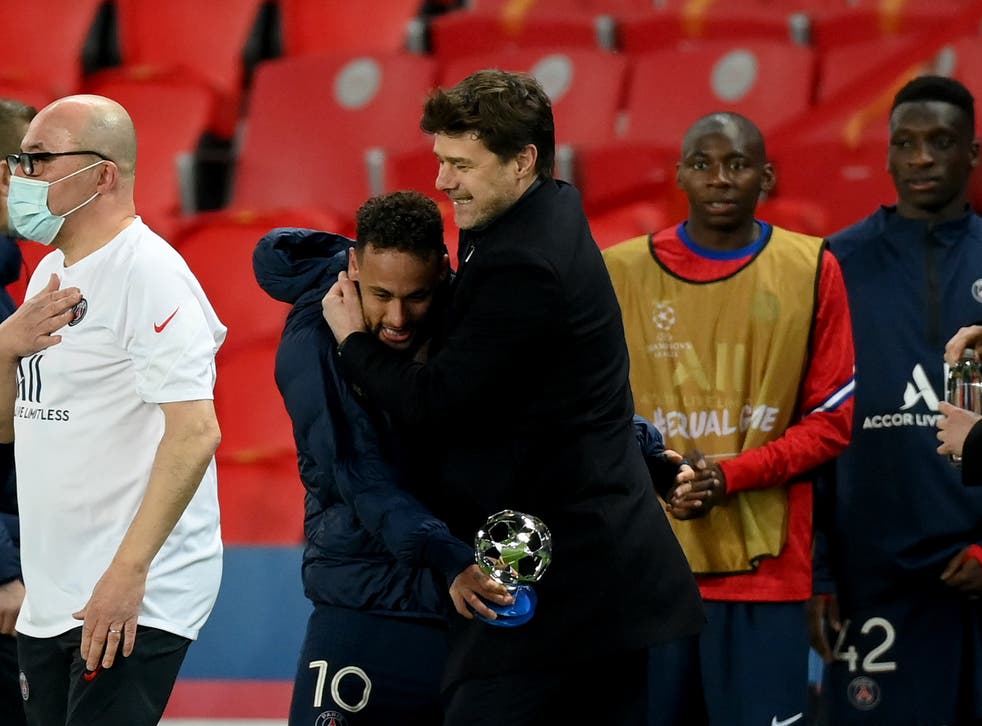 Mauricio Pochettino, like many previous Paris Saint-Germain managers, has been struck by the unique challenge of coaching such a club.
It isn't quite a contradiction, but it is a complication. It can also be difficult to figure out. The more that PSG can pay – and that is quite a lot – the harder it is to keep the group tight. Inflated wages by definition warrant more indulgence. Unai Emery particularly struggled with this.
All of this is naturally amplified when the team is made into something of a fashion project that is ultimately part of a sportswashing project. The challenge for the football people is to bring a clarity of focus amid all that.
It is about more than a tactical philosophy. Thomas Tuchel did take things up from Emery before him and offer genuine tactical structure, but it still felt a little ascetic. What PSG have really needed, amid a project that has blown out so much it can occasionally appear empty in the middle, is substance. It is football character, despite all the questions about the Qatari ownership.
The performance against Bayern Munich was an illustration of this. It was deeper than tactics. It was substance.
Some of this was emphasised by some of the more influential players – and they weren't necessarily the stars.
The stars, it should be stressed, did play well. Kylian Mbappe was sparkling. Neymar was brilliant in everything but his finishing, which was only fractionally off. Angel Di Maria displayed why he is among the most under-appreciated top attackers in the world, with a curious perception for fragility that is at odds with just how strongly he binds teams; how he links them together.
It was still the misses of those players that warranted something more, though. That came from some of PSG's lesser known names. All of Idrissa Gueye, Leandro Paredes and – especially – Danilo Pereira were supreme in that defensive strident. They offered PSG tactical substance to go with the substance of performance. They stood up strong to every attack. Pereira in particular met absolutely everything. Many might point to the absence of Robert Lewandowski, but it shouldn't be forgotten that PSG were missing Marquinhos, which meant Pereira played in a position he isn't usually all that comfortable with.
He was completely in command here.
PSG felt like a proper team, one capable of navigating any number of knock-out situations. This was a gloriously old-fashioned tie in that sense, given the absence of goals, but it just made the cost of any error all the greater. PSG didn't make any that mattered.
This is what Pochettino has provided.
When he arrived at Tottenham Hotspur, he was primarily concerned with changing the mentality and atmosphere around the club, and he is doing the same in Paris now.
It is for all these reasons that, despite the "civil war" going on at the club, it is hard to be too critical of Bayern Munich. There is no great need for a post-mortem. The defending champions went down with a fight. They played well, and really put it up to PSG. It was just that the small margins mattered in this grand match between two super clubs.
A deeper football character ultimately got the French champions over the line, something they haven't always had in this competition.
There are still so many questions about what the club is, of course. Within that, though, Pochettino has offered one solution for the team.
Join our new commenting forum
Join thought-provoking conversations, follow other Independent readers and see their replies