PSG vs Barcelona result: Lionel Messi scores stunner before penalty miss in Champions League exit
PSG 1-1 Barcelona (5-2 agg): Barca created plenty of chances but could not convert them as they failed to pull off another miracle comeback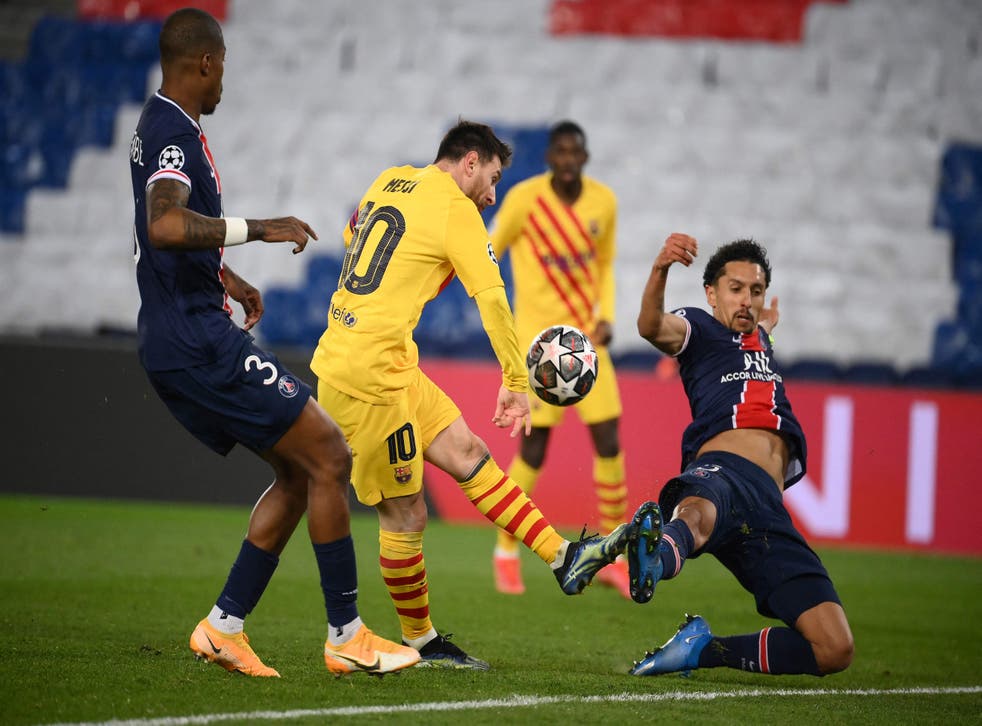 As Paris Saint-Germain can now wonder what is possible this season, Barcelona will wonder what might have been. How different this match could have been had Leo Messi scored that penalty just before half-time.
Through that, the game was more a repeat of 2012 rather than a grand restaging of 2017.
Instead of a rousing comeback, as in the 6-1 against PSG four years ago, Barca saw their impetus fade after a missed Messi penalty, as against Chelsea nine years ago.
PSG were thereafter able to fairly comfortably see out a 1-1 that took them through 5-2 on aggregate. It wasn't always like that. It wasn't like that for Messi mere moments before the miss.
That was why it was all the more surprising, since he had seemed to be on such a high, having scored what should go down as one of the greatest goals of his career.
His 37th-minute strike was stunning, the type that deserved a greater occasion; the type that suggested he wasn't giving up his crown without a fight. Barca at least weren't giving up without a fight, and deserved more from the game.
This time, amid so much speculation about his future and frustration with the club, Messi must partly look to himself. Big missed penalties have been a feature of an otherwise historic career. This wasn't really 2012 or the 2016 Copa America, though. Barca weren't so close. It wasn't really the difference.
The wonder is just whether it could have sparked them to something greater, to make this a grandstand finish.
The great frustration is that, in the first half alone, they had enough chances to win this tie three times over. Ousmane Dembele almost had enough chances to win it twice over.
It is why Messi can - again - also look to him, particularly for one misplaced pass that should have given the Argentine a tap-in.
It was as if Dembele was finding his range, only to be so off he eventually ran out of time.
It reminded of how he is so close to being a great player, as if 80% of the way there. PSG badly struggled with his pace and movement. He just struggled with what was next.
By the same token, Barca might be 80% of the way to being a promising team again. This match also reminded of how there is a good bit of young talent there.
It was why there was genuine encouragement from this match for them, and maybe the first proper step in something new.
More pressing for the immediate future of the game were two of the decisions. Whether you think VAR should be kept or not, this was another match where it was fair to ask whether the cost of VAR to the sport is worth the benefit. Both penalties were those where you could understand why they were given in a world where the technology is available, but no one normally playing the game would consider them fouls.
For the first, Clement Lenglet's "trip" of Mauro Icardi just seemed innocuous, the type of accidental collision that happens in so many matches and brings nothing more than a smiling apology. It didn't quite kill the game here, given what was to follow, but it was another knife. Or, really, a hammer. Mbappe powered the ball into the roof of the net.
How Messi must have wished he'd done the same.
The contact from Layvin Kurzawa on Antoine Griezmann was also minimal, but Barca did this time make maximum complaints. This is another consequence of VAR. It has made the threshold for penalties so low, that players will argue them all the more. There was also the question of why VAR didn't spot the encroachment on the penalty, if it was going to that level of pedantry elsewhere. This is why people get so heated.
Keylor Navas, however, still kept his cool.
He judged right, diving to his right to keep out what was quite a poorly placed penalty from Messi. It was too close to the centre, dependent on the goalkeeper going the wrong way.
Barca kept going the right way in the match but, inevitably, without the same impetus.
It was as if the full belief that propelled them had gone.
A remarkable record went with it.
This was not just the first time that Barca went out before the quarter-finals since 2007. It was the first the last eight won't feature either of Messi or Cristiano Ronaldo since both have been senior professionals.
What used to be. What might have been.
That no longer concerns PSG. They can look onto greater things.
A ghost has been banished. A conviction strengthened.
Even though PSG got to the final last season, it could be argued this was the first time since the 6-1 that they have knocked out a club of equal status.
It is a significant step.
It was also, in its own way, a significant step for Barca. It's a long time since we've seen a performance from them of this status. It just wasn't enough. Mbappe, Messi's true successor, had already done the kind of damage that made the missed penalty little more than a footnote.
Join our new commenting forum
Join thought-provoking conversations, follow other Independent readers and see their replies