Real Madrid 1 Manchester City 0: City manager Manuel Pellegrini brands Real 'lucky' after narrow semi-final win
'I don't think Real Madrid demonstrated tonight that they are a better team than Manchester City'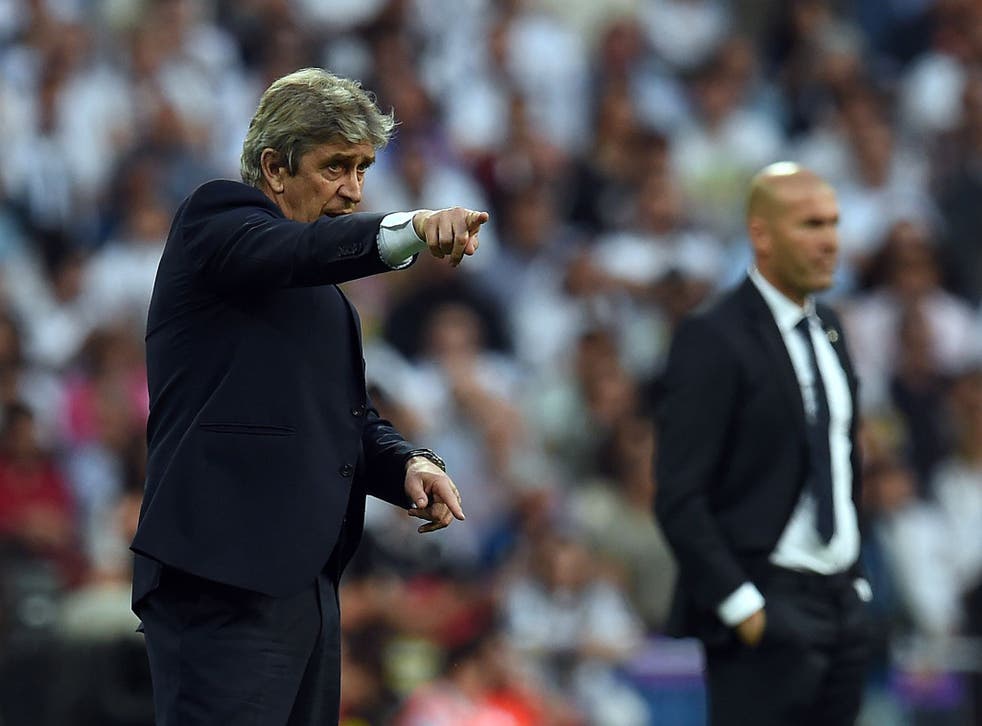 Manuel Pellegrini claimed Real Madrid were no better than Manchester City and dismissed Gareth Bales deflected goal as 'lucky' after watching his team's Champions League ambitions evaporate with a whimper in the Santiago Bernabeu.
Real will face city rivals Atletico Madrid in the final in Milan later this month – a repeat of the 2014 Final which was won by Real – after Bale's first-half cross deflected off the shin of Fernando to settle this semi-final tie 1-0 on aggregate.
But although his team failed to create a single effort on target, as opposed to five by Real, City manager Pellegrini insisted his players were unlucky to go out and deserved to take the game to penalties.
"We didn't deserve to lose," Pellegrini said. "They were very lucky with the goal, a deflection into the top corner.
"I don't think Real Madrid demonstrated tonight that they are a better team than Manchester City.
"Of course I am not happy in the way we created chances. We tried, but we couldn't. Both teams couldn't create, though, like in the first game and we were missing David Silva and Samir Nasri, so we had creative players missing in midfield.
"But Real also didn't create chances and I think none of the teams deserved to win.
Real Madrid 1 Manchester City 0 player ratings

Show all 22
"We should have gone to penalties because I don't think Real were better than us."
Pellegrini's stance was echoed by goalkeeper Joe Hart, who claimed that Real enjoyed luck to progress to the final.
"We could easily be in the final, but they managed the game well," Hart said. "They got a very lucky goal but it is what it is.
"We just did not have that little bit more. Sergio Aguero announced himself in the 88th minute, it was a good effort, but did we do enough over the two games? I don't know.
"It was a close semi-final and we have come out the wrong side of it.
"But I don't think we can be bothered by criticism. We turned up to win the game like we do every game but that is gone now."
When asked whether he regretted his game-plan and City's failure to show more ambition against Real, Pellegrini rejected suggestions that he and his players lacked fight.
"No regrets," Pellegrini said. "I think we worked very well for ninety minutes.
"If you don't reach the final, you miss an opportunity. Both games were close, but we are usually a team which creates a lot of chances and we didn't do that tonight."
Pellegrini, meanwhile, admitted that club captain Vincent Kompany will be assessed in Manchester on Thursday after limping out of the game after just six minutes with an apparent groin strain.
Kompany, who has only recently returned to action following a lengthy calf injury lay-off, is now expected to miss Sunday's Premier League fixture at home to Arsenal.
"It's not best to lose your captain in six minutes," Pellegrini said. "But I don't think defending was a problem for us tonight.
"Vincent will be assessed on Thursday. Maybe it is his groin, a different injury from the last one."
Join our new commenting forum
Join thought-provoking conversations, follow other Independent readers and see their replies