'That special spirit is part of the DNA of these Chelsea players', says Roberto di Matteo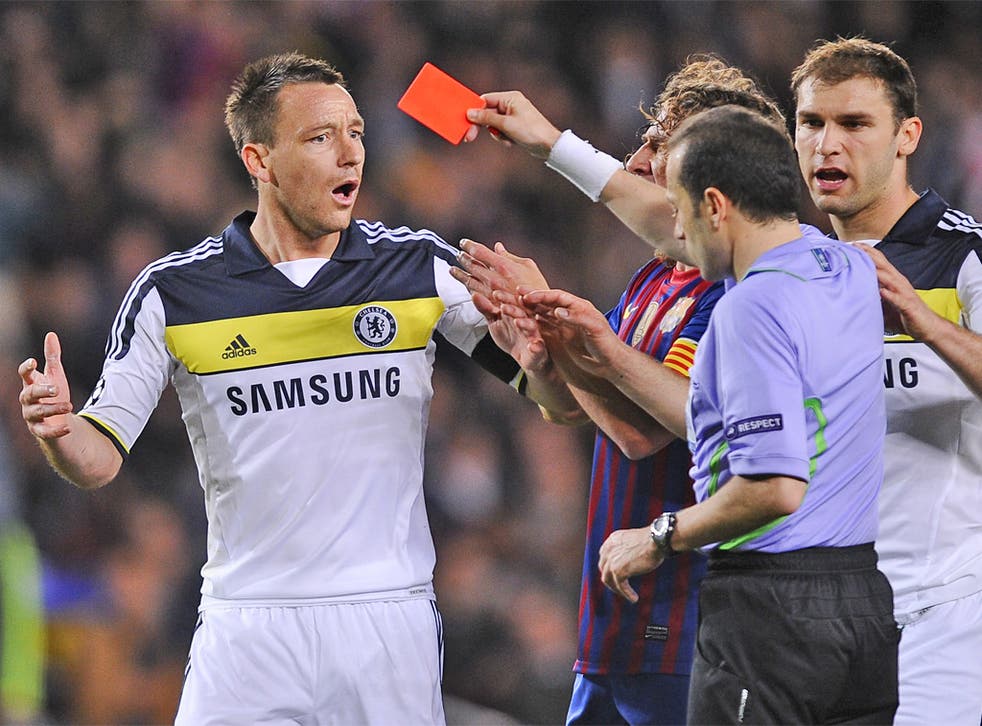 Roberto di Matteo, the Chelsea interim manager, last night hailed the never-say-die spirit of his players that took them past Barcelona and into their second Champions League final in five seasons.
After a night on which John Terry was sent off, and will miss the final through suspension, a fate that also befell Branislav Ivanovic, Raul Meireles and goalscorer Ramires – all booked for a second time – Di Matteo said: "We always seem to get something special out of them when we need to. I think that's part of the DNA of these players.
"They [Barcelona] are the best team in the world. They're amazing. But the way we played and the way we defended – we just showed a lot of desire to reach the final and go through. We had a little bit of luck as well. But to win the trophy, you need that."
Terry apologised after the game for his red card for a needless knee in the back of Alexis Sanchez. Di Matteo said: "He [Terry] is obviously very sad and disappointed that he got sent off tonight. But we're all delighted that Chelsea Football Club and all the players involved on the bench here, and those not on the bench, are going to be in the final.
"We are all human beings. We're put under pressure every three days. This was our fourth game in nine days, and everybody can make a mistake. We work as a group and we're delighted we've gone through."
Terry said: "I have apologised to the lads and I apologise to the Chelsea fans. I was trying to protect myself but looking at it on the replay it does look like a red card. I hope this doesn't take anything away from what the boys have achieved." His central defensive partner Gary Cahill, who went off with a hamstring injury, said later last night that he believes he will make the final.
Chelsea may yet have to win the game against Jose Mourinho's Real Madrid or Bayern Munich to play in the competition again next season but that was the last thing on Di Matteo's mind.
"I'm just delighted for the players. They put so much effort into this. We seemed always to find some reserves from somewhere, playing against the odds. We weren't the favourites, even after that first leg. We had all the difficulties you could imagine, particularly with the way Barcelona play, but we still managed to qualify. It's quite incredible."
Barcelona cursed their luck. Coach Pep Guardiola said: "We did everything we could, but we didn't score. Football is like this sometimes. It wasn't our year, our turn. Other years, we've won everything." He admitted that the defeat will be hard to take for his players, especially Lionel Messi whose second-half penalty miss was crucial. "My admiration for Messi knows no limits. I've no doubt he'll experience a few bad hours now because we know how competitive he is."
For Di Matteo there was no sympathy for Barcelona. "When you go through, when you win – and we haven't lost over two legs against Barça – you deserve to be in the final."
Last-minute goalscorer Fernando Torres said: "We have had a bad season in the Premier League but it could end up as a memorable year. We will miss a lot of players in the final but the important thing is to continue like this and believe we will triumph."
Just like 1975: how Leeds did it first
Leeds United in 1975 reached the European Cup final despite having their centre-half, Gordon McQueen, sent off midway through the second half against Barcelona, who were huge favourites, with Johan Cruyff et al, in the Nou Camp. Leeds had won 2-1 at Elland Road, then drew 1-1 in Catalonia... but lost to Bayern Munich in the final.
Phil Shaw
Missing in action: Chelsea players set to sit out final
Out: John Terry Sent off for violent conduct, 37 min
Out: Ramires Booked for dissent, 45 min
Out: Branislav Ivanovic Booked for dissent, 49 min
Out: Raul Meireles Booked for unsporting behaviour, 89 min
Doubt: Gary Cahill Went off with hamstring injury, 12 min
Doubt: David Luiz Hamstring injury suffered v Spurs, 15 April
Torres sets seal on the miracle of Barcelona
Di Matteo's men park the yacht with Messi left all at sea
Man for man marking: Barcelona v Chelsea
James Lawton: After Terry atrocity, Chelsea heroes produce performance of their lives
Register for free to continue reading
Registration is a free and easy way to support our truly independent journalism
By registering, you will also enjoy limited access to Premium articles, exclusive newsletters, commenting, and virtual events with our leading journalists
Already have an account? sign in
Register for free to continue reading
Registration is a free and easy way to support our truly independent journalism
By registering, you will also enjoy limited access to Premium articles, exclusive newsletters, commenting, and virtual events with our leading journalists
Already have an account? sign in
Join our new commenting forum
Join thought-provoking conversations, follow other Independent readers and see their replies