Victor Moses puts Chelsea back on track and rewards Oscar magic in the Champions League
Chelsea 3 Shakhtar Donetsk 2
Victor Moses puts Chelsea back on track and rewards Oscar magic in the Champions League

Show all 2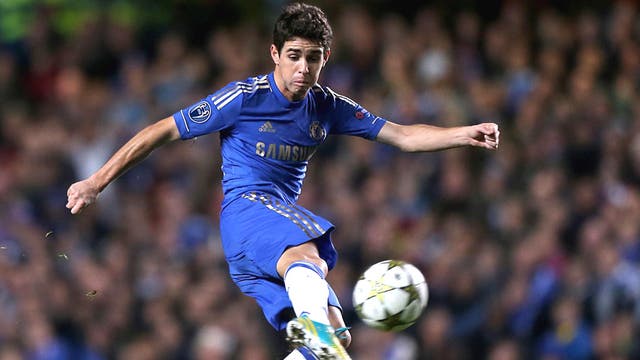 It is little too early in the season for yet another Chelsea crisis but were it not for the intervention of Victor Moses last night that looked to be the way we were heading.
On the great scale of failure and triumph by which all Chelsea managers are judged by Roman Abramovich, elimination in the Champions League group stages is uncharted territory. It is unthinkable for many reasons, not least because no manager has ever failed like that before – not Luiz Felipe Scolari or even poor old Andre Villas-Boas.
Yet, at 2-2 last night and with 93 minutes played, Roberto Di Matteo was contemplating the prospect that defeat to Juventus in Turin in two weeks' time would spell the end of Chelsea's involvement in the competition. No defending champion has ever gone out in the group stages the following season but that ignominy alone would have been the least of Di Matteo's problems.
At that point the sweet triumph in Munich in May felt like a lifetime away, so the Chelsea manager unleashed his last two options upon this sophisticated Ukrainian side and, with the last significant action of the game, Moses headed in the winner. In fact the Chelsea spirit that carried them to that improbable win in the competition last season was once more evident.
Chelsea were out-played in the first half during which Shakhtar Donetsk once again announced themselves as a team of great quality. The goalscorer Willian, as well as Fernandinho, Alex Teixeira and Darijo Srna are good players who have followed the golden trail to eastern Ukraine where the oligarch Rinat Akhmetov has constructed a new European football power from the dirty old mining industries of the Soviet Union.
Last night, Shakhtar demonstrated once again that with enough money you can persuade Brazilian footballers – and not just any Brazilian footballers – to live and play in the coal mining capital of a former Soviet Union state. This is a good team, potentially a very good team. Moses' goal ended a 37-game unbeaten streak for Shakhtar that stretched back 12 months.
The winner means that a draw in Turin on 20 November and a win in their last home game against the Danish champions Nordsjaelland will see Chelsea through to the knock-out stages. As for Shakhtar, they demonstrated a fragility at the end of the game that reflects badly on them, although there were times when they played like a side that could reach the latter stages of this competition.
With John Terry left on the bench, Chelsea scored two goals through Fernando Torres and Oscar that were, to varying degrees, gifted to them by the Shakhtar goalkeeper Andrei Pyatov and went in at half-time 2-1 up and scarcely able to believe their good fortune.
They had been bossed around on their own pitch by Fernandinho and the Czech international Tomas Hübschman who controlled the midfield and passed the ball beautifully. Only Pyatov undermined them.
The best opening Chelsea created themselves in the first half was Oscar's cross from the right in the fourth minute which Torres allowed to run past him rather than act decisively. Pyatov collected the ball and passed it out to Razvan Rat, who gave it back to Yaroslav Rakitskiy before he returned it to his goalkeeper. Pyatov, under minimal pressure from Torres, stuck the ball against the striker and it deflected in.
Before the game, Torres had been presented belatedly with his Euro 2012 Golden Boot award by Kerry Dixon on the Stamford Bridge pitch. Dixon represents the old Chelsea, for whom promotion was a triumph – but he did score 193 goals for the club. Torres is supposed to be the future but in spite of his goal, this was another night when one waited in vain for him to decide the game.
From then on, Shakhtar ruled the game – and what a good side they are. In a plain old 4-4-2 formation, chosen by their coach, Mircea Lucescu, who has been in charge for more than eight years, Teixeira and Srna took charge of the right side and Willian the left.
It was Fernandinho who made their first goal, driving past Ryan Bertrand, who slipped, and then left two more in his slipstream before cutting back to Willian to pick his spot.
A Teixeira shot whistled past Petr Cech's right post on 32 minutes and the likelihood was another goal for the away side. Juan Mata, who looked Chelsea's most dangerous player, had his moments but they were brief. Then his cross from the left searching out Torres lured Pyatov into another mistake.
The goalkeeper came out to clear the ball with his head but sent it straight to Oscar who was a quarter of the pitch's length out and still with plenty to do. This boy has some command of a football, however, and he brought it down quickly on his chest and sent a half-volley with the outside of his right foot straight back over Pyatov's head. The goalkeeper knew he was beaten from the moment it left the Chelsea man's boot.
As a crafty piece of opportunism it would do nicely. As for a plan to win the match, Chelsea did not have one. Back out for the second half they duly conceded again, a beautifully crafted goal by Shakhtar's midfield
Willian began with a ball to Fernandinho; the midfielder picked out Srna on the right wing and his cross was hit first time by Willian who had wandered into the area to take up a position at the near post. At that point you felt that Shakhtar might do what they liked with the game but for the first time they started to flag.
Torres wafted a heel in the direction of a good Eden Hazard free-kick from the left which really merited closer attention from the striker. John Obi Mikel headed in a Mata free-kick but had strayed offside.
Di Matteo gambled on a winner and sent on Daniel Sturridge and then Moses, who scored the goal that saved his boss from the kind of uncertainty that has ended unhappily for so many Chelsea managers.
Man of the match Willian.
Match rating 7/10.
Referee C V Carballo (Sp).
Attendance 41,067.
Join our new commenting forum
Join thought-provoking conversations, follow other Independent readers and see their replies