Everton's season – and future – was saved by Sean Dyche's own brand of creativity
Everton 1-0 Bournemouth: Abdoulaye Doucoure's hammer strike kept the Toffees up on the final day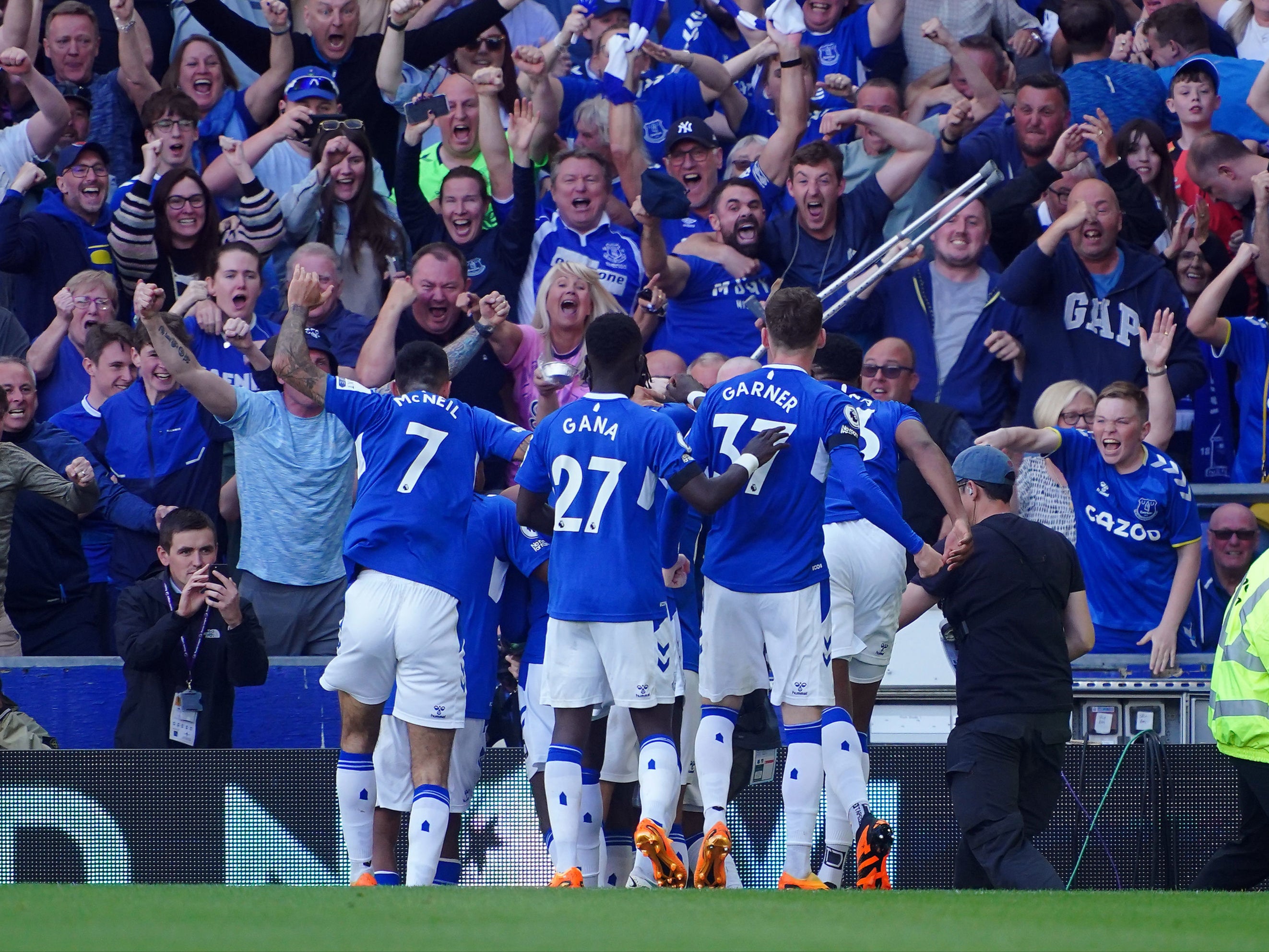 For about 40 minutes, including the half-time break, an era that dated back to the time Winston Churchill was prime minister was ending. As it stood, Everton's 69-year stay in the top flight was entering its final throes. A first relegation since 1951 beckoned.
This threatened to be a historic ignominy. Instead, it produced a place in Goodison Park folklore for Abdoulaye Doucoure; given the concerns about Everton's finances and the question if the club could continue as a going concern without Premier League revenues, the midfielder might not have just been their savour in a footballing sense.
But a rescuer he was. There were fireworks outside Goodison; those inside came from Doucoure's right boot. A bearpit so often as Everton beat the drop last season, their rickety home was subdued, anxious, expecting the worst as Leicester led. Then it erupted.
Because then Adam Smith headed out of the Bournemouth box. The ball sat up obligingly but Doucoure connected beautifully, hammering in a half volley from 20 yards. Mark Travers was motionless. Everton extended his contract this week; Doucoure repaid that, his £20m transfer fee and much more with a swing of his right foot.
Marginalised under Frank Lampard, he become strangely, crucially prolific for Sean Dyche. The former Burnley manager was denied signings by the club's ineptitude at the end of the January transfer window but the recalled Doucoure at least offered an injection of impetus. This was his fifth goal for the new manager. Two of the others came in the astonishing 5-1 triumph at Brighton, the most unlikely and ultimately decisive result in the relegation battle.
And in a game high on tension and low on clear-cut opportunities – not least because Everton lacked the creativity to fashion them or a centre-forward of any kind – that sufficed. One-nil, the classic Dyche scoreline, came courtesy of plenty of perspiration and one moment of inspiration. This has been a successful salvage job by Dyche: his brand of grit has been unglamorous but his team of workhorses ground out a victory. Their destiny was in their hands and Everton clutched it.
They could savour a wholehearted block from Yerry Mina and a wonderful tackle by Conor Coady on Dominic Solanke; two defenders Dyche had omitted were recalled in recent weeks and responded, excelling in what may prove their last games for the club. They could savour a terrific save by Jordan Pickford, parrying Matias Vina's volley. They had to withstand 10 minutes of added time, some of it a product of Pickford's timewasting. Amadou Onana punched the air when he won a throw. Then came the blessed relief of the final whistle: Pickford and Coady charged towards the Gwladys Street End until Everton's players were swamped by a pitch invasion, the blue smoke from flares clouding the air.
And so Goodison Park, which first staged top-flight football in 1892, will do so again in its final fixture in 2024 before Everton move to a new ground at Bramley-Moore Dock. Everton will make it 70 consecutive seasons in either the old Division 1 or the Premier League.
But the jubilation had not lasted long before a chorus of "sack the board". Once again, Everton have stumbled towards crisis, only to somehow spare themselves. The £600m of spending in the transfer market during Farhad Moshiri's ownership has produced a team that only procured 36 points. Dyche did well to take 21 from his 18 matches in charge.
For a game of such importance, he ended up with what was both a logical team selection and an utterly ludicrous one. Dyche picked his best available 11, but none of them are a specialist striker or a full-back. A manager with a marked preference for a regimented 4-4-2 formation ended up with a 3-3-3-1 more associated with Marcelo Bielsa and with three men out of position: James Garner and Dwight McNeil as wing-backs and Demarai Gray as a lone striker. Dyche was forced to improvise: Everton showed urgency, but also incoherency in an enforced experiment.
It took Everton half an hour to carve out a chance of note and then, after an incisive pass from Amadou Onana, Idrissa Gueye's shot was tipped over. Travers also clawed away a lob from Garner and parried a header from Gray that a proper centre-forward would probably have scored.
But then came a goal of both great quality and huge importance. For Doucoure, a status alongside Graham Stuart, Gareth Farrelly and Dominic Calvert-Lewin, the men who delivered the dramatic goals to spare Everton relegation in 1994, 1998 and 2022. There are times when Everton have needed to be the great escapologists. But even in mediocre seasons, with undistinguished teams, they have found a hero, produced an uplifting end. Everton are the great constants in the top division. Ever-presents since the 1950s, they will return once more next year where Leicester and Leeds will not.
Join our commenting forum
Join thought-provoking conversations, follow other Independent readers and see their replies