Anfield sobers up after cup elation
Players in realistic mood following Wembley win and quick to suggest season is far from over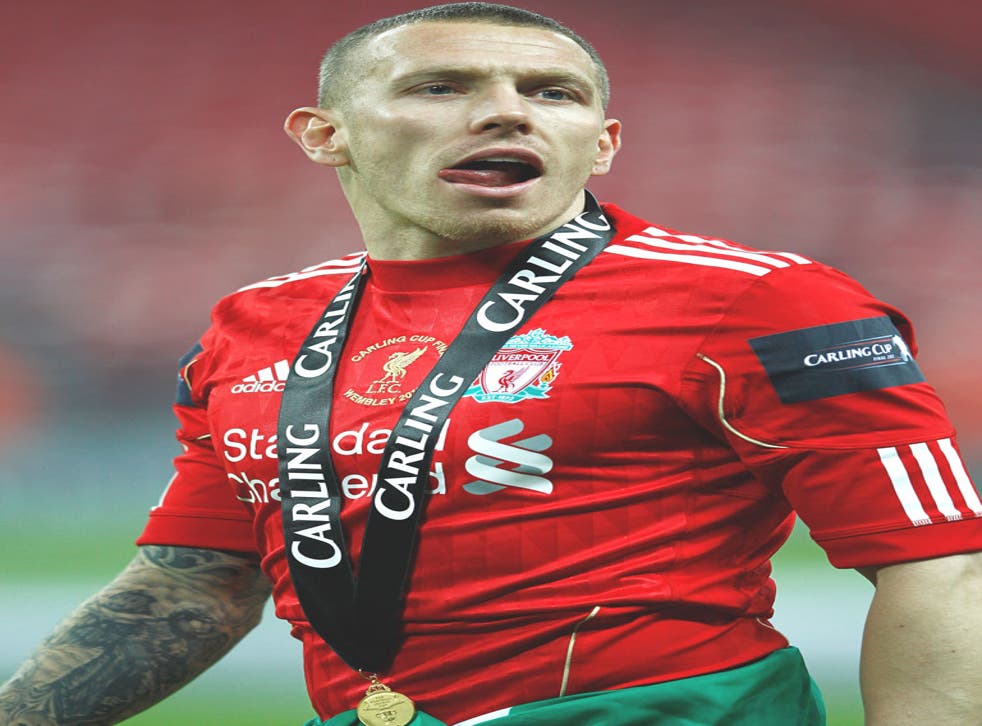 "We have found a way forward," said Dirk Kuyt. It was an unusual and significant way to sum up a first piece of silverware in six years. That cautionary mood, more than the Carling Cup victory itself, and certainly the way it was won, seem to suggest there is at least a mindset inside Anfield now that is more "Liverpool".
Immediate euphoria, and another picture of Jamie Carragher leading the charge after penalty glory, gave way to a more sober feel. Their players did not come out and say it was only the Carling Cup, but their attitude and the subsequent tone were more the endorsement of a club who still have the potential to be big, if not quite the personnel.
Liverpool, if they are serious about even attempting to move back near England's elite – and at this point we have to mention Manchester United and their 12 Premier League titles – needed to recognise Sunday was potentially a stepping stone, nothing more, and in the main they did.
Was the lifting of a trophy a platform, the ever frank Craig Bellamy was asked.
"A platform? Look, we will just have to wait and see on that. I just think, the Carling Cup for Birmingham last year, was it a platform for them? It certainly wasn't. It's not the end of the season for us now we've won a trophy. The simple fact is that at this club there is pressure on the club – day in, day out – to play at the highest level. That's what we've got to continue to try to do.
"The top four is the aim. Well, that is the aim. Champions League football is what every footballer and every club wants to be at. It is the place where this club deserves to be but we've got to go on and prove that on a weekly basis and, hopefully, we will do it."
Carragher echoed the sentiment. Liverpool have qualified for Europe in February, but it is another competition beneath the elite, the Europa League.
"I think we are bigger than that," he said. "We should be looking to get into Europe every year through our league position rather than through winning the Carling Cup. Yes, it is nice to have it in the bag but we are bigger and better than that.
"It's great that we have qualified for the Europa League, of course it is, but we want to do that through our league position. The next step is trying to get back into the Champions League.
"We know it is going to be a difficult task and, obviously, we have got a big game coming up against Arsenal this weekend. They will be flying after the win over Tottenham, but getting back into the Champions League has got to be the next step for this club. Europe is part of our heritage and we need to be involved again.
"Yes, we have achieved something but there are still two targets to go for – the top four and the FA Cup. The top four has been made more difficult by other results this weekend, but we want to come back to Wembley again. We want to play in the semi-final and the final."
Kuyt would not belittle the Carling Cup, indeed he bemoaned its lesser image, but he knew it could only ever be part of a potential story.
"I think this trophy has a major importance for the future of Liverpool Football Club," he said. "Everybody has waited a long time for this trophy, myself included, and now we have won one, hopefully it is the first of many to follow. If you want to be remembered as a football player, you have to win trophies. I am glad I have done that with Liverpool. People can speak about the Carling Cup as a Mickey Mouse trophy but for me, it is the more important one than a medal for playing in the World Cup final.
"I think the way we won this trophy, by beating Chelsea away, beating Stoke City away, beating Manchester City over two legs, we showed we can compete with the best and this is a massive step forward for the club.
"Hopefully, we can still bring in another trophy this year, although there is still a long way to go, but we have found the way forward now and I am very pleased with that."
Join our new commenting forum
Join thought-provoking conversations, follow other Independent readers and see their replies