Angel Di Maria has been 'a shadow' of his Real Madrid self, says Manchester United legend Gary Neville
Neville says he had 'absolutely no doubt' Di Maria would be a success - but numerous factors have seen him fail to produce at Old Trafford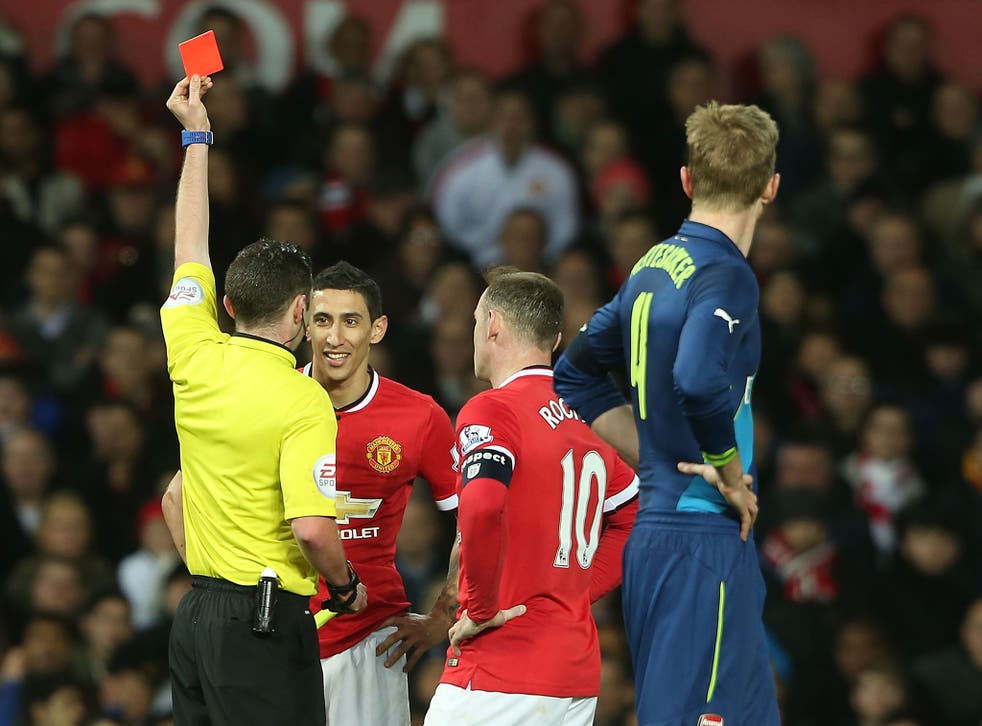 Former Manchester United defender Gary Neville says that Angel Di Maria has looked 'a shadow' of the player that the club thought they were signing for a British record £59.7million from Real Madrid in the summer.
The winger was sent off in the FA Cup sixth round defeat to Arsenal at Old Trafford last night after picking up two yellow cards in less than a minute – one for a dive and a second for tugging referee Michael Oliver's shirt. Di Maria has scored just four goals all season and only one, in the FA Cup at League One Yeovil Town, since his goal against Everton on 5 October.
Neville, writing in his column for the Daily Telegraph before Arsenal's 2-1 victory at Old Trafford, said he had "absolutely no doubts" that Di Maria would be a success at United and that he would "light the place up" after arriving at Old Trafford.
Manchester United 1 Arsenal 2 player ratings

Show all 24
"It was a signing that truly excited me," writes Neville. "I had seen Di Maria play for Real Madrid, watched as he was their best player in the Champions League final last May, and saw him as the addition to the United squad who would deliver the pace, impetus and the ability to change the speed of a game - all of which had all been lacking last season.
"I fully expected Di Maria and Luke Shaw to form a devastating partnership down the left flank and, even at close to £60m, I had no thoughts whatsoever that his signing was a risk.
"Seven months on, that has not happened and it seems a long time since I was sat in a Sky Sports truck at the Etihad Stadium last September watching Di Maria produce what was, for me, the best moment of the season from a United perspective."
The moment he is talking about is Di Maria's brilliant goal at Leicester City, his second in three games, where he drove down the wing before chipping Kasper Schmeichel to make it 2-0 after just 16 minutes.
Leicester went on to win 5-3 and it has been downhill since for the winger, reaching a low point this past week when he was hauled off at half-time against Sunderland and then after less than an hour at Newcastle. He was better against Arsenal last night before his moment of madness brought a red card.
"I have been trying to work out why Di Maria's season has now reached the stage where he is low on confidence and not delivering what everyone expects him to produce," adds Neville.
"Unquestionably, the burglary of Di Maria's house at the end of January will have affected him and his family. He is in a new environment, does not have a particularly good grasp of English and he and his family have been unnerved by a break-in which has left him looking for somewhere else to live. No matter what your profession or where you live, you cannot overstate the psychological impact of having your home breached by an intruder.
"He has come to United when he did not want to leave [Real] Madrid, has suffered the trauma of a burglary, and started to work for a new manager while playing in a team that is still in a 'storm' phase of development.
"So while it would be easy to say that Di Maria must now start playing, stop sulking and get on with justifying his price tag, you cannot ignore the effect that leaving Madrid has had on him - a psychological low which must have been exacerbated by the burglary."
Register for free to continue reading
Registration is a free and easy way to support our truly independent journalism
By registering, you will also enjoy limited access to Premium articles, exclusive newsletters, commenting, and virtual events with our leading journalists
Already have an account? sign in
Register for free to continue reading
Registration is a free and easy way to support our truly independent journalism
By registering, you will also enjoy limited access to Premium articles, exclusive newsletters, commenting, and virtual events with our leading journalists
Already have an account? sign in
Join our new commenting forum
Join thought-provoking conversations, follow other Independent readers and see their replies