Arsenal 2 Liverpool 1: Steven Gerrard joins criticism of Howard Webb, claiming challenge on Luis Suarez was a 'stonewall penalty'
Gerrard feels that Webb missed a clear foul on Luis Suarez that would have given the Liverpool captain the chance to level the score at 2-2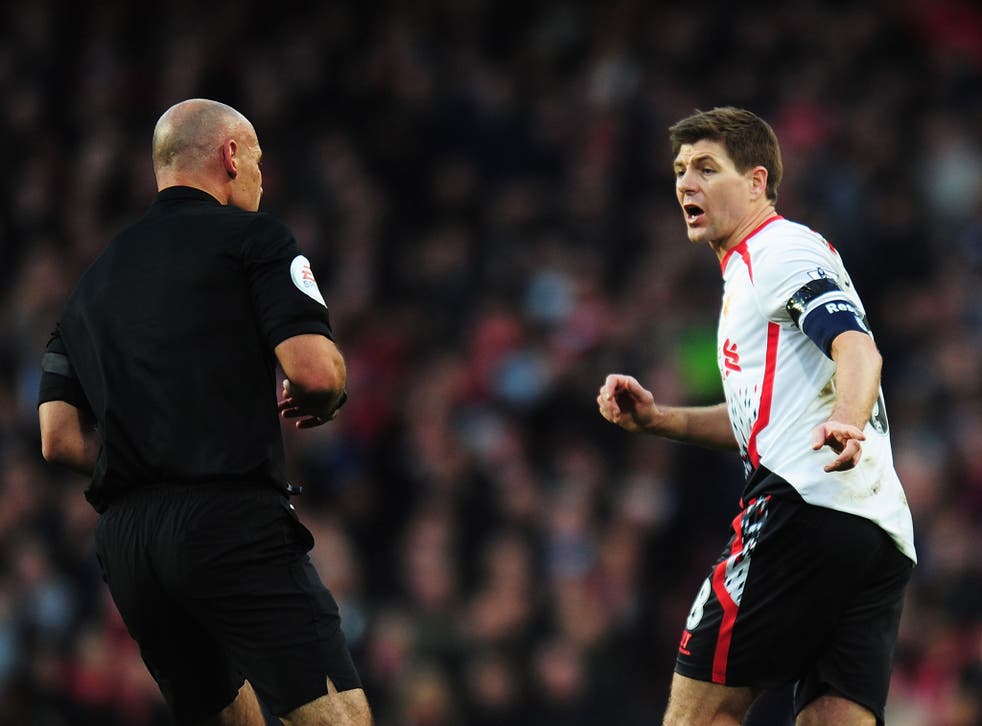 Liverpool captain Steven Gerrard has admitted his disappointment over referee Howard Webb's failure to give what he described as a "stonewall penalty" when Luis Suarez appeared to be brought down in the box by Alex Oxlade-Chamberlain during Sunday's 2-1 FA Cup defeat to Arsenal.
Webb awarded the Reds a penalty early in the second half which Gerrard converted, but he has been criticised for failing to give a second, clearer spot-kick when Oxlade-Chamberlain brought down Suarez in the area.
Gerrard's manager Brendan Rodgers bemoaned the decision over a "blatant penalty" that he feels cost his side a place in the sixth round of the cup. And Gerrard has echoed his sentiments in criticising the World Cup referee.
Liverpool: The latest match pictures

Show all 50
"In my opinion it was a stonewall penalty," Gerrard told the Liverpool Echo. "It was even more blatant than the penalty which was awarded.
"The referee was very close to the incident. It's one you expect to get.
"Howard Webb is a top referee and I'm sure he will have a look at it himself. I am disappointed with the decision."
Rodgers highlighted that the only benefit is that the club can now push on with the Premier League title bid, with the Merseyside club sitting in fourth place, four points off leaders Chelsea.
Gerrard is confident that the loss won't dent the confidence when they return to league action, having had lengthy spells against Arsenal where they controlled the game and looked the better side.
"Obviously we're going away really disappointed with the result but we can't be disappointed with how we played," Gerrard continued.
"Going out of the cup is a blow but the effort, the attitude and the character was excellent.
"There is nothing to be down about. Sometimes you just don't get what you deserve from games and this was an example of that.
"I know going out of the cup won't have a negative impact on the league."
With the Champions League taking centre-stage once more this week, Liverpool will be preparing for their match against Swansea next Sunday, as they continue their attempt to return to the elite European competition after a four-year-plus absence from the tournament.
They currently hold a three-point cushion over fifth-place Tottenham, but recent performances have seen the side looking up the table rather than down as an unlikely title charge begins to gather momentum.
Join our new commenting forum
Join thought-provoking conversations, follow other Independent readers and see their replies