Arsenal vs Lincoln: Five things we learned as Arsene Wenger's men book their place in the FA Cup semi-finals
Arsene Wenger's ran found their rhythm in the second half to cruise past the non-league side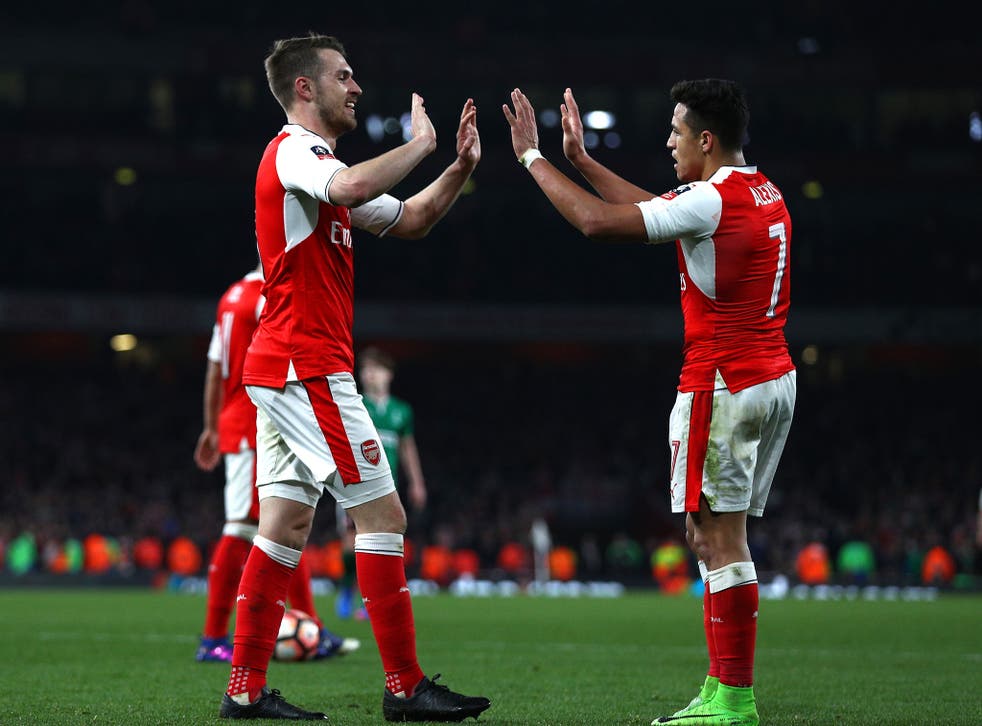 Arsenal put a nightmare week of football behind them to dispatch non-league side Lincoln on Saturday and book their spot in the semi-finals of the FA Cup.
Arsene Wenger's men ran five past Danny Cowley's men to bring the Imps fairy tale story to an end and briefly settle the troubled waters at the Emirates.
As a result, Arsenal remain in contention to claim a 13th FA Cup title - but whether or not such a feat will be enough to keep Wenger in a job is another matter.
Arsenal 5 Lincoln 0 player ratings

Show all 22
Here's five things we learned:
Lincoln's Imps steal the show
On the pitch, the gulf in quality was, eventually, always going to show. But in the stands, the 8,942 travelling Lincoln supporters were more than a match for their more illustrious counterparts.
The fun and games started early when smoke from flares set off by members of the 'Impvasion' forced Covent Garden tube station to temporarily close. Shortly after that, a number of the away fans covertly joined an anti-Wenger protest, chanting 'Wenger in', in the misguided hope that nobody would notice.
They were in fine voice throughout, singing loudly even as Arsenal went 3-0 up thanks to a Luke Waterfall own goal, and were a credit to their club. As for the Arsenal fans? They at least had time to buy a new banner.
Rhead offers an altogether different threat
On Tuesday evening at the Emirates Stadium, Arsenal's defence found themselves trying – and failing – to keep Robert Lewandowski quiet. On Saturday evening, the Pole's place was taken by a 16-stone 32-year-old whose nomadic career has involved stopovers at Kidsgrove Athletic, Congleton Town and Corby.
He may not have got on the score-sheet, and he certainly won't be appearing at the Emirates again anytime soon, but Rhead made a nuisance of himself until being withdrawn in the second-half. He held the ball up well and made more passes than any of his team-mates, nearly all of them with his back to goal.
The highlight of his performance? That would probably be an admiring Ian Wright commenting at half-time that he would have "loved to have played alongside Rhead". A real treat for when the big man watches the game back tomorrow morning.
But reality eventually hits home
It's been quite the cup run for Lincoln. Victories against Ipswich, Brighton and then Premier League side Burnley saw the Imps become the first non-league side since 1914 to reach the last eight of England's oldest competition. But in spite of what has been a nightmare week for the Gunners, Lincoln were ultimately unable to prolong their fairy tale story. The visitors were spirited in their display, working hard out of possession and pressing hard, but Dowley's men struggled to keep hold of the ball as the game wore on and found themselves outclassed as Arsenal's quality shone through. Lincoln have written themselves into the history books but reality was always going to hit home.
Arsenal hold their nerve
Having been swept aside at Anfield one week ago and then ignominiously dumped out of Europe by Bayern Munich on Tuesday night, there was always going to be questions over which Arsenal side would turn up on Saturday. The on-going uncertainty around Wenger's job simply added to the anxiety engulfing the Emirates but, when push came to shove, Arsenal held their nerve to emerge on top. Even so, it took 45 minutes for the home side to truly find their rhythm and brush aside the non-league side following their gallant first-half performance. But by the final whistle there was no doubting that Arsenal's victory was deserved and seemingly inevitable.
When will Xhaka learn?
Another day, another Granit Xhaka yellow card. The midfielder has now been disciplined with a red or yellow card in his last six games for Arsenal - quite the record by all accounts. Despite Wenger's insistence in January that the 24-year-old needs 'to stop tackling', Xhaka has shown few signs of curbing his reckless ways and ill temper. Xhaka has yet to come close to emulating Arsenal's former midfield enforcers and until he learns to channel his passion through the right mediums, the Swiss will forever remain a reliability to the side.
Join our new commenting forum
Join thought-provoking conversations, follow other Independent readers and see their replies