Arsenal players lack mental 'maturity,' says Arsene Wenger ahead of Bayern challenge
Champions League tie against in-form Germans presents last shot at a trophy this season
James Legge
Monday 18 February 2013 11:07 Comments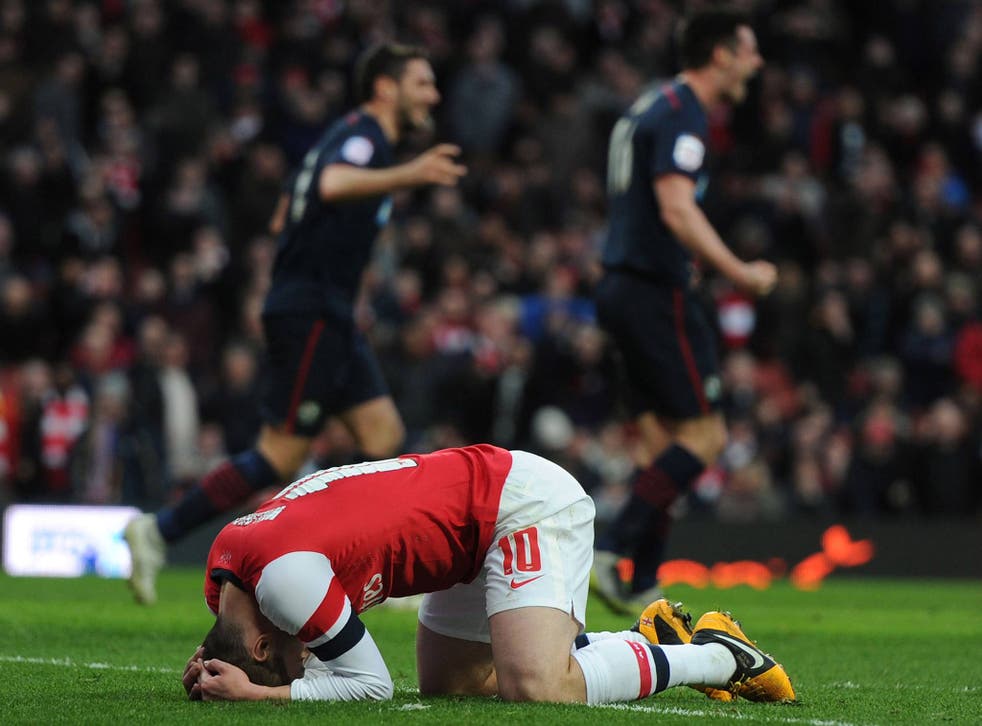 Arsene Wenger called for a response from his Arsenal team after showing a lack of 'maturity' against Blackburn at the weekend.
The Gunners face Bayern Munich tomorrow night in the last-16 of the Champions League, which presents their last distant hope of ending an eight-year trophy drought.
Bayern haven't lost a game since October, are 15 points clear in the Bundesliga, and face Arsenal off the back of six wins, in which they have scored 15 without conceding.
And at the weekend the Gunners were dumped out of the FA Cup by Championship side Blackburn, with a scrappy second-half goal from their former trainee, Colin Kazim-Richards, having squandered plenty of chances to put the tie beyond the Lancashire side.
It was far from ideal preparation for the Germans' visit, and Wenger accepts his men need to take a long hard look at their mindset.
He said: "I think we have a great team, but this shows that we still have to show more maturity on the mental front. We have to understand what it means to win big games, and this was a big game for me.
"I am the first to stand up and say I am responsible for the team selection, but that is not an excuse. If we cannot beat Blackburn like that, I don't think it is down to the selection of the team.
"The top level is about consistency in every single game and that is what we could not show.
"Coming after the Sunderland game we came out with a flat performance and that shows that, mentally, we are not capable at the moment of preparing in exactly the same way for every game.
"Maybe they still thought 'okay, we are playing at home against Blackburn. It will be difficult, but we will win the game anyway.' It doesn't work like that."
With hopes in the Premier League long faded- Arsenal lie 21 points shy of leaders Manchester United- the FA Cup was the club's most credible shot at a trophy, but Wenger urged his players to make it up in the less auspicious Champions League.
"It is (always) vital for us to fight for silverware, but unfortunately this one will not happen for us now and we can only look at ourselves and not complain about anything else.
"Now it is vital for the end of our season that we respond in a strong way on Tuesday night.
"Just now it would be a bit pretentious to say that [we can win the Champions League], but you never know.
"We have to give it a good shot and see where we stand afterwards.
"The players are really hurt, but now you have to take it on the chin and come back with a strong response. That is all we can do."
Last week, Wenger said a win against Bayern could give his side the confidence go on and win the contest.
And today, star man Jack Wilshere also rallied to the cause, saying: "We know what this trophy means in England and we wanted to go all the way, but now we have got to regroup.
"We have got a big game tomorrow and we need everyone behind us.
"We have beaten big European teams here before so we need to do that again."
Register for free to continue reading
Registration is a free and easy way to support our truly independent journalism
By registering, you will also enjoy limited access to Premium articles, exclusive newsletters, commenting, and virtual events with our leading journalists
Already have an account? sign in
Join our new commenting forum
Join thought-provoking conversations, follow other Independent readers and see their replies