Arsenal v Chelsea: Five things we learnt from the unequal renewal of an old rivalry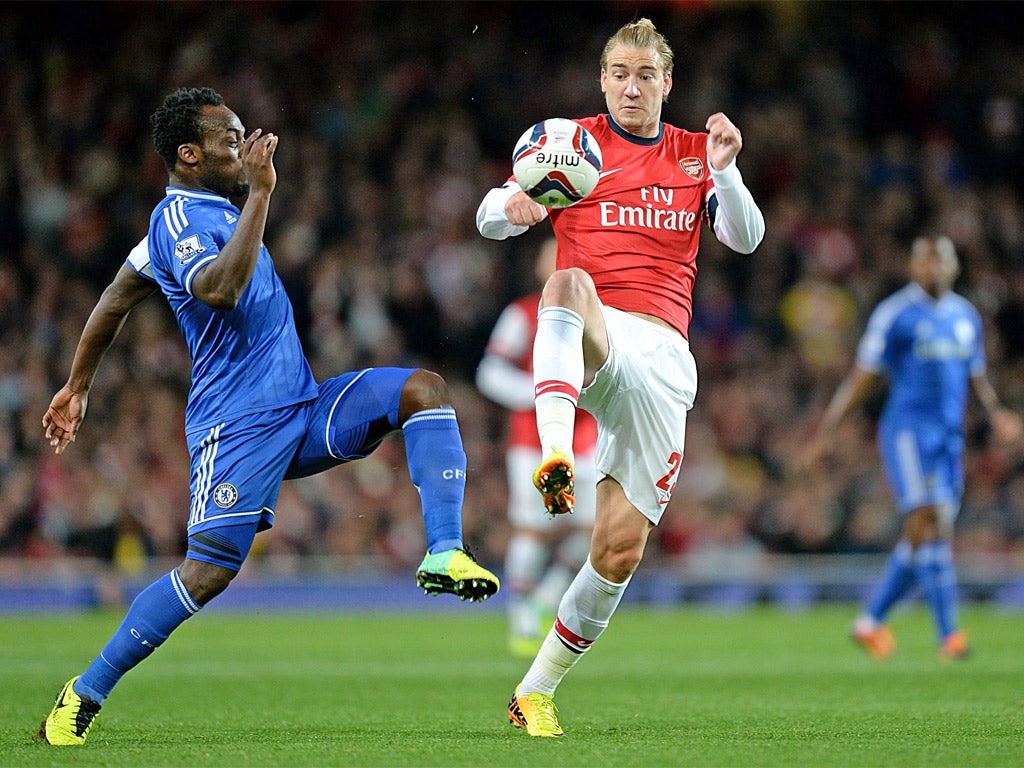 1. Bendtner the blunt samurai offers little cut and thrust
Nicklas Bendtner is not the man to release Arsenal from their Giroud-dependence. Or not yet, at least. The prodigal samurai, loping around up front with his hair in a bun, did not look like a credible alternative to, or even a usable replacement for, the in-form Frenchman. His movement was blunt, not once surprising the Chelsea centre-backs, and when the ball came to him his touch was never good enough to make himself some space. He even turned down a great chance to shoot in the second half. Reintegration might take him just a bit longer.
2. Mikel and Essien combine to roll back the years
Jose Mourinho had chosen the midfield combination of Frank Lampard and Ramires for Chelsea's last five games before this one but there were signs that in Jon Obi Mikel and Michael Essien he has very useful alternatives. These two veterans of the first Mourinho team had only started four games between them before tonight but here they were excellent. Mikel provided discipline and intelligence in front of the defence, stifling Arsenal's creators, while Essien conjured up some of the old power, bursting through the middle – even if one of his shots did go out for a throw-in. As the season goes on, their experience could be vital.
3. Trophy and conviction deficit set to get wider
Some things just come easier to Chelsea than Arsenal and this game felt like a reminder of that; since Arsène Wenger last won a major trophy, Chelsea have won nine. There was just an assurance about Chelsea from the start – one certainly enhanced by the return of serial winner Mourinho as coach. There is a conviction deficit Arsenal still have to make up.
4. Mourinho has greater fringe benefits to draw on
It might simply be a case of quality – that Chelsea's reserves are better than Arsenal's – but those fringe players Mourinho brought into the side certainly outperformed those that Wenger threw in. To take both right-backs, for the first goal: Carl Jenkinson's weak back-header created the opening which Cesar Azpilicueta – charging forward with conviction – took calmly.
5. Mata makes routine work of the indispensable
It was not a surprise that he played well, but the fact that Chelsea can call on Juan Mata as an occasional starter is still remarkable. Back in the team after two games on the bench, he went about his work with the usual diligence and style, scoring the goal that killed the game. At almost every other team he would be the indispensable man.
Join our commenting forum
Join thought-provoking conversations, follow other Independent readers and see their replies