Arsenal win the FA Cup and end Chelsea's double hopes in dramatic Wembley final
Arsenal 2 Chelsea 1: Aaron Ramsey scored the decisive goal that won Arsenal the FA Cup, striking minutes after Diego Costa had cancelled out Alexis Sanchez's controversial opener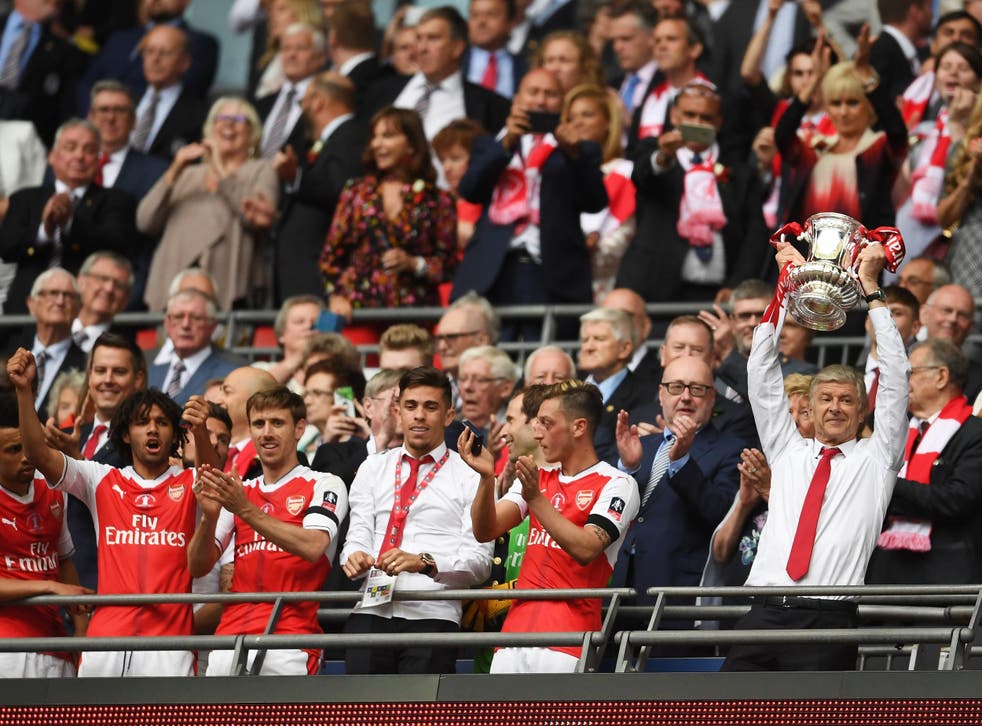 One man stands alone, after denying Chelsea the double. Arsene Wenger ends one of the most difficult seasons of his career with admirable defiance and victory, to become the manager that has won more FA Cups than anybody with seven, and ensure Arsenal are again the club to have won it more than anybody else with 13.
So much of the discussion after this game will of course be about Wenger and his future - as well as that rich history in the competition - but so much of this 2-1 win over eventual 10-man Chelsea was about the commitment he had infused his team with, that was in striking contrast to the champions' eyebrow-raising complacency.
Antonio Conte - who has still never won a knock-out competition - was wary of exactly that and had said that he wanted to see "fire in the souls" of his players, but we only saw that from Arsenal, especially from match-winner Aaron Ramsey and so often the game-saver Per Mertesacker.
They fully deserved this win, and it's difficult not to think Wenger deserves this happiness after such a difficult and distressing season.
It was actually Arsenal who looked like champions, with the kind of assured display they hadn't really offered since, well, the last time they beat Chelsea and set Conte's side on the way to title.
And, just as they were 3-0 up at half-time in that game, they could have been 3-0 up inside 20 minutes here. They were that rampant, and the actual champions that ragged.
Whatever about all the discussion over whether this is Wenger's last game, too, Arsenal certainly played like it was theirs; like it had really sunk in that this could save their season. That ensured that the goal actually felt like it was coming even inside the brief but brilliant three minutes before it arrived.
Chelsea could of course argue that Sanchez might well have handled the ball and that there is something wrong with the rules if the fact Aaron Ramsey's offside position was somehow irrelevant to whether the goal should have stood, but they couldn't argue that Arsenal didn't deserve it.
Wenger's side really deserved much more, and could have scored a series of undeniably legitimate goals thereafter. Gary Cahill was forced into a supremely innovative backheeled clearance from a Mesut Ozil effort on 16, before Danny Welbeck hit the post with a header from a set-piece moments later.
It initially looked like Ramsey should have done better on the rebound, but on second view revealed that Welbeck himself should have done better with the header, since it rolled off his shoulder with the goal at his mercy.
The former Manchester United striker then had a second chance to get Arsenal's second goal on the half-hour, only to take the wrong option after a slightly miscued Sanchez pass had put him through.
This was the thing with Arsenal at that stage. It wasn't just that they had chances, but that there was such an electrical charge to how they were creating, given the way Sanchez was leading exhilarating bursts out of defence up the field.
That defence was performing excellently, especially the hugely experienced Per Mertesacker. He may have been a stand-in, given he was really only playing because of injuries and suspension, but he stood up so well - and was also so willing to get down when required, like when he offered a crucial and assertive block on a Diego Costa chance on 15 minutes.
Costa was very lively and caused problems but one continued problem for Chelsea was that, against a composed and congested Arsenal defence, there were so many occasions when it would end up with Eden Hazard or Pedro on the ball on the wing and looking to pull it back… but only to see N'Golo Kante or Nemanja Matic there.
Good players, of course, but not of the type to offer the ingenuity or creativity required for such a situation.
It was little wonder the Serbian was eventually hauled off for Cesc Fabregas on 62 minutes. Before the Spanish playmaker even had the chance to try and haul Chelsea back into the game, though, the entire dynamic was distorted. That was because Victor Moses did something that was anything but ingenious.
With Chelsea toiling to try and attack but not leave themselves further exposed to counters, the wing-back had already been booked on 57 minutes for bringing down a breaking Welbeck.
He sent himself down to the ground at the other end on 68 minutes, and referee Anthony Taylor again stopped play, but this time to book him for diving. It was the correct call, and forced Conte to rethink his entire plan, and the formation that had so fired this season.
Willian was brought on but there then came a spell that will cause a rethink of how this entire game will be perceived, and is pretty much why Chelsea lost: a complacency that crept in.
Having threatened the whole game, Costa finally produced with a typically brilliant bit of perseverance to wriggle free from two Arsenal markers and somehow get a deflected strike past the despairing desperate David Ospina.
That was 1-1 and the raucous celebrations of the Chelsea players suggested a turning point, only for the game to turn again. And decisively.
Within three minutes, Arsenal were back in the lead, as substitute Olivier Giroud was surprisingly let free to supremely cut the ball back for the oncoming Ramsey.
The way he so full-bloodedly charged into the box so gloriously reflected the fire of the Arsenal performance.
The spark, it seems, is still there. As a consequence, the FA Cup is back there too, and back in the hands of the man that has held it more than anyone else.
By winning his seventh FA Cup, Wenger has now gone ahead of the great Aston Villa manager George Ramsay, whose record has stood for 97 years.
He stands alone.
Join our new commenting forum
Join thought-provoking conversations, follow other Independent readers and see their replies