Bournemouth 1 Liverpool 3: Brendan Rodgers praises 'outstanding' Raheem Sterling as Reds pass their way into 'epic' Chelsea semi-final
Chelsea await Liverpool in the final four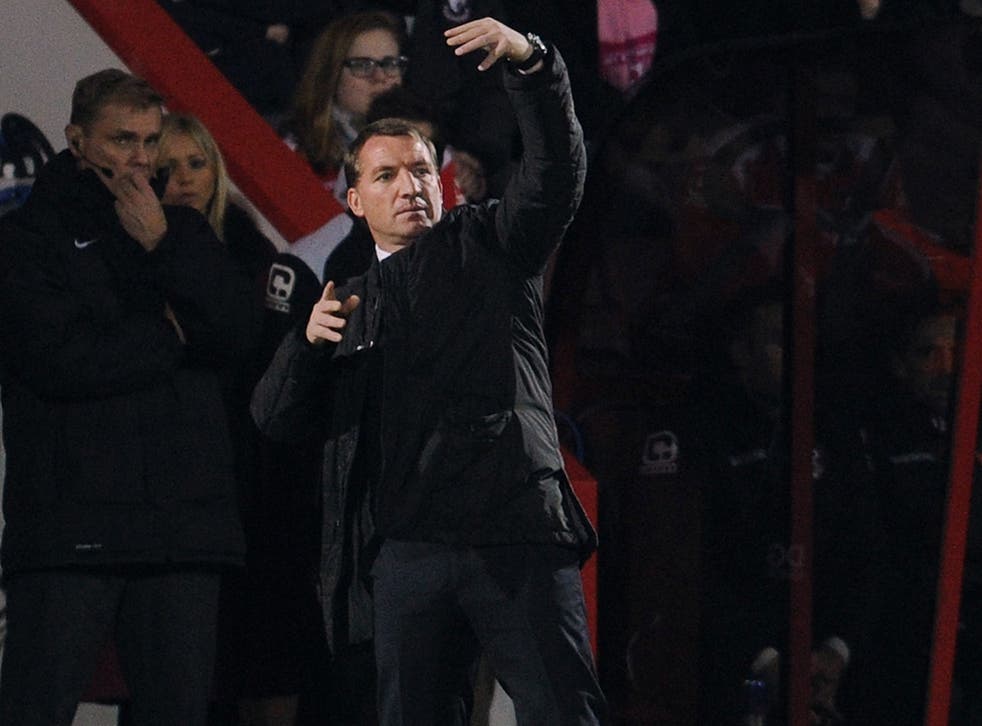 Brendan Rodgers praised an "outstanding" performance by his Liverpool team tonight who beat Bournemouth of the Championship 3-1 to set up what the Ulsterman described as an "epic" Capital One Cup semi-final against Chelsea in the new year.
Raheem Sterling scored twice and Lazar Markovic got Liverpool's second as Rodgers' team beat the Championship leaders comfortably to ease the pressure on them ahead of Sunday's league game at home to Arsenal.
Rodgers said: "It was an outstanding performance. I was hopeful after Old Trafford [and the 3-0 defeat to Manchester United on Sunday], even though the result wasn't ideal. I saw moments in our game which were good, creating a lot of chances. We know we have a long way to go, but the signs were there. This was a tough game against a team top of the league, so for us to dominate as we did, and score the goals, was very pleasing."
Sterling's goals were his first in 18 games and Rodgers said that the player's concentration had not wavered in spite of the impasse over his contract.
Rodgers said: "He's a kid that, for some reason, seems to be getting a lot of stick. His contract situation is nothing to do with him. His representatives are the ones working with the club. You can see he's happy and enjoying his football. He was unfortunate not to score at Old Trafford but was a real threat.
"He plays like Alexis Sanchez's role for Arsenal, not an out and out striker but his speed and movement cause problems. [So too] his ability to turn and drop in, his threat on the counter attack. He's been the real catalyst for us this season. We work very hard on our possession and movement and creativity. It's taken a long time for us to find rhythm this season, but the work rate has never stopped.
"It takes character and quality to get through at places like this, but that first goal [a move which included 51 passes] was a wonderful example of patience, movement and creativity. We showed outstanding quality on the ball, waited for the moment and then found the chance."
Dejan Lovren was substituted at half-time with a groin problem. Rodgers agreed that the two legged tie against Chelsea would be "epic". He said: "Our objective tonight was to get through. We knew whatever team we got would be a difficult game. If you're going to win the competition, which is our objective, you have to beat the best team. It's over two legs and we'll relish that opportunity."
The Bournemouth manager Eddie Howe admitted that his captain Tommy Elphick stopped before the second goal was scored by Markovic because he believed a whistle from the crowd was from the referee. Dan Gosling's goal for Bournemouth to make it 3-1 came amid the home side's best period.
Howe said: "It was frustrating for us. We were not at our best in the first half after an electric start. Liverpool kept the ball well and showed their qualities. But we showed our quality in the second half and that was the pleasing thing. A mark of our character and the players we have was that we kept going.
"We put Liverpool under pressure in the second half and on a different night we'd have scored more goals. The aim is to try and get into the Premier League and we'll wait to see if we're good enough to make it."
Register for free to continue reading
Registration is a free and easy way to support our truly independent journalism
By registering, you will also enjoy limited access to Premium articles, exclusive newsletters, commenting, and virtual events with our leading journalists
Already have an account? sign in
Register for free to continue reading
Registration is a free and easy way to support our truly independent journalism
By registering, you will also enjoy limited access to Premium articles, exclusive newsletters, commenting, and virtual events with our leading journalists
Already have an account? sign in
Join our new commenting forum
Join thought-provoking conversations, follow other Independent readers and see their replies