Chelsea fans don't have to worry now, says furious Rafael Benitez as exit is confirmed
Interim manager insists Chelsea supporters should have given him more respect but they will get their way because he has no intention of sticking around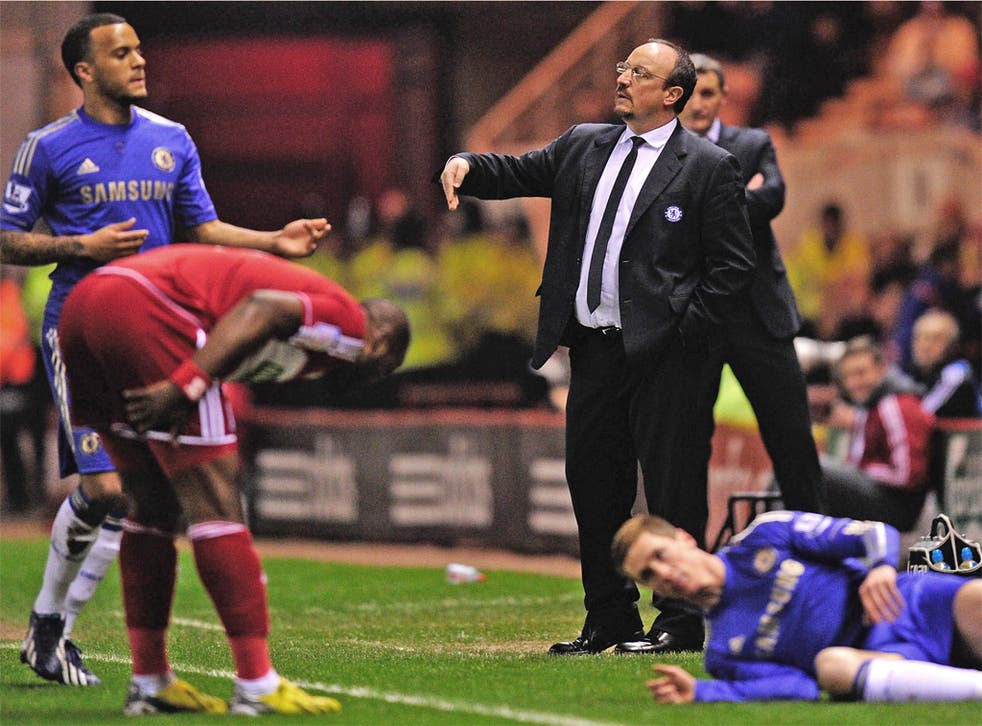 The end, for that is what it will surely be, was at least dramatic, breathtaking in fact. Managers do not issue tirades against the supporters and the board of their own football club in such spectacular fashion, in public, with a smile. In that was at least a suggestion that Rafa Benitez knew what he was doing when he unleashed 97 days' worth of anger, 97 days of resentment to the hostility. Should we really have been surprised that Benitez, with more than a quarter of a century in his profession, took such an affront at the treatment? The treatment from his own fans.
He started with a reminder of everything he had won.
"I have been in charge in football for 26 years," he said. "I have won the Champions League, won the Fifa Club World Cup, the FA Cup, the Italian Super Cup, the Spanish league twice, nine trophies, all the trophies you can win at club level. A group of fans, they are not doing any favours for the team when they are singing and wasting time preparing banners."
At some point, it will be revealed where the decision to taint Benitez with the tag 'interim' came from, when he was appointed on November 21. His finger was at the boardroom.
"It's because someone made a mistake," he added. "They put my title 'interim manager'. I'm the manager and I will be managing the team. I like to manage players and not names, so I will pick my team, and I will make decisions and at the end of the season, I will leave anyway because I am interim like they said.
"They put me there with the title 'interim', so why do they have to bother about that? Just carry on supporting the team. It's a team in transition, they don't realise. In the past, we had Drogba, Essien, Kalou, these players, it was a very strong squad, players with experience in the Premier League.
"Now we have a group of players with talent, really good players with talent, but they need time. It's a time of transition, but they don't realise it was a time of transition when I came here. The team was not in the Champions League, the team has lost some trophies, so I am trying to do my best and I will try to do my best until the end, until the last minute.
"It doesn't matter what they say. I am a professional, I have experience and I will do my best, but if they carry on in the same, they have to take responsibility because they are damaging the image of the club and the rest of the fans because people think all the fans are the same.
"The Chelsea fans are really good, they support the team, but if they continue with their agenda, I don't think they do any favours to the team. I will leave at the end of the season, so they don't need to waste time with me. They have to concentrate on supporting the team, that's what they have to do. In the end, they are not doing any favours to the club, to the rest of the fans and to the players.
"Every game they continue singing and they continue preparing banners, they are wasting time. What they have to do is support the team. If we cannot achieve what we expect to achieve, that is to be in the top four and be in the Champions League for next year, I will leave; they will stay in the Europa League.
"They have to take responsibility too. If they put players under pressure, they don't create a good atmosphere at Stamford Bridge, they have to realise they are making a big mistake because the rest of the fans would like to see the team in the Champions League next year.
"It would be much better for everyone to have a good atmosphere and supporting the team, backing the players, and that's it."
Less than 2000 Chelsea fans had travelled to the North east, to see a much-changed side labour to a two-nil victory against Championship Middlesbrough. They still sang against Benitez. They had unfurled a banner against him before the game had started but it was taken down, under order from stewards. At Stamford Bridge on Saturday, when the visitors are West Bromwich Albion, it will be a free for all, any banner will be allowed. Perhaps that was motivation for Benitez to effectively call time.
"They are wasting time, they are wasting time," he repeated. "I have proved in these three months that I want to win every single game. I am a professional and I am sure if we win, I will be the happiest man in the world, but if a group of fans continue with their agenda and they continue not supporting the team and wasting time with these things, it's their decision, but they are not doing any favours to the team, to the club, anyone.
"The problem is a group of people who think they can say what they want instead of supporting the team. They have to support the team, they have to support the players and don't waste any other things because they don't need to be worried about me, I will leave at the end of the season, so why do they have to be worried? I will do my job, I will try to win every game until the last minute, that's it."
He was asked if the criticism hurt, which clearly it has. "No, I am surprised," he added. "Again I will say I have won nine titles, all the titles that you can win at club level, in three different countries, so I think I have enough experience and enough quality as a manager to hear a group of people with an agenda and carry on.
"They don't realise I will leave at the end of the season. They don't need to be worried about me, but what they have to do is support the team. If they don't do that and we are not in the Champions League at the end, they can blame whatever they want, but next year we will be in the Europa League."
With that he left the room. And probably Chelsea Football Club too.
Rafa's reign: Timeline of interim tenure
21 Nov Appointed Interim Chelsea manager by Roman Abramovich, succeeding the sacked double-winner Roberto Di Matteo.
25 Nov Greeted with boos on his introduction to fans at Stamford Bridge ahead of first match, a 0-0 draw with Manchester City.
5 Dec First victory in fourth match as Chelsea manager, a 6-1 Champions League win against Nordjaelland that was not enough to keep them in the competition.
16 Dec Takes club to Club World Cup final in Japan, but Chelsea lose 1-0 to Brazil side Corinthians.
2 Jan Beaten 1-0 at home to bottom club Queen's Park Rangers in the west London derby thanks to Shaun Wright-Phillips late goal.
16 Jan Chelsea surrender 2-0 lead at home to Southampton to remain 13 points off leaders Manchester United.
23 Jan Swansea complete 2-0 aggregate win to put Chelsea out of League Cup, as Eden Hazard is sent-off for kicking out at a ballboy.
1 Jan Reading score twice in final four minutes to rescue a 2-2 draw at the Madejski Stadium, then, three days later lose 3-2 at Newcastle after leading 2-1.
24 Feb Limp display in 2-0 defeat at Manchester City leads to dispute among players and staff.
27 Feb Criticises treatment from supporters after FA Cup win at Middlesbrough, claiming he will leave at the end of the season.
Join our new commenting forum
Join thought-provoking conversations, follow other Independent readers and see their replies