Chelsea's callow surrender piles yet more pressure on Villas-Boas
Chelsea 0 Liverpool 2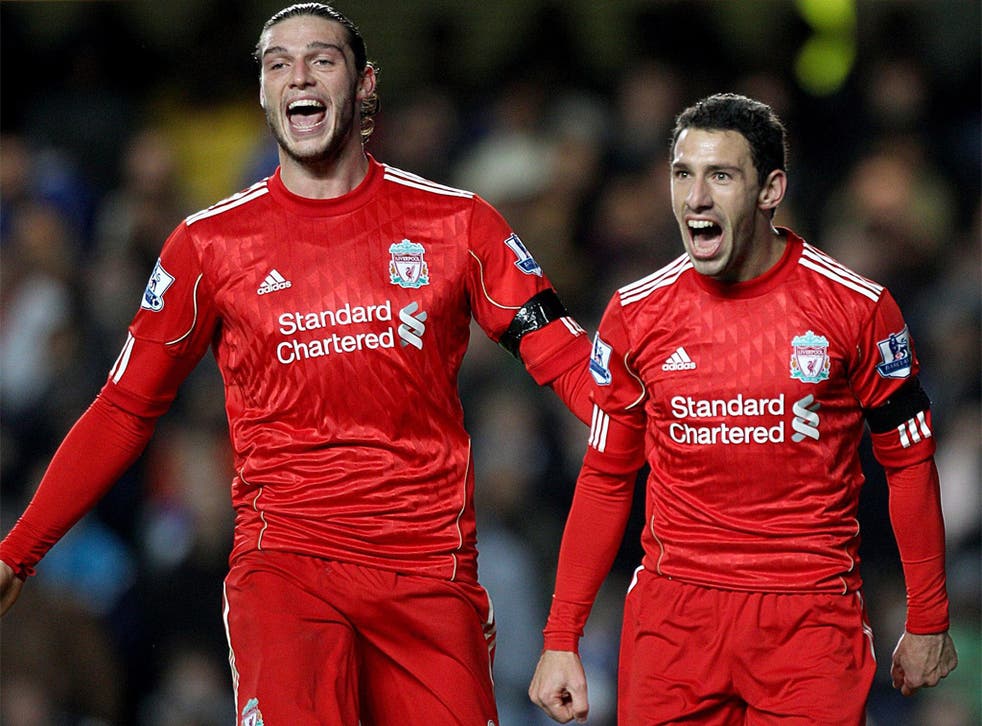 It was supposed to be about Fernando Torres and Andy Carroll; for a moment, it threatened to be about Phil Dowd. In the end, though, as it always seems to be these days, it will be about Andre Villas-Boas. Another defeat, another callow, anodyne performance, beaten by Liverpool and out of the Carling Cup: it could not be about anything else.
The Chelsea manager has now overseen five defeats in nine games – two of them to Kenny Dalglish's team – a run that has cost the club any realistic chance of regaining the Premier League title, and any chance at all of winning the Carling Cup.
And so while Liverpool remain on course for a first Wembley appearance since 1996, Villas-Boas has missed the opportunity to emulate Jose Mourinho and win the first trophy available to him. The damage may be more serious than that, though. Newcastle, Valencia and Manchester City await. The Portuguese stands on the brink.
This was clearly one of those evenings when nobody wanted penalties. Not the players, aware that there are more crucial, more exacting Premier League challenges awaiting; not the managers, a long, harsh winter on their minds; and, judging by the evidence of the first 10 minutes, not the referee.
Twice in the space of 120 seconds Phil Dowd waved away concerted appeals for a spot-kick; first, most convincingly, from the hosts, when Sebastian Coates appeared to trip David Luiz as the Brazilian careered into the Liverpool box, and then when the Chelsea defender seemed to nudge Carroll as he leapt to meet a Jose Enrique cross.
Both, in truth, could have been given; it was understandable why both were not. Though Coates was some considerable distance from the ball when he felled Luiz, there was a lingering suspicion that the Brazilian sought the contact. Carroll, meanwhile, made the most of a slight push. Parity, either way, was the correct outcome.
Even when Dowd did award a penalty, he seemed to do it begrudgingly, on the advice of either his assistant referee or the fourth official. This time, though, he adjudged it undeniably correctly, Alex clearly – if not entirely explicably – handling the ball as he tussled with Carroll to meet another Enrique cross. The referee initially awarded a corner kick; furious protests, led by the striker, prompted him to consult his support staff and admit his error.
No matter: Carroll spurned the opportunity. Such has been his luck, and his form, since he inherited Torres's shirt that it was presumably out of sympathy that his team-mates permitted him to take the ball in the absence of any of Liverpool's three regular penalty takers, Dirk Kuyt, Charlie Adam and Luis Suarez. He is unlikely to be invited back. His effort was hit well enough, but Ross Turnbull did not need to extend himself fully to his right to parry it.
Even the 22-year-old, though, will be able to take solace that his evening was an unadulterated triumph compared to Dowd's. Not content with the chaos of the three penalty decisions, the referee then managed to book Ryan Bertrand for a lunging tackle on Jordan Henderson by Romelu Lukaku.
Dowd's performance lent the game a surreal air; it was no surprise that neither team found it within themselves to fashion a chance out of their own merit, rather than their opponents' flaws. The best, perhaps, fell to Lukaku, the Belgian fed by Florent Malouda but denied by a wonderfully-timed tackle from Coates.
The 20-year-old stymied Chelsea's best chance, too, clearing from Luiz on the line after Jose Bosingwa steered Frank Lampard's corner on to the bar. His timing was impeccable: no sooner had Dalglish's team regained their composure than Rodriguez had struck again, his second on this ground in nine days. It was a sumptuous counter-attack, Henderson splitting the hosts' back-line, Bellamy racing down the right flanks and squaring for the Argentine to tap home.
Kelly's first goal for the club soon followed; here, too, an exercise in simplicity. Bellamy swung in a free-kick from the left, and the 21-year-old, unmarked on the edge of the six-yard box, nodded home.
Chelsea's response was fleeting. Nicolas Anelka was foiled, more by accident than design, by Pepe Reina; the goalkeeper then denied Torres, his close friend, clasping a goal-bound header. That was the striker's first real involvement. It was not about him at all. It was not about Carroll, either, or Dowd. It was about Villas-Boas, alone.
Chelsea (4-1-2-1-2): Turnbull; Bosingwa, Alex, David Luiz, Bertrand; Romeu; Lampard, Malouda (Mata, 64), McEachran (Ramires, 41); Lukaku (Anelka, 64), Torres. Substitutes not used Hilario (gk), Ivanovic, Ferreira, Kalou.
Liverpool (4-4-1-1): Reina; Kelly, Carragher, Coates, Jose Enrique; Henderson, Lucas (Adam, 70), Spearing, Maxi Rodriguez (Skrtel , 89); Bellamy (Kuyt, 79); Carroll. Substitutes not used Doni (gk), Suarez, Downing, Flanagan.
Referee P Dowd (Staffs).
Register for free to continue reading
Registration is a free and easy way to support our truly independent journalism
By registering, you will also enjoy limited access to Premium articles, exclusive newsletters, commenting, and virtual events with our leading journalists
Already have an account? sign in
Register for free to continue reading
Registration is a free and easy way to support our truly independent journalism
By registering, you will also enjoy limited access to Premium articles, exclusive newsletters, commenting, and virtual events with our leading journalists
Already have an account? sign in
Join our new commenting forum
Join thought-provoking conversations, follow other Independent readers and see their replies