Chelsea see off Southampton to set up FA Cup final date with Manchester United
Chelsea 2 Southampton 0: Second-half goals from Olivier Giroud and Alvaro Morata saw the Blues run out winners at Wembley and set up a season-defining return next month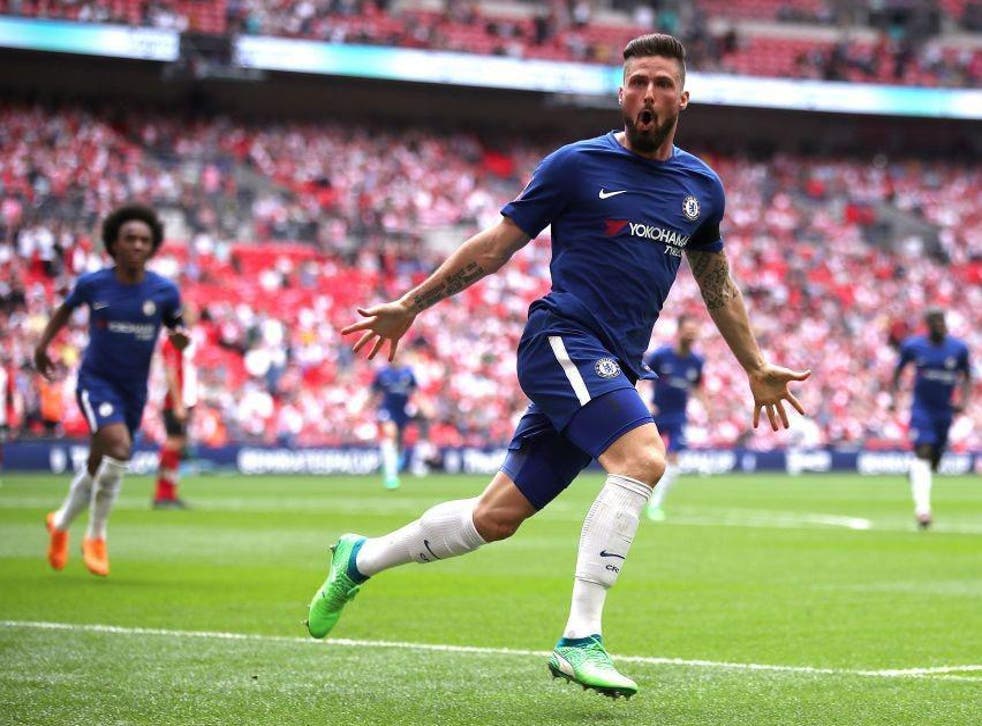 Save the date: May 19, Chelsea vs Manchester United in the 137th FA Cup final. The first final between these two clubs since a fateful, rain-soaked night in Moscow a decade ago. The first final between Jose Mourinho and Antonio Conte, two of the titans of modern coaching. And a chance for two giants of English football to add a silver lining to their largely disappointing seasons.
With the Premier League noodling towards its foregone conclusion, next month's final now stands as the biggest fixture left in the 2017-18 domestic season. On a slowly greying afternoon at Wembley, Chelsea booked their place in it for a second successive season, seeing off a spirited but limited Southampton side. After a goalless first half, Chelsea squeezed the accelerator in the second, Olivier Giroud scoring within seconds of the restart and Alvaro Morata making sure late on.
As much as anything, it was a vindication of Antonio Conte's decision to give Giroud a starting place over Morata, letting the former Arsenal player puncture holes in Southampton's defence for 80 minutes before letting Morata loose on them for the final 10. But the real star of the show - again - was Eden Hazard, whose man-of-the-match award was fitting recognition for a performance in which his enterprise, power and simple refusal to let Southampton take the ball from him went a long way towards determining the pattern of the game.
Hazard could easily have scored two or three goals himself, and if recent Chelsea vs United meetings are anything to go by, he can expect plenty of attention from Mourinho's side in next month's final. Certainly, he will be given a sterner test than Southampton were able to provide here. With their Premier League status hanging by a thread, and their Cup dream now over, this has been a truly miserable season for Mark Hughes's side.
Here, their tactic of keeping the game tight and trying to nick the odd goal came unstuck lasted only around 20 seconds into the second half. That was the moment Cesc Fabregas chipped the ball into Hazard, who leapt, plucked the ball magnificently out of the air with his toe, kept his balance as he changed direction, and nudged the ball to Giroud.
Did you ever see that episode of Planet Earth where the baby iguana is trying to escape to freedom, desperately slaloming its way through a terrifying gauntlet of racer snakes, slashing and swiping at its feet? That's what it felt like watching Giroud trying to pick a route through the desperate challenges of Cedric Soares, Mario Lemina and Maya Yoshida. Somehow he evaded them all, tucking the ball home with his right foot as he finally collapsed to the turf.
Until that point, Southampton's lack of ambition on the ball had been almost painful to watch. Their two-man attack of Shane Long and Charlie Austin had been largely starved of the ball. Cesar Azpilicueta and Victor Moses had combined well to limit Southampton's threat down the left. Now, to the roars of their own fans, they finally stepped forward and showed a little bravery. And paradoxically, the third quarter of the game was perhaps their best spell of the match, as the bright sunshine gave way to dense cloud and Chelsea's breezy afternoon kickabout gave way to stolid rearguard.
The turning point came just before the hour. Wesley Hoedt's low pass was cleverly left by Austin, leaving Long with a clear run at goal. His first touch took the ball out of Willy Caballero's reach. Unfortunately, it also took the ball out of his own reach, everybody else's reach, and sent it thudding into a large Budweiser hoarding 15 yards behind the goal. If you were to make a compilation tape of Long's painfully dry 2017-18 season - 35 games, two goals - then that moment just about summed it up.
But Southampton had their tails up. They cursed their luck as Redmond's low shot was fortuitously saved by Caballero; they howled in protest as the ball was bundled into the net from the subsequent corner, only for Martin Atkinson to blow for a foul on the goalkeeper. And having brought on Tiemoue Bakayoko for a deeply unimpressed Willian in an attempt to shore up the midfield, Conte now tipped the balance back forward, bringing on Pedro for Fabregas and Morata for Giroud.
With nine minutes to go, Morata made the game safe. Picking the ball up near the right touchline, Azpilicueta looked up and did what Southampton had been reticent to all game, and put in a speculative cross. Morata's header was clean, simple and effective. On the touchline, Conte allowed himself a scream of delight. His days at Chelsea may be numbered, but here his team had done the job.
There was still time for Austin to hit the post, for Morata to have a shot scraped off the line, for Alex McCarthy to produce a sharp save to prevent an own goal and spare Hoedt's blushes. Yet the story of the game had already been written, and so there was a certain subdued quality to the denouement, which unfolded in front of swathes of emptying seats.
The attendance of 73,416 was the lowest for an FA Cup semi-final since Hull v Sheffield United in 2014, and the lowest for a semi between two Premier League sides since they were permanently moved to Wembley a decade ago. Doubtless the FA's unreasonably high ticket prices were a factor here, tarnishing their own competition with simple greed. They, as much as anyone, are relying on a memorable final next month, and the good news from their perspective is that we have two teams well capable of providing it.
Register for free to continue reading
Registration is a free and easy way to support our truly independent journalism
By registering, you will also enjoy limited access to Premium articles, exclusive newsletters, commenting, and virtual events with our leading journalists
Already have an account? sign in
Register for free to continue reading
Registration is a free and easy way to support our truly independent journalism
By registering, you will also enjoy limited access to Premium articles, exclusive newsletters, commenting, and virtual events with our leading journalists
Already have an account? sign in
Join our new commenting forum
Join thought-provoking conversations, follow other Independent readers and see their replies