Callum Hudson-Odoi offers glimpse of the future as Cesc Fabregas departs the stage in Chelsea win
Chelsea 2-0 Nottingham Forest: Alvaro Morata's brace secured victory for the hosts but the Spaniard's future at Stamford Bridge remains unclear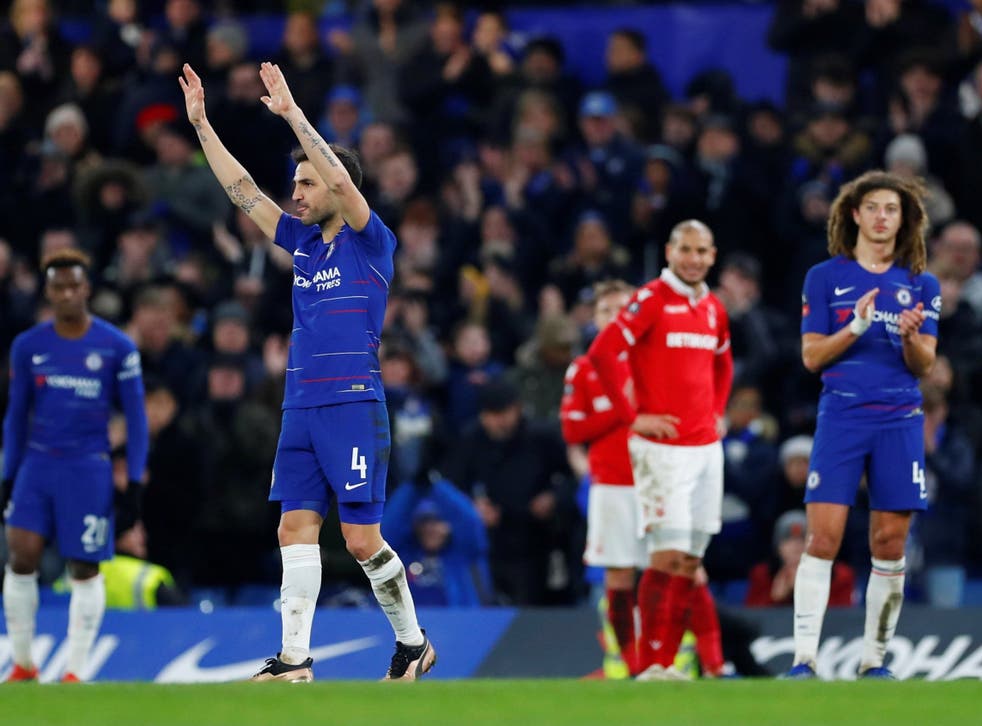 A day that was supposed to be about all levels of English football coming together, and one of the world's aged stars emotionally departing this stage, ended up revolving around one of Europe's most expensive ever players and a youngster who may well ascend to such levels.
The highly sought-after Callum Hudson-Odoi helped Alvaro Morata overcome some dreadful early problems to score twice for his first goals since November, and help their side overcome Cesc Fabregas' unfortunately-timed early penalty miss to beat Nottingham Forest 2-0 in the FA Cup third round.
Luke Steele's save from that spot-kick wasn't the only element that slightly spoiled what is expected to be the Spanish midfielder's farewell, as Ruben Loftus-Cheek also went off injured and in tears in the first half. There were tears for a different reason from Fabregas after the game, having been brought off in the 86th minute for a standing ovation from the crowd.
Named captain for the day, he is expected to join Monaco – and his old teammate Thierry Henry – in this January transfer window. The futures of Hudson-Odoi and Morata are much less clear, making their double act all the more pointed.
They ended up looking so fluid together and such an obvious fit that maybe Maurizio Sarri should look to this more for a team badly lacking in flow of late. It also admittedly helped that Morata was finally playing with a winger who was actually willing to provide crosses for him in Hudson-Odoi. The latter finally got another game, at a time when Chelsea have just announced a huge new signing for one of his positions in Christian Pulisic. The manager thereby got a performance.
To be fair to the club, those are not the only reasons that there is speculation. Out of contract in 2020, 18-year-old Hudson-Odoi's representatives are known to be looking at many lucrative potential offers – not least given Bayern Munich's clear interest – and the feeling from one well-placed source is that his camp "will just accept the highest bidder". That has seen Chelsea put a £40m asking price on him.
It can't be denied that limited playing opportunities are part of this, though, with those possibly further blocked by Pulisic's summer arrival. This was thereby the perfect moment to flaunt the talent that Sarri has already said could make him one of Europe's "most important players", and at a time when the manager has – almost literally, given his press conferences – been crying out for another wide forward. Hudson-Odoi twice crossed beautifully for Morata, who twice – finally – finished well.
It has been Morata's generally meek and unresponsive disposition as much as his struggles in front of goal that have seen so much speculation over his future, but the reality of Chelsea's business model is that they're never going to outright sell a player when his value – as a result of this form – is so low. They didn't with the struggling Fernando Torres, sending him out on loan first.
Even leaving aside nationality, it has been difficult to deny Morata has a touch of Torres syndrome, and there has been receding hope at the club he can get out of this. Teammates have been fairly openly talking about how he needs to fight much more.
This display might just change that a little, especially given Morata's resilient response to what was close to a psychodrama of a first half.
Within moments of the game starting, the striker had creditably pounced on a Luke Steele fumble, only to immediately lose his footing and fall. You could say it was a metaphor, but the next few minutes showed he had even further to fall – before his rise. Morata just minutes later headed a chance straight at Steele from just yards out, before then going down when through on goal under pressure from Claudio Yacob. The striker maybe was fouled and motioned for VAR, except it wasn't being used in this match. Another miss.
The referee couldn't miss Yacob's foul on Loftus-Cheek on the half-hour, and Fabregas did at least hit the target from the subsequent penalty. The problem was his bizarrely stuttering run-up made it easier for Steele to save.
Sign-offs, however, are generally forgotten. What will be remembered are all those trophies he won here.
While that will barely be considered Fabregas' last meaningful action in a Chelsea shirt, it was Loftus-Cheek's last meaningful action in the game. He unfortunately had to go off, giving Sarri the problem of having to bring Eden Hazard – who could have done with a rest – on. That brought a switch in attack, and brought the best out of Hudson-Odoi.
Now playing down the right, he scorched that flank as well as the Forest defence while displaying the variety of his talents and his array of crosses. One was a low delivery for Morata to one-touch finish. The second was a genuine David Beckham-style delivery, for Morata to head in.
It did feel all the more relevant that both of the goals suited the striker's current situation. One was an instinctive finish where he didn't have time to think. The second played on what is best in his game, a header from beyond 10 yards.
It creates a big argument for Sarri to maybe play these two together, and may make Chelsea's short-term future that much brighter, even if the future of the two players is so unclear. Fabregas, meanwhile, is now part of club history.
Register for free to continue reading
Registration is a free and easy way to support our truly independent journalism
By registering, you will also enjoy limited access to Premium articles, exclusive newsletters, commenting, and virtual events with our leading journalists
Already have an account? sign in
Register for free to continue reading
Registration is a free and easy way to support our truly independent journalism
By registering, you will also enjoy limited access to Premium articles, exclusive newsletters, commenting, and virtual events with our leading journalists
Already have an account? sign in
Join our new commenting forum
Join thought-provoking conversations, follow other Independent readers and see their replies