Olivier Giroud huffed and he puffed and he blew Southampton away, in the only way he knows how
Giroud was chosen ahead of Morata and could be again for May's final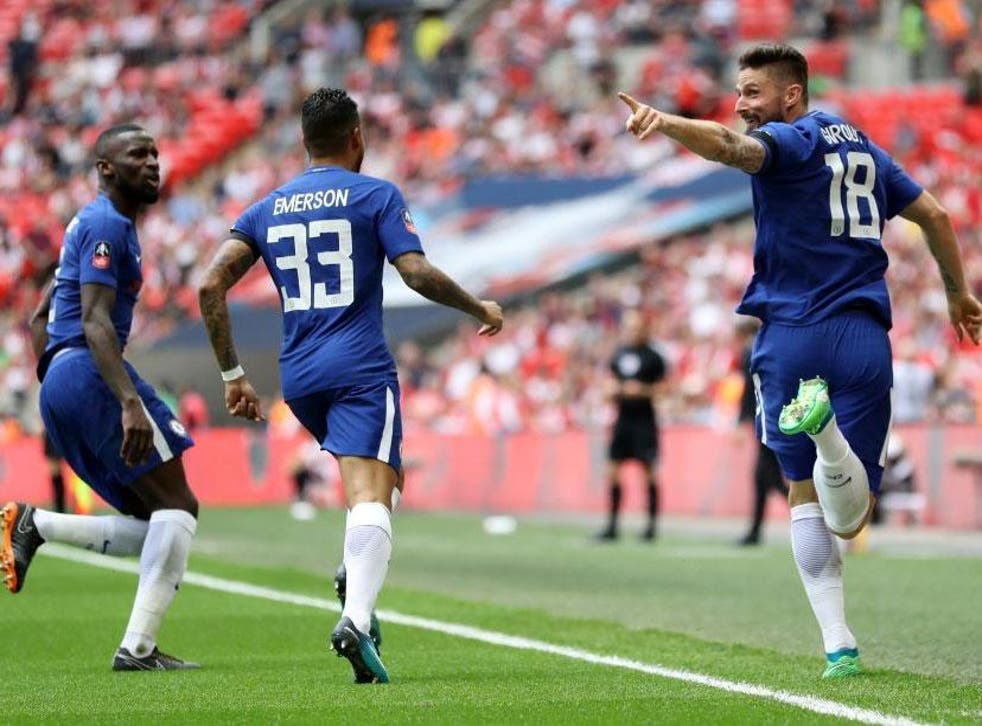 Southampton knew what was coming. Olivier Giroud had scored against them for both Arsenal and Chelsea this season, denying them five precious points in the process. But even when you know what's coming, it's hard to stop a 6ft 3in Frenchman hurtling towards your six-yard box.
Chelsea's opener in this FA Cup semi-final was the epitome of an Olivier Giroud goal: a show of adept skill in the area to dance through the defence, some determined brawn blended with neat footwork, all delivered while giving the impression he could topple over at any moment.
In the end Southampton resorted to brute force. Shortly before the hour mark Oriol Romeu skidded through the Frenchman's ankles, leaving him flat on the floor for a couple of minutes. Even then, the striker came back for more.
Giroud is still finding his place in Antonio Conte's team, a side scrabbling to rediscover the magic touch of that 13-game winning run which took them to the title, when Conte hit upon the perfect formation at the perfect moment and the stars aligned; Chelsea have bumbled on in the same shape but now it seems to sag a little and fray at the seams.
Without Diego Costa's elbow pressed against a defender's Adam's apple, without Nemanja Matic crushing hopes and dreams in midfield, without David Luiz commanding and patrolling his defence, Chelsea's first-half huff and puff was a reminder that this Conte team is a pale imitation of what it once was.
But against Southampton, Chelsea had a striker who led in more ways than one. Giroud will have bruises on his torso to go with the swollen ankle, relics of a running battle with Wesley Hoedt, Maya Yoshida and Jan Bednarek. The Southampton trio struggled to disturb his relationship with Eden Hazard, the man of the match, and it was their combination a few moments into the second half which crucially prised Saints' fortifications open.
He toiled gamely in the face Mark Hughes's ultra defensive setup, which saw a bank of five defenders behind three protective midfielders – Mario Lemina, Pierre-Emile Hojberg and Romeu – with two strikers in Shane Long and Charlie Austin left to do more futile chasing than purposeful attacking.
There were moments when the 32-year-old wasn't always on the same wavelength as the scurriers around him. On one occasion he bludgeoned the ball off his shin as a hopeful Willian glided by trying to decipher where the layoff might land. But he provided a focal point that drew defenders and allowed his team-mates to work, with Hazard the chief beneficiary.
Giroud has always been difficult to unpick, never quite possessing the talent to be a title-chasing side's leading No9, yet seemingly wasted as only an impact player. At Arsenal he spent long spells as sidekick or super-sub, mainly to Alexis Sanchez and even to Theo Walcott for a confusing period. But here was another sign that at Chelsea he is finally establishing something more permanent, more substantial; Alvaro Morata's place on the bench certainly indicated Conte's current order.
So Giroud will be a problem for Manchester United to deal with when Chelsea face Jose Mourinho's side in the FA Cup final on 19 May. He has an outstanding record in the competition, with a hand in 22 goals from 26 appearances, and has won the trophy three times. Playing a decisive role in his fourth, in what could be Conte's final game in English football, would be an appropriate way for the Frenchman to stake his claim as the focal point of whatever incarnation of Chelsea comes next.
Register for free to continue reading
Registration is a free and easy way to support our truly independent journalism
By registering, you will also enjoy limited access to Premium articles, exclusive newsletters, commenting, and virtual events with our leading journalists
Already have an account? sign in
Register for free to continue reading
Registration is a free and easy way to support our truly independent journalism
By registering, you will also enjoy limited access to Premium articles, exclusive newsletters, commenting, and virtual events with our leading journalists
Already have an account? sign in
Join our new commenting forum
Join thought-provoking conversations, follow other Independent readers and see their replies