FA Cup final: Crystal Palace's Connor Wickham eager to repay dad with winner's medal
Striker credits his father win instilling discipline and dedication in him, he tells Matt Gatward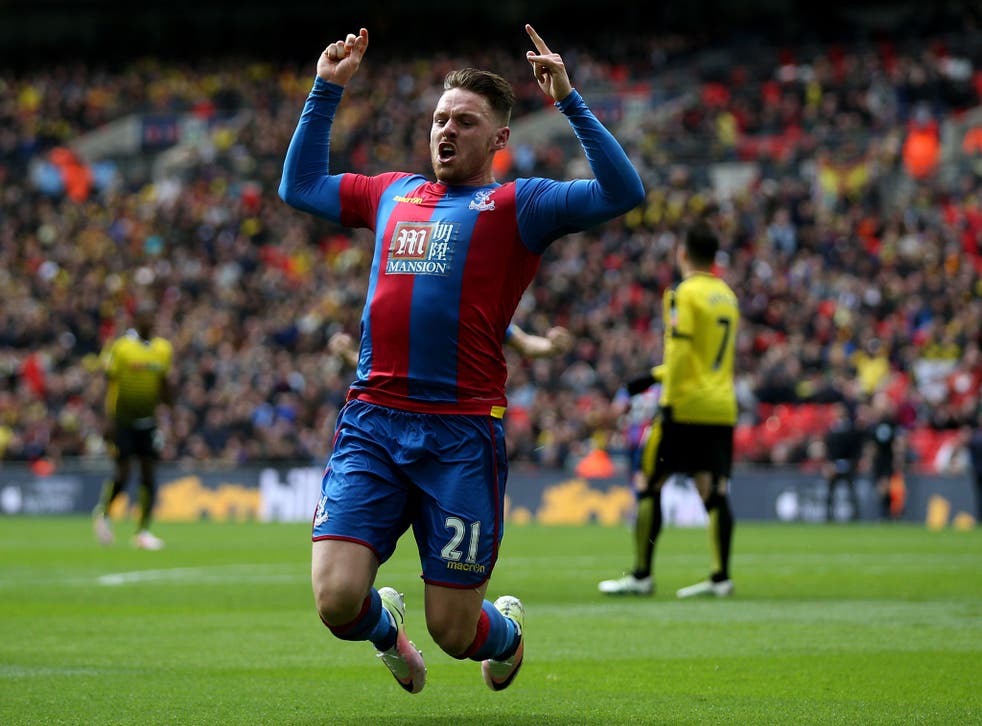 Connor Wickham has had a tough time convincing Crystal Palace supporters that he is worth the £7m fee his club paid Sunderland for the striker last summer - but he won a few over when he scored the Wembley winner against Watford in the semi-final. But his biggest fan, who needs no winning over, is his dad.
It is clear from half an hour in the Palace striker's company at the club's training ground in south London this week that the pair have an incredibly close relationship.
"He is my No 1 critic and also my biggest fan," Wickham says. "Apart from my managers, I will never listen to an opinion as much as I do my dad's. He will be honest. He'll tell me if I had a crap game and if I have a good game he will be there and give me a hug. I can never repay him for what he has done for me."
Stefan Wickham was a sergeant major in the British Army for 24 years before retiring three years ago having served in Iraq and has clearly instilled in his son his sense of discipline and determination to make the most of his abilities. Connor, 23, is not as naturally skilful as, for example, the Palace winger Yannick Bolasie but his drive has ensured they will be sharing a goal at Wembley.
"My dad is very punctual, always looks smart, never misses an appointment. And now I'm always on time," Wickham says. "He had that mentality that was drilled into me. I'm very determined. He always made sure I had the best boots, kit, always made sure I got to games and training. He didn't let me go out until I was 17, 18. My upbringing has been very good. He tells me right from wrong, he's one of the most honest men you'll ever meet. Some of that has rubbed off on me. Sometimes it's annoying, sometimes it's good. But I owe a lot of credit to him for my career."
Wickham had a nomadic childhood but he knew no different, the challenge was when his father was away. "Growing up we moved around a lot," he says. "Hereford, Colchester, Darlington…I grew up on army estates in army houses in army schools with army friends and families. I knew how hard it was on families. My dad served in Iraq twice when I was still in school. I was maybe 8 and 14. It was hard on us when you don't get a phone call for a few days. It's a worrying time. My dad has lost a few friends in the wars."
There was never any desire in Wickham to serve himself. "I would not want to do it to my family," he says. "It takes something incredible within yourself to go to war, to go on the front line carrying a gun and being in the shooting line, trying to make this a safer country for us. I would not say I haven't got the heart to do it but I think it takes something deep inside you to put yourself on the line in that way."
Instead, Wickham does charity work for Help for Heroes and is delighted to give something back. "I am not going there blind and supporting it as an outsider," he says. "I don't think you know what goes on behind the scenes as a soldier unless you have been involved in it. I was, in a way, lucky enough to have grown up in it and it has made me the man I am today."
It would be wrong, though, to assume Stefan is all stiff-upper lip when he's watching his son. "Ask all my friends who sit next to him and they are in hysterics," Wickham says. "He doesn't talk to them, he just watches the game and he's just got his blinkers on and thinks he's the only one in the stadium. He's so passionate. He has not missed a game throughout my career, apart from when he was in Iraq and even then he managed to stream them."
The only things streaming at Wembley, when Wickham headed in the second goal in the semi-final, were his dad's eyes. "I think at Wembley, he nearly cried. He won't admit it, but I think he probably did."
And who could blame him? It was a vital goal for Palace and the joy was clear for a high Wickham. "When I scored, I didn't hear the noise of the crowd," he says. "I went deaf for a minute. I didn't know what to think. There was so much energy in that goal and it meant so much to the club and the fans. It has given us the opportunity to make history. When the ball came in, as soon as it left my head, I knew it was going in.
"It's right at the very top [of my career goals] - a winner at Wembley in a semi-final that has given us a chance to make history and win a trophy for the first time in 110 years."
Another one on Saturday and the pain of an exasperating, injury-affected, season in which he has scored just six goals will be forgotten. "It's been frustrating," admits Wickham. "But it could end on a really good note. The league hasn't been great but if we can get a trophy it will be a great season. The injuries have not helped. I've been disappointed not to show the fans what I could do."
Wickham joined Palace after four years at Sunderland where he did not quite make the impression many thought he would when he signed for £8m from Ipswich as an 18-year-old. Although he scored the crucial goals that kept the team up in 2014, he was in and out of the team or on loan spells at Sheffield Wednesday and Leeds United. So it's a rapid turnaround to now be heading to Wembley.
"To play in a final of my own is huge. It could be a once in a lifetime opportunity and I need to make sure I grab it. Coming here was always about having a good season," he adds. "I have enjoyed my football and have a manager who is behind me. I was more than happy to join."
One factor was having two flying wingers in Bolasie and Wilfried Zaha, who can supply the sort of crosses that a "target man" centre-forward such as Wickham thrives on. "When I got told I was going to Palace, the first thing I thought of was Wilf and Yannick," he says. "They are so raw, powerful and skilful and the crosses they can provide…they give the team an outlet. I enjoy playing with them. They are probably two of the best wingers in the league and we've got them in the same team. It's only going to benefit me if they do their magic and get the ball in the box.
"I never thought I'd be playing in an FA Cup final," Wickham concludes. "We just have to make sure we turn up on the day and if we perform like we know we can. If we do, I don't think we'll have any problems."
And would he give his dad his winner's medal? "I'd give him anything he wants."
Register for free to continue reading
Registration is a free and easy way to support our truly independent journalism
By registering, you will also enjoy limited access to Premium articles, exclusive newsletters, commenting, and virtual events with our leading journalists
Already have an account? sign in
Register for free to continue reading
Registration is a free and easy way to support our truly independent journalism
By registering, you will also enjoy limited access to Premium articles, exclusive newsletters, commenting, and virtual events with our leading journalists
Already have an account? sign in
Join our new commenting forum
Join thought-provoking conversations, follow other Independent readers and see their replies