Derby County 1 Manchester United 3: Five things we learned as Louis van Gaal finds a fan in Paul Clement
United avoid upset thanks to goals from Rooney, Blind and Mata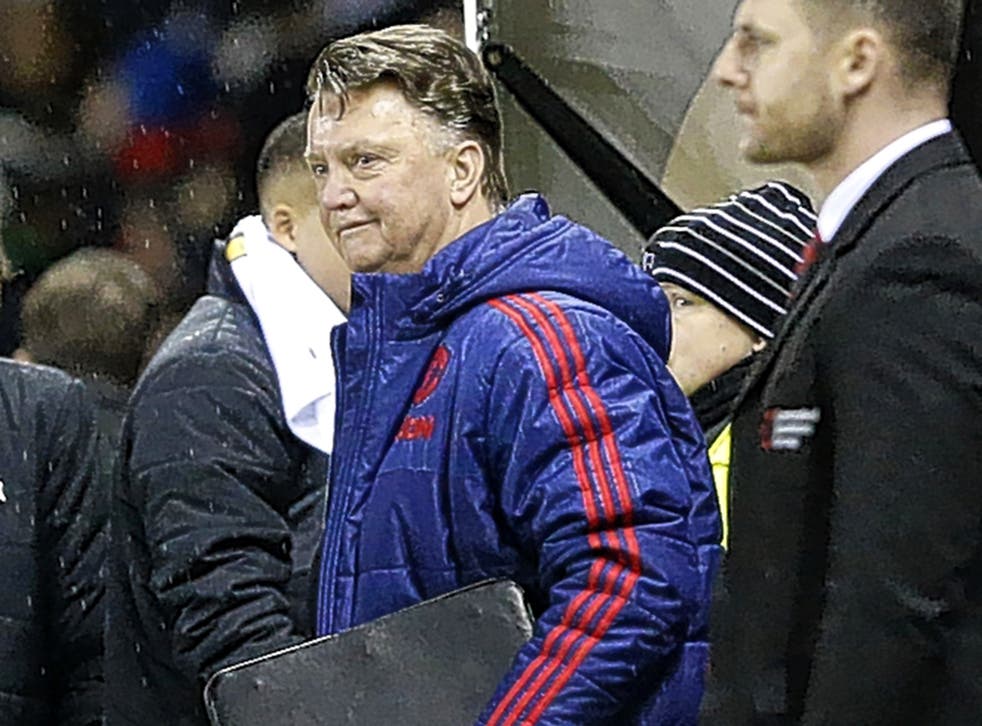 Louis van Gaal remains the coach's coach
Whatever impatient and disillusioned Manchester United fans may say about him, manager Louis van Gaal remains the coach's coach. Derby head coach Paul Clement, assistant to Carlo Ancelotti at Chelsea, Paris Saint-Germain and Real Madrid, is among his unwavering admirers.
"When you look at the big clubs – Barcelona, Bayern Munich, Real Madrid, Manchester United – there are very few people capable of doing those jobs, and he is absolutely on that list," Clement said.
To underline his respect for his 64-year-old counterpart, Clement refused to rest players ahead of Tuesday's arguably more important game with Preston, where Derby badly need to reinvigorate their Championship promotion challenge after five games without a win. The third-round win at Hartlepool had provided a day off for most of his first choices, with only two of last night's line-up starting.
Shortly before kick-off, Van Gaal dismissed the suggestion that he had never endured such a tough period in his career but claimed his treatment by the media was unprecedented. "I always had [difficult] periods in every club," he told the BBC. "What's new is that stories are made up by the media and you can write everything without taking responsibility for what you are writing."
Scott Carson still can't keep a clean sheet against United
Unlike most of his team-mates, Derby goalkeeper Scott Carson's experience of matches against Manchester United is extensive. He made his full debut against them for Leeds United in February 2004 and has faced them 12 times in total for six clubs, yet Wayne Rooney's goal ensured that he still has not had a clean sheet in any of the dozen games.
Indeed, the 30-year-old former England goalkeeper's record against United is not one to write home about. He has now conceded 33 goals in 12 matches, including four or more on four occasions, although he might argue that a 4-1 defeat with Aston Villa in 2007-08 should not count because he had been sent off before the fourth goal.
In the 2008-09 season, during his West Bromwich Albion years, United put four past him at Old Trafford and five at The Hawthorns, on each occasion without reply.
United have problems in their defence as well
Most of the criticism of United under Van Gaal has focused on their shortcomings in attack, yet their problems at the back were laid bare by Derby's equaliser, in which Chris Smalling's attempted clearance was blocked by Chris Martin, who was then able to pick out George Thorne as the Derby midfielder made an unimpeded run into the box.
Derby had been too respectful towards their opponents until then but the goal gave them wings and the next few minutes were notable for panic among those in red.
Derby attack in a way the United fans would love
Former Derby manager Steve McClaren ran two consecutive Championship campaigns with an attack-minded 4-3-3 system and while he failed to achieve his objective of promotion, falling away dramatically last season, there was always excitement.
Clement has tweaked things in a bid to keep it tight at the back, but he has retained the attacking philosophy and once they had overcome their inhibitions, their willingness to take the game to United made for an open contest in which the visitors, clearly mindful of the win-or-bust nature of the occasion for their manager, seemed to enjoy having the shackles off for once. Anthony Martial, in particular, was in his element running at Derby right-back Cyrus Christie.
Under pressure or not – Van Gaal's not for standing
Van Gaal may have acknowledged that his job would have been on the line had United lost to Derby but still he stayed in his seat, even when Daley Blind put his side ahead again.
Who knows? Had Juan Mata not added a third, Blind's well-worked goal could have been looked back on as Van Gaal's Mark Robins moment, but apart from a half-smile, a stifled yell and a momentarily clenched fist, it was just a detail in the night's proceedings for the United manager.
Register for free to continue reading
Registration is a free and easy way to support our truly independent journalism
By registering, you will also enjoy limited access to Premium articles, exclusive newsletters, commenting, and virtual events with our leading journalists
Already have an account? sign in
Register for free to continue reading
Registration is a free and easy way to support our truly independent journalism
By registering, you will also enjoy limited access to Premium articles, exclusive newsletters, commenting, and virtual events with our leading journalists
Already have an account? sign in
Join our new commenting forum
Join thought-provoking conversations, follow other Independent readers and see their replies