Dimitri Payet: West Ham forward on how he nearly ruined his career
In a rare interview ahead of his side's FA Cup clash with Manchester United, the Frenchman reveals how he almost gave up on football 13 years ago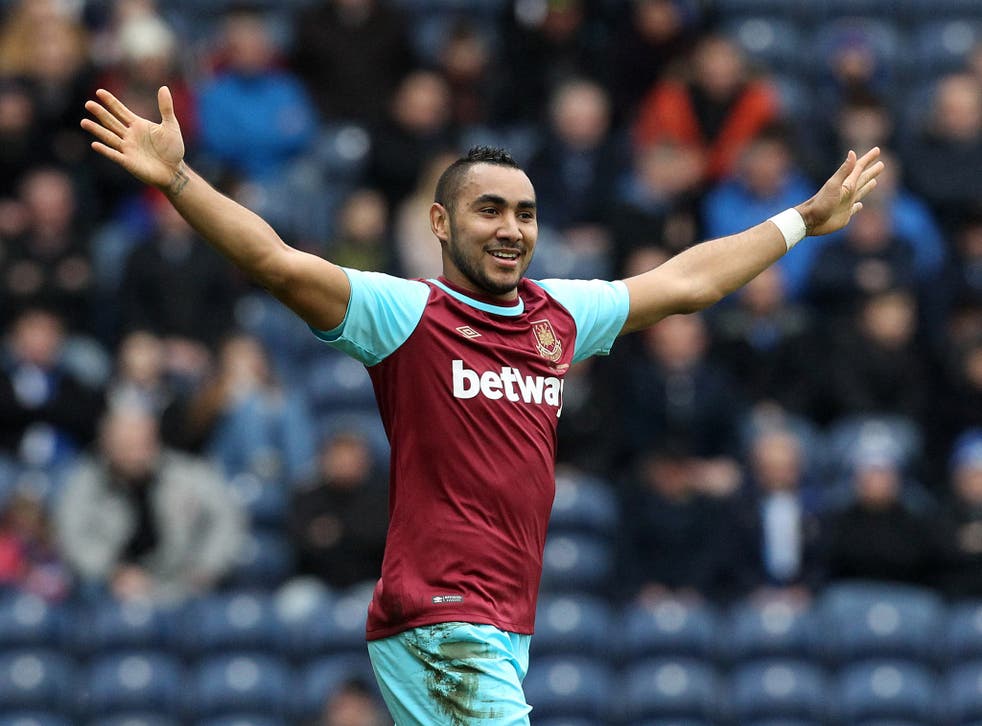 Dimitri Payet admits he likes to "put on a show", so it is remarkable he came close to pulling down the curtain before the show began. The West Ham playmaker, who gives defenders such a hard time, was about to give up on his career 13 years ago, had it not been for the insistent persuasion of his father and uncle.
It was 2003, and a 16-year-old Payet had been let go by Le Havre after four years in the illustrious academy that has since produced Paul Pogba and Riyad Mahrez. He returned home to AS Excelsior in Reunion, the beautiful French island off Mauritius, but was not in a serene state of mind.
"I thought the dream was over," he says. "I didn't even want to hear talk about me ever going back to France. I was quite traumatised by the experience and the decision not to keep me. I felt I hadn't been seen in my best light.
"When they told me they weren't keeping me because I wasn't good enough for the second division, that hit me hard. That's why I didn't want to hear any further mention of France. I just wanted to stay on my island and play football there.
"When a second chance came along [with Nantes, at age 18], I argued about it with my dad and my uncle and they convinced me that I should try my luck again. And they were right."
Looking back, it would surely have been wrong for Payet to confine his talent to a country where top games get crowds of just two or three thousand. The island is a long way – in more than just a geographical sense – from Old Trafford, where he will hope to continue a sensational season by helping the Hammers knock Manchester United out of the FA Cup. Didier Agathe, the journeyman defender whose career included Celtic and Aston Villa a decade ago, had been the most famous player to come from Reunion, and it can hardly be described as a footballing hub. All the same, Payet insists his return there was important to his development.
"I made my debut in the Reunion first division at 16," said Payet, now 28. It's true I was small and not particularly strong at Le Havre. I think the season I had playing as a kid against men in Reunion toughened me up a lot and taught me, basically, how to cope with hits. So I was ready to go back after one year." At least, physically ready. Mentally, he first had to be persuaded by his father, a former player with Saint-Philippe – one of Payet's youth teams.
"I accepted [the opportunity] for my dad," he says, "in particular, because football is his passion and he never got the opportunity to go beyond Reunion. I took on the challenge mainly for him, and having that idea in my head helped me stay strong in Nantes."
He admits that focus was not always there at Le Havre. "Back then I wasn't an easy person to handle," Payet says with a laughs. "I was always one of the first to mess around." Payet accepts that a certain immaturity" stayed with him at that time, especially in incidents like flare-ups with team-mate Blaise Matuidi at Saint-Etienne, and it is perhaps one reason why he is only belatedly making the best of his talent. It is a talent Payet has honed into echoing his "idol", Ronaldinho. He plays in a similarly expressive way, but not without calculation.
"People say he enjoyed humiliating defenders but he was always efficient. The reason I'm a fan of his is because he was able to put on a show while remaining effective and helping his team to win. I still try to treat football as a game even if there are now other considerations at stake, especially economic ones. I try to put on a show while being effective because the spectators come to be entertained by beautiful play. I can play any of the three spots behind the striker. I like to wander around the pitch."
10 most tweeted about Premier League moments

Show all 10
He has found a place to stay at West Ham, and that despite being initially reluctant to leave Marseille, who were forced into sales due to financial issues. He now feels a special connection.
"I've settled in very quickly. I've been incredibly welcomed by the coaches, my team-mates and the fans," he says.
"Whether we're playing home or away I can really feel the love from the supporters. I didn't expect things to go this well so I try to savour every day and enjoy it because I know how hard it was to get to this point.
"It's a very tough League with teams battling at both ends of the table. We also have the FA Cup, which is a big target. If we manage to finish in the top five in the League it would be a great achievement."
Beating Manchester United would be yet another great win, and should be another step to Euro 2016 with France. However, a previous criticism of manager Didier Deschamps for not picking him will not have helped his cause. That could be seen as immaturity, but Payet showed impressive focus by turning down huge money offered by Shanghai Shenhua in the Chinese league.
"It wasn't a difficult decision at all," he says. "If I was four or five years older I might have considered it but I still think I have some great years ahead of me and am eager to keep improving and keep pushing West Ham higher." The show, thankfully, will go on.
Manchester United vs West Ham United; Kick-off 4pm Sunday, BT Sport 2
Join our new commenting forum
Join thought-provoking conversations, follow other Independent readers and see their replies