Exeter 2 Liverpool 2: Jurgen Klopp can thank kids for surviving tricky night in FA Cup
The Premier League side were twice behind against the League Two side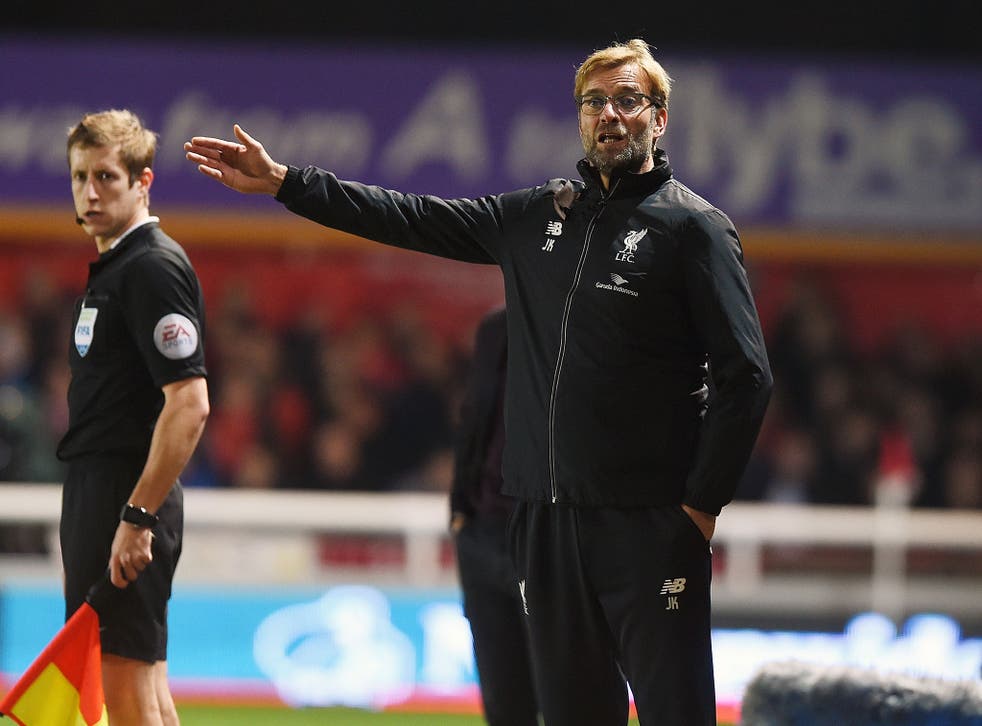 Jürgen Klopp said before the game that his youngsters "can be the future of Liverpool FC", and while he might not have wanted a replay, given the excess of fixtures and the surfeit of injuries at the club, he must have been proud of what he saw of his players at Exeter City. Against such a spirited and canny opposition this would have been an easy game for this Liverpool side to lose, but they survived.
Klopp's faltering results so far must be put into the context of a manager operating with his predecessor's players. On Friday night, though, Klopp did not even have the Brendan Rodgers squad to pick from. This was at least one band of players below that, a group of youngsters, fringe players and Christian Benteke unlike anything any top flight team had fielded in the Cup for years.
In other circumstances this might be seen as a lack of respect for the competition but the simple reality of Klopp's situation right now is that he barely has the players. Liverpool are in the midst of a muscle injury epidemic, the combination of the Christmas fixtures and their new workloads having exhausted the squad. Klopp went with the only options he had.
So desperate was Klopp to drag his players up to a competitive standard that he was out on the patchy pitch at St James Park before kick-off, trying to run them through their moves and patterns with a hands-on detail rarely seen at this level. That is because most professional teams know what their coach demands of them beforehand, because they have worked together so long. This Liverpool team, such as it was, did not.
Paul Tisdale has been at Exeter for years and so his side naturally played with far more cohesion, intelligence and structure. They knew their plays off by heart and when they took the lead in the ninth minute it was with a move of confident incision, the best of the match. Their game-plans were well established and they looked like they knew how to hurt Liverpool. On another day, with better luck and better finishing, they would have won.
It is to Liverpool's credit, then, that they managed to stay in this game for as long as they did. The simple reality of the line-ups meant that Exeter should have taken this game, with all the intangibles – their experience, the crowd, the lack of pressure – weighing in their favour.
Exeter 2 Liverpool 2 player ratings

Show all 14
Liverpool could have buckled after going behind twice but they did not. The youngsters held their shape and held the ball for as long as possible. They experience they brought with them was of very little benefit. Benteke was not provided with enough service. Adam Lallana and Lucas Leiva were unused on the bench. Goalkeeper Adam Bodgan and Jose Enrique each contributed to a conceded goal.
So the fact that the Liverpool youngsters worked hard enough to provide a platform for their promise speaks well of them. Joao Teixeira managed to show some clever composed touches out on the difficult pitch. Jerome Sinclair scored the important first equaliser with a relaxed finish. Sheyi Ojo provided more spark in the second half when Liverpool needed some pace and some confidence. Cameron Brannagan was industrious and intelligent. Brad Smith earned the replay with his leveller and played through pain at the end.
All of which is to say that there were more than enough positives for Klopp and Liverpool to take for having drawn this game away at League Two opposition. That might sound strange, for such a prestigious coach and club. But this was not a normal Cup tie. Both sides can be pleased with how it panned out.
Join our new commenting forum
Join thought-provoking conversations, follow other Independent readers and see their replies