Exeter City vs Liverpool preview: Clinton Morrison hopes for one more chance to be the hero against Reds
Veteran striker recalls the highs and lows of battles with the Anfield club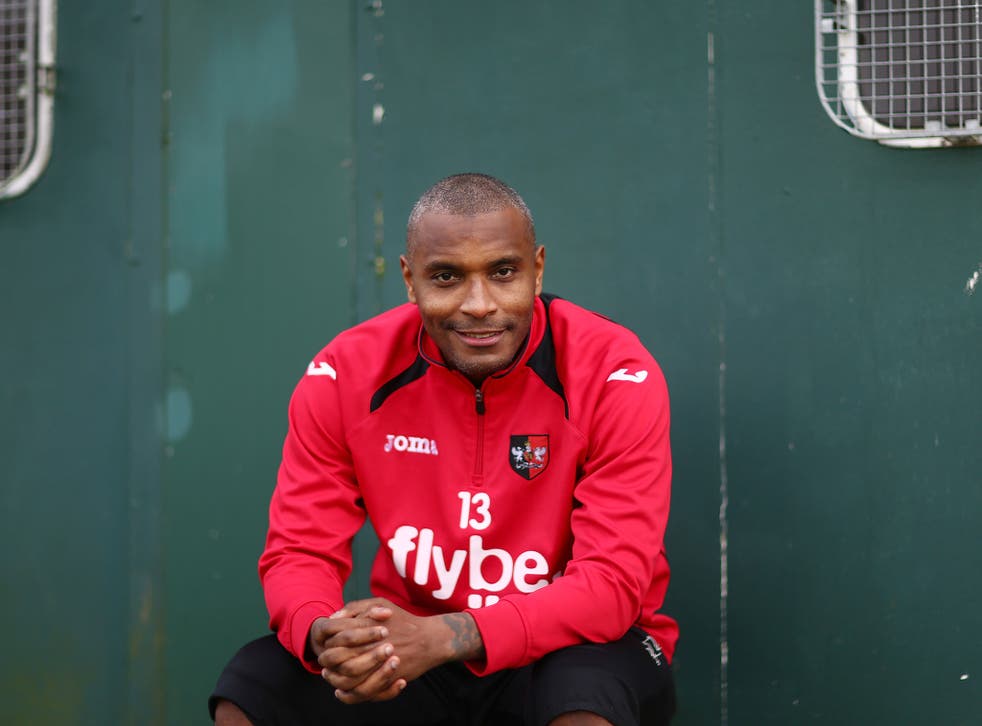 He is 36 now and the pace of old has left his legs yet if anybody is wondering why Exeter City manager Paul Tisdale might be tempted to throw Clinton Morrison into the fray during tonight's televised FA Cup third-round tie against Liverpool, just type Morrison's name and Stevenage into YouTube and click search.
What will come up is the wonderfully acrobatic overhead kick with which the former Crystal Palace and Birmingham City striker scored in October – quite a way to record his first goal for the League Two club and, in the process, end a 50-game scoring drought.
Recalling that moment, Morrison tells The Independent: "It was the longest drought I had had in my career so it was a big relief. Everyone called me and said, 'How did you do it?' and I said, 'The flexibility in the legs is still there!' I thought I'd just swing at it and I managed to make good contact and it went in. It is definitely up there with the best I've scored."
Morrison soon added a second goal for the side he joined in November 2014 by scoring the first of their FA Cup campaign in a victory over Didcot Town – Exeter's first step en route to tonight's fixture at a sold-out St James Park. The Grecians, beaten in their last four League Two matches, will be huge underdogs despite Liverpool's depleted defence but in Morrison they have at least one player with a history of ruffling the Reds' feathers.
"I have done quite well against Liverpool," he reflects. "I scored goals against Liverpool for Birmingham. I remember being 2-0 down and scoring two [the latter an injury-time header] and drawing 2-2 at Anfield." When in that same 2002-03 season he hit the decisive goal at St Andrew's in a 2-1 Blues victory, it was the second winner against Liverpool for a player who had previously struck for Palace in a 2-1 League Cup semi-final first-leg success on 10 January 2001. That time, though, Liverpool had the last laugh, as Morrison recalls with a wince.
"I played well and caused them all sorts of problems – I scored a goal and then I remember doing a stupid interview after," he adds, referring to his ill-advised post-match comments about upstaging Michael Owen and Emile Heskey, which came back to bite him in the second leg. "We got hammered 5-0. There was a chance and I missed it and the cameras went to Owen and he had a little smirk on his face and Gary McAllister came up and said 'Michael Owen would have scored that one'. It was a proper air shot in front of the Kop."
Fifteen years on, he is older and wiser – though still happy to share his opinions with the world. Indeed Morrison, who is based in Nottingham and spends half the week training at non-league Belper Town before travelling down to Exeter, is establishing a media profile with regular TV and radio appearances. "A lot of them talk nonsense so I might as well do the same," he jokes. Another quip follows when he suggests the tweed jacket and cravat-wearing Tisdale is "cooler" than Liverpool's much-admired Jürgen Klopp. "He is cooler than him on the sidelines because Klopp wears tracksuits whereas he wears Ted Baker."
Tisdale – the country's second longest-serving manager, who marks 10 years at Exeter in June – has a reputation for a certain style on the pitch, too. "We try to get the ball down and pass," Morrison explains. "The majority of the time we try to play football the right way, pass and move. That is what is the manager instils in us. He is very detailed on the training pitch."
Morrison, who signed a new contract last week until the season's end, was persuaded to join Exeter by their veteran midfielder Matt Oakley, once a losing FA Cup finalist with Southampton and a neighbour of the striker in the holiday resort in Portugal where they have homes. It has given him a "new lease of life", even if he is a different player these days. "Back in the day I relied on my pace. Now I am one of the slowest in the team! I am more or less a target man now, laying on balls for people."
Morrison is especially proud of the 102 league goals he scored for Palace, where he began his career with a debut goal, as well as his 36 caps and nine goals for the Republic of Ireland. "Playing against Brazil and getting man of the match in a friendly against Ronaldo, Ronaldinho, Kaka was a massive highlight," he continues.
Whether tonight brings an improbable addition to his personal highlights reel remains to be seen. "Maybe in the Cup with no pressure we can go and enjoy our football," says a man who features largely as a substitute. "I don't know if I will start because I don't think I am fit enough but hopefully I will be on the bench. You know my record against Liverpool – hopefully I can come on and make an impact."
Register for free to continue reading
Registration is a free and easy way to support our truly independent journalism
By registering, you will also enjoy limited access to Premium articles, exclusive newsletters, commenting, and virtual events with our leading journalists
Already have an account? sign in
Register for free to continue reading
Registration is a free and easy way to support our truly independent journalism
By registering, you will also enjoy limited access to Premium articles, exclusive newsletters, commenting, and virtual events with our leading journalists
Already have an account? sign in
Join our new commenting forum
Join thought-provoking conversations, follow other Independent readers and see their replies