Tottenham excelled on the grand stage but every crucial moment was won by Chelsea
Every error made by Spurs was punished by the Blues
Jack Pitt-Brooke
Saturday 22 April 2017 19:44 Comments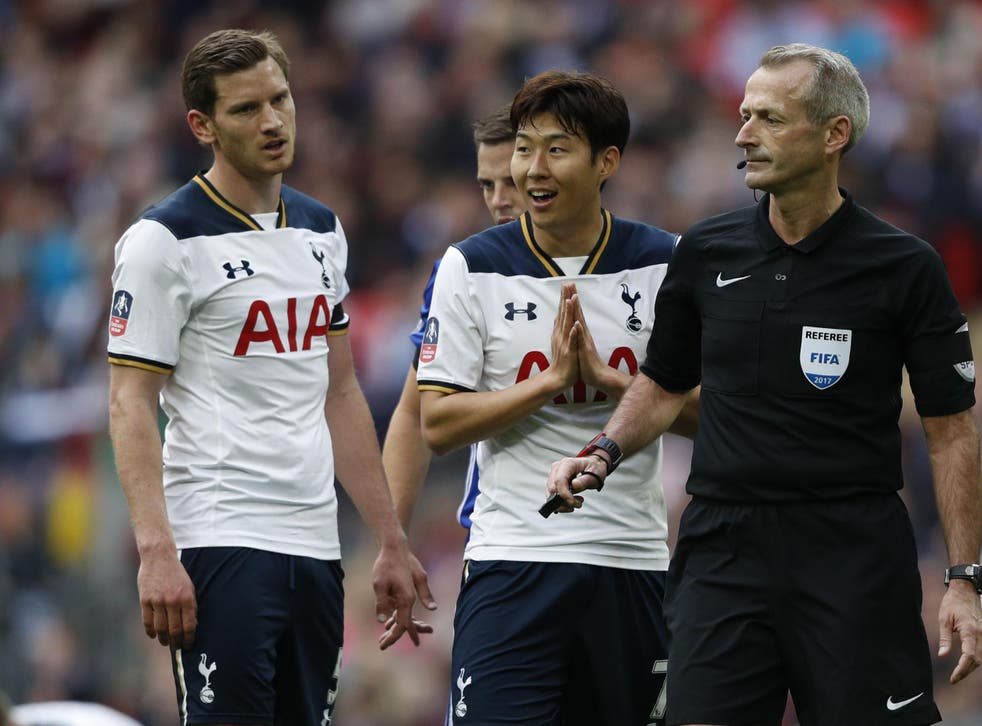 Mauricio Pochettino knows how it works and can have no complaints. "If you win you are a genius," he shrugged at his press conference on Thursday. "If you don't win, you are the devil."
Even Pochettino can have seen few games quite like this, though, where the results and the judgements are so at odds with the performances themselves. This was in so many ways a dominant authoritative confident Tottenham display, on the biggest stage, in the most important game of their lives. And yet every crucial detail went against them and they lost 4-2.
They went behind after a defensive error but equalised. They conceded from another error but equalised again. They had the game where they wanted it in the second half but could never push themselves ahead. Then they failed to get out to Eden Hazard and Nemanja Matic's shots, and that was the end of that. Never mind possession, territory, chances or anything like that.
Chelsea 4 Tottenham 2 player ratings

Show all 22
So what does that tell us about Pochettino's team, who felt this afternoon as if they might be on the brink of their next big step, to confirm themselves as England's great coming force? Clearly they are not there, not yet. If playing badly and winning is the sign of champions, then playing well and losing the opposite. This game certainly did not suggest that Spurs are about to overturn Chelsea's four point lead in the Premier League.
There is always a degree of fortune in games like this, but Tottenham cannot claim to have been unlucky. Not when they made as many simple defensive mistakes as this. They are the best defence in the country, remember. They have conceded the fewest Premier League goals this season and kept the most clean sheets.
But here they kept on making mistakes. For the first goal the back three was exposed and open to Pedro's run down the middle before Hugo Lloris failed to dive across to block the free-kick. For the second goal Heung-Min Son, a fish out of water at left wing-back, dived in clumsily, inviting Victor Moses to go down and Martin Atkinson to give the penalty.
No-one stopped Eden Hazard's shot for his crucial, game-killing third goal and no-one got out to Nemanja Matic for the fourth. Beyond all of that, Lloris should have been punished for a hand-ball outside the box and Mousa Dembele could have conceded a penalty for a pull.
Some details are down to chance but when so many go against one team that suggests a difference in application, in focus and in control between the two teams. If this game was about whether Spurs could overcome their lack of experience on the biggest stage and finally match up against a top side, then the weight of little details says no. They are still not there yet.
And yet it is impossible to get past the fact that Spurs played brilliantly for almost all of this game. From Chelsea's first goal until their third, that is to say for 70 minutes of the 90, they were the better team and by a distance. They controlled the game, playing their energetic expansive powerful football. For long stages of the game Chelsea could not lay a finger on them.
Christian Eriksen delivered one of the best individual performances of the season, showing again that he must be counted among the very best players in the country, regardless of which trophies Tottenham end up with.
For all Chelsea's power they can sometimes be vulnerable to a clever player drifting between the lines. Eriksen got both assists for Dele Alli when Spurs overturned Chelsea 2-0 at White Hart Lane in January. Here Eriksen was even better, with another two wonderful assists: his cross for Harry Kane's stooping header and his whipped ball for Alli's dart in behind David Luiz.
Eriksen kept on finding space, causing Chelsea problems that they could not solve. Alli and Kane kept making runs for him and all the way up until Hazard's goal it felt as if it would be Spurs who would win it within 90 minutes. With all that possession, control and momentum, it would surely be only a matter of time?
But that is not how football works, especially not in games like this. Momentum counts for a lot, but not as much as nous, which is won by experience alone. That is what this Chelsea team have by the bucketload, especially when they can bring Hazard, Diego Costa and Cesc Fabregas off the bench. And nous, for all of Eriksen's delicate skills, is still what Spurs lack.
That is why they are about to end their third season of radical improvement under Pochettino still without a trophy, unless they win all their remaining league games and Chelsea fail to win two. But after such a clever mugging as this on the biggest stage of all, who would bet on that?
Register for free to continue reading
Registration is a free and easy way to support our truly independent journalism
By registering, you will also enjoy limited access to Premium articles, exclusive newsletters, commenting, and virtual events with our leading journalists
Already have an account? sign in
Join our new commenting forum
Join thought-provoking conversations, follow other Independent readers and see their replies