For Manchester City's Fernandinho Chapecoense tragedy and Ukraine's civil war puts football in perspective
The Brazilian midfielder has experience personal loss outside of the game which puts this weekend's FA Cup semi-final with Arsenal into perspective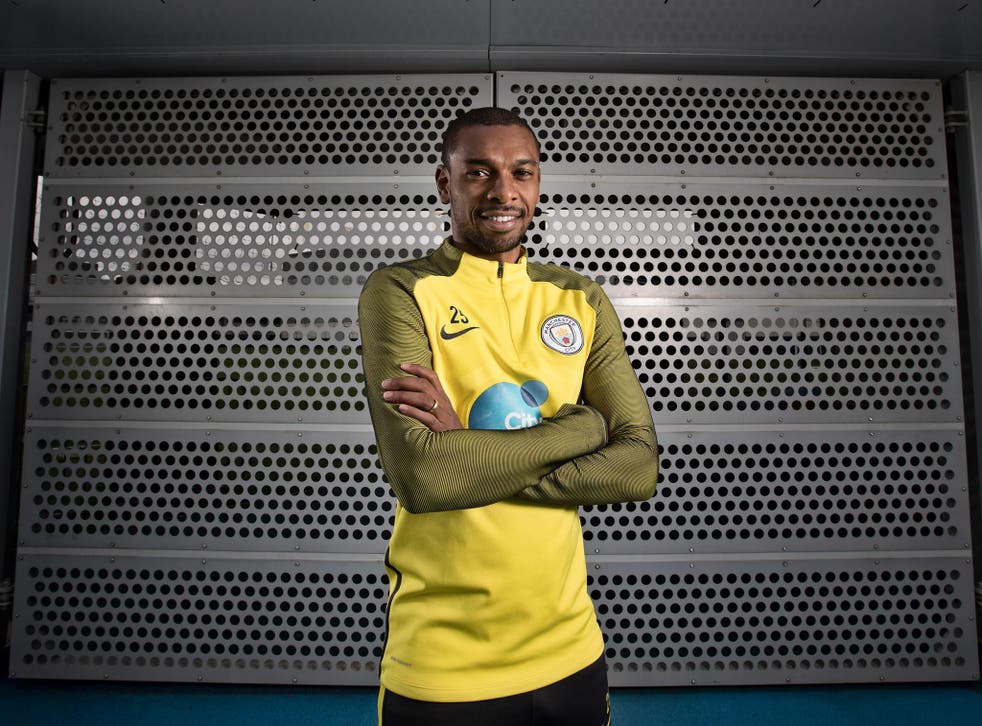 Fernandinho has arrived to fulfil a commitment at one of Manchester City's community initiatives - an exercise class for three and four-year-olds from a local nursery - and is certainly confounding expectations. The photographer is struggling to keep up with the Brazilian as he barrels around the pitch with two children on his shoulders and several others clinging on, their squeals of delight ringing across the fields of the training complex.
Maybe it's just easier to bring these routine events to life when you're 31, have a toddler and a three-month-old who keeps you awake at night, but a half hour or so in the Manchester City midfield player's company also reveal that the events of a grim last five months have taught him life is too short to go through the motions.
Fernandinho at a Manchester City 'City in the Community' scheme

Show all 6
The event for 25 children, one of countless staged by the 'City in the Community' scheme now in its 30th year, takes place at the same club training complex where this player was close to tears last November. It was a few days after he'd discovered that several people well known to him were among the 71 souls lost when the charter jet carrying the Chapecoense team to their Copa Sudamericana final in Medellin had crashed in the Colombian mountains. Only now, as we go back over the small details, does it becomes clear that one of the victims - 66-year-old coach turned Fox Sports television commentator Mario Sergio – was a guiding light for Fernandinho, who played under him at Atletico Paranaense in 2004, as his playing career got under way.
"We had a great team and he was the manager," he says. "I was young and learned a lot of things from him. I learned not to fight against the many bad things in football and try to always battle through injuries. That's one of the most important things I learned. Most of the players can get injured, small ones and big ones. But when get the small ones you have to fight against them and play, play, play. You know better than me that some players can get injured a little bit and say 'I don't want to train, I don't want to play' but back then I learned – I was 19 and started playing – to fight. I have carried this my whole life."
The player's grief for Sergio, an individual who "had all his dreams ahead" when La Mia Flight 2933 came down, is raw. He recalls how he was in London, on a day off, when he awoke, checked the internet and discovered the Colombia disaster had happened.
But the City player's perspective on life has also been sharpened by the loss of 25-year-old Maicon Oliveira, a compatriot who shared a dressing room with Fernandinho at Shakhtar Donetsk in 2012/13 and who was killed in a car crash in Ukraine, three years ago. "You think about a lot of things. You change a little bit the way that you live and a little bit about what you are doing. When I was young I would drive so fast. Now I see it a different way."
And then there is the desperation of Ukraine, where civil war has engulfed the city where he played for eight years from 2005. Donetsk is in ruins and an old teammate related to him just a few weeks ago how the Russia-supporting army has taken the city centre, including the Donbass Arena where England opened their 2008 European Championships campaign against France. "It was one of the most beautiful stadiums in the country. We can call them terrorists and they have come in to the city now and taken the big buildings there, too."
All of which makes City's FA Cup semi-final against Arsenal on Sunday no more than a football match, though it matters deeply, of course. City and Arsenal both arrive in the capital to salvage one piece of recompense for unsatisfactory seasons.
Fernandinho – and his versatility - has been one of the bright spots for Pep Guardiola's difficult first season. "He can play in ten positions," the manager said of him soon after arriving.
Brazil is the reason why, he says. He was a 13-year-old playing for Parana, a club in his home city of Lodrina whose prime purpose was to develop teenage players they could sell, when he encountered coach Leandro Niehues, apparently a Guardiola prototype, who made him adaptable. "When I was 17 we won the regional championship as an academy team playing against league teams," he says. "So he made a very good job. We had a good team and I learned to play in different positions from the beginning."
His game as a grafting midfielder deconstructs the popular image of the Brazilian player, honing golden skills on golden sands. The beach was 600 miles from Lodrina, actually and he says he was 15 before he even set foot on it. They'll tell you at City that 'Ferna' always laughs at the stereotypes about Brazilian sea and samba.
He's earnest about his defensive midfielder's art, though, and how it actually does entail artistry in the modern game. "It's important because these days the build-up is very important to create the play," he says. "You have to have quality to make the good pace. Ten years ago a holding midfielder in Brazil would just defend. They cannot give a longer pass. Today things have changed and it's important to have good players in that position."
Medellin Plane Crash

Show all 17
He accepts that the Guardiola passing game has not yet materialised as it should. "It's a target to be like that," he says. "You have to be fit and ready to do what you have to do. For us the philosophy is there. You have to do what you have to do with and without the ball. We started the season very well and after that we dropped the performance a little bit. But you can see the concept is there. In some games it goes a little bit wrong. Football doesn't depend just on your brain. It's not like on a computer. It depends on your body too and sometimes you are tired. Sometimes the opponent closes the space very well and marks you very well. Football depends on many things, not just on you."
At Wembley on Sunday, City will certainly not expect to find Arsenal closing all the space. Arsene Wenger successfully tried such a strategy in 2-0 win at the Etihad in 2015 but has curiously not repeated the trick against City since.
Plane crash: Brazil President receives coffins of Chapecoense players
"[Arsenal] is a good game to play because they like to play and we like to play," Fernandinho observes. "Without the ball it will be a challenge. Who will run more to recover the ball? Who will press more to win the ball? Both teams can play, we know that. They have the quality to play so it is about recovering the ball, taking the ball and starting to play our game. Who can do that?"
Each side requires victory as desperately as the other so, in short, it will be an afternoon to run through walls and battle to the last. The spirit of Mario Sergio will serve Fernandinho well.
Join our new commenting forum
Join thought-provoking conversations, follow other Independent readers and see their replies