Jack Wilshere 'can't accept' three key decisions during Arsenal's EFL Cup final defeat in stunning attack
The Arsenal midfielder claimed both of Manchester City's first two goals should have been ruled out and that Fernandinho should have been sent off before half-time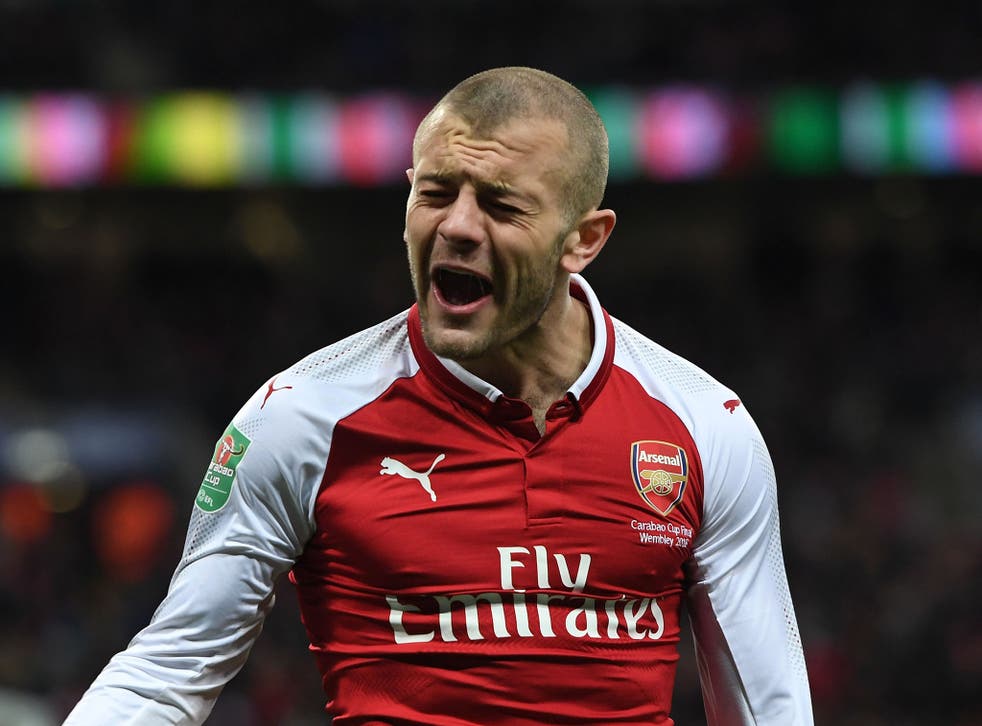 Arsenal midfielder Jack Wilshere has launched a stunning attack on the decision made during the 3-0 EFL Cup final defeat by Manchester City on Sunday, claiming that both Sergio Aguero's and Vincent Kompany's goals should have been ruled out and that Fernandinho should have been sent-off.
Referee Craig Pawson drew criticism from Arsenal manager Arsene Wenger after the Wembley humbling, along with the rest of his match-day officials and also the Video Assistant Referee.
Echoing his manager's thoughts, Wilshere posted on Instagram on Monday evening to express his frustration with some of the decision in the match and claim that he "can't accept" them.
"Hard to put into words my emotions about yesterday," the England international wrote. "City are a good team and deserved to win yesterday. A lot of people have had their say on us and we have to accept criticism when we lose.
"That being said I can't accept some of the decisions that went against us yesterday. Whatever you say about the first goal, it's a foul. The second goal is offside. There should have been a second yellow in the first half.
"Yes this happens in football but it's still hard to accept. And people will say we are looking for excuses but these are facts. Anyway we need to respond, starting on Thursday. Thanks to all the Gooners for your support and trust me we feel the same but we need to stick together."
Wilshere's gripe about the first goal stems from the minimal contact made between Aguero and Arsenal defender Shkodran Mustafi as the ball sailed over their heads. The collision left Mustafi moaning to Pawson about what he perceived to be a foul, although commentator Gary Neville labelled his appeals "embarrassing" and claimed that the German needed to be stronger in the contest.
The second goal saw Kompany, the City captain, poke the ball in from a corner that flashed past teammate Leroy Sane, who was standing in an offside position. The ball did, however, run within a yard of Sane, but the fact that the Arsenal goalkeeper David Ospina had already dived for the initial shot before Kompany flicked it on meant that Sane had very little impact in the goal, given that he made no attempt to play it.
His final complaint, which appears to be about City midfielder Fernandinho, came after the Brazilian was booked in the 36th minute for a foul on Wilshere. The two clashed again shortly before half-time, which appears to have angered Wilshere that Fernandinho wasn't shown a second yellow card, and his frustrations eventually boiled over in the second half when he himself was booked for sarcastically applauding the referee after failing to get another decision.
Register for free to continue reading
Registration is a free and easy way to support our truly independent journalism
By registering, you will also enjoy limited access to Premium articles, exclusive newsletters, commenting, and virtual events with our leading journalists
Already have an account? sign in
Register for free to continue reading
Registration is a free and easy way to support our truly independent journalism
By registering, you will also enjoy limited access to Premium articles, exclusive newsletters, commenting, and virtual events with our leading journalists
Already have an account? sign in
Join our new commenting forum
Join thought-provoking conversations, follow other Independent readers and see their replies