Liverpool have found a system that works for Raheem Sterling - it might just help angry fans fully accept the post-Luis Suarez era
Brendan Rodgers has come under pressure this season but in victory over Bournemouth last night signs of improvement are beginning to show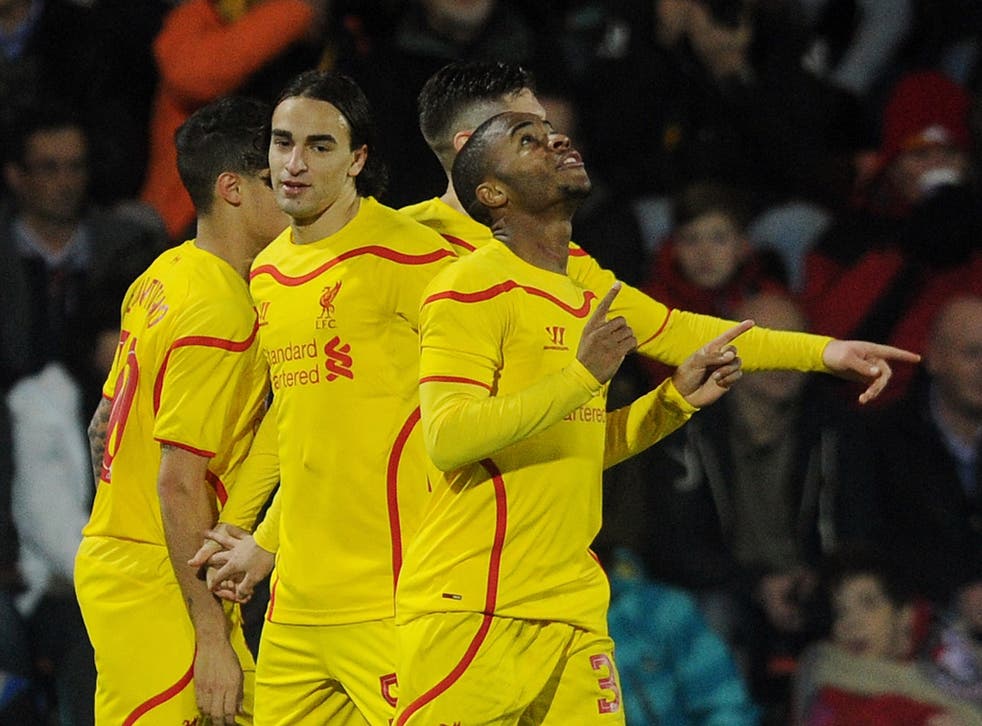 Has the fever passed in the frenzy to relieve Brendan Rodgers from his post? It seemed it broke with the red card given to Lazar Markovic against FC Basel, the point at which Liverpool shed through necessity the apathy and introspection that has dogged them in the post-Suarez period.
It is as if the failure to progress from the Champions League has forced acceptance of the new reality. A bit like the dear John moment when you realise the girl you fancy is 'just not into you', Liverpool have woken up to the fact that the Suarez days are over and they just have to get on with what they have.
In Markovic they have a player who might yet develop into a serious figure. The few moments he was on the pitch against Basel coincided with an upswing in intensity and attacking threat.
Against Manchester United at Old Trafford, Liverpool fashioned the greater chances and played with something like the fluency they developed last season. And though he didn't find the net, Raheem Sterling was at least in all the right places.
Last night at Bournemouth Sterling went a step further and scored goals. Playing with Sterling in an advanced position with three just behind and a defensive screen manned by Steven Gerard and Lucas appears to be the way forward.
This brings the best out of Philippe Coutinho and, it seems, Adam Lallana, too. With the willing Jordan Henderson deployed on the right Rodgers has happened across a structure the players trust.
You might say it was only Bournemouth, but this is a fixture that could easily be played in the Premier League next year if the home side hold their position at the top of the Championship.
The criticism of Rodgers for Liverpool's transfer business and his team selections was always premature, itself reflecting the difficulty supporters have in adjusting to a sudden downturn in output.
Rodgers is the same coach who shaped Liverpool into the country's most potent attacking force 12 months ago. He has played all season without Daniel Sturridge as well as Suarez, which has had a particularly detrimental effect on Sterling and Coutinho.
Rodgers was decisive in jettisoning Simon Mignolet, which is always a good sign in a manager. If Rodgers can coax his Southampton and England form out of Lallana and bring Markovic on, keep Sterling pointed in the right direction and manage Gerrard's legs then the New Year might be worth celebrating at Anfield.
Register for free to continue reading
Registration is a free and easy way to support our truly independent journalism
By registering, you will also enjoy limited access to Premium articles, exclusive newsletters, commenting, and virtual events with our leading journalists
Already have an account? sign in
Register for free to continue reading
Registration is a free and easy way to support our truly independent journalism
By registering, you will also enjoy limited access to Premium articles, exclusive newsletters, commenting, and virtual events with our leading journalists
Already have an account? sign in
Join our new commenting forum
Join thought-provoking conversations, follow other Independent readers and see their replies