Luis Suarez 'enjoyed' his handball goal, says Mansfield chairman
Mansfield chairman says Liverpool are 'embarrassed' by their striker's controversial finish and his actions brought shame on club
Ian Herbert
Tuesday 08 January 2013 02:00 Comments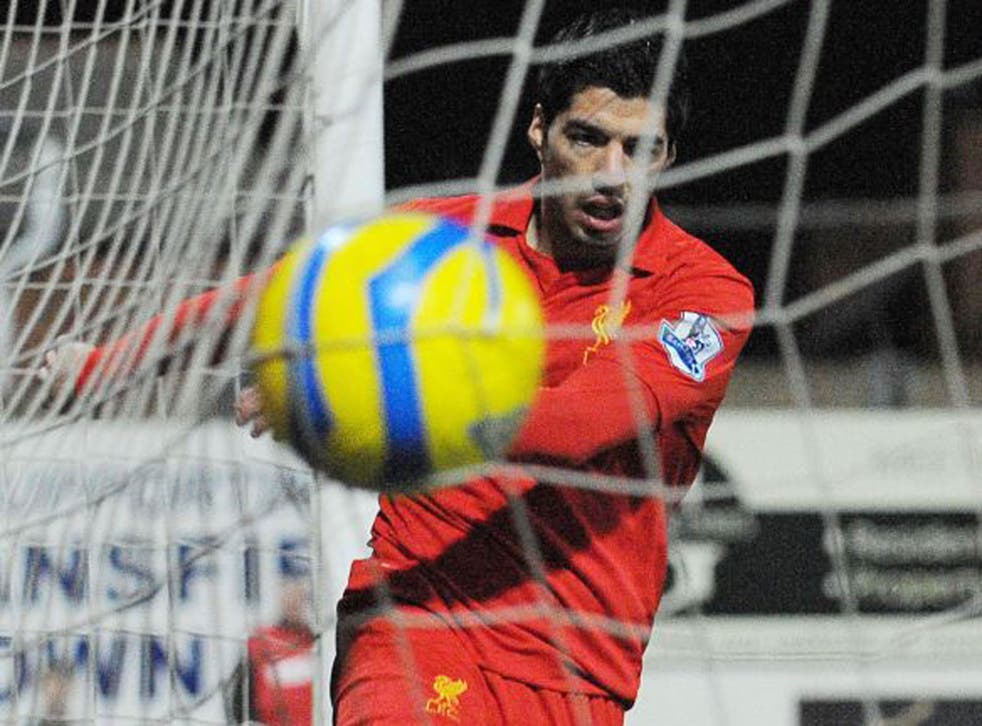 Mansfield Town's chairman has launched an extraordinary attack on Luis Suarez, declaring that Liverpool's directors were "embarrassed" by the handball goal that helped the club knock his non-league side out of the FA Cup on Sunday and claiming that the player gloated when he realised it would be allowed to stand.
John Radford's unabashed attack on the Uruguayan striker included the claim that Suarez "enjoyed" what he had done – by kissing the same wrist with which he had controlled the ball to steer in Liverpool's second goal. "It was like, 'Hang on, I can get away with this,'" Radford said. "The referees have a hard time but to do it deliberately and then celebrate is the hardest thing. To cheat, OK, but to cheat and then celebrate cheating, that is the worst thing you can do." Suarez's wrist celebration is actually a ritual he frequently uses.
There is sympathy within Anfield for manager Brendan Rodgers' view that Sunday's goal would not have created nearly as much of a stir had it been scored by any other player.
But the goal has taken the controversy around the Uruguayan to new levels, even more so after the broadcaster ESPN's decision to reprimand commentator Jon Champion for claiming Suarez had cheated. After Suarez scored the decisive goal and performed his post-goal celebration, Champion said: "That, I'm afraid, is the work of a cheat." The broadcaster has issued a public apology for Champion's comments – and by doing so added to the circus surrounding the goal.
A widespread view within football is that Champion was wrong on two counts to make his claim – because Suarez sought to withdraw his arm to prevent the ball hitting it and used his own trademark celebration in innocence having scored. But ESPN risks removing the best from its commentators, including the highly respected Champion, by publicly rebuking them for their opinions.
Even if Suarez had informed the referee Andre Marriner that he had handled, it would have made no difference because a free-kick could not have been awarded.
Yet Radford was incandescent. "They [Liverpool] have denied us a replay," he said. "I know that I'm big enough and daft enough to be able to stand up for the club and take it. [But] I'd like to take us forward. It's hurtful for the league we are in because we are playing at the likes of Luton and Grimsby and people like [Suarez] would [still do a thing like that]. I'm here for the passion, against Liverpool where it's all about business and that was a killer. It was a killer [that] a professional would do that sort of thing to a non-league team."
If Mansfield had secured a draw and taken Liverpool back to Anfield, they would have secured a £62,000 payout from ITV or ESPN, had the replay been televised. They would also have collected 45 per cent of net gate receipts. If they had actually beaten Liverpool and progressed they would have earned a further £67,500 in prize-money.
Rodgers insisted that the 25-year-old Suarez's talents should be embraced and savoured while he is plying his trade in England. "He has had seven yellow cards this year, but he hasn't warranted all seven," Rodgers said. "Yesterday was a game he was up for because it was street football for him, he enjoys that type of game. But I can only talk about his talents. I always try to educate the players, with regard to every aspect of their life. As I've said, he's very receptive, and we go forward with him."
THE HONESTY BOX
While Suarez may not have owned up, we recount some examples of sportsmen who did admit their guilt…
Miroslav Klose
In September 2012, Lazio striker Miroslav Klose scored from a corner to give his side an early lead against Napoli. After initially celebrating, the German confessed to the referee that he had knocked the ball in with his hand. The referee, who had initially given the goal, then gave a Napoli free-kick. Klose was not booked, instead receiving a handshake from the official and congratulations from Napoli players.
Robbie Fowler
In March 1997, Liverpool forward Robbie Fowler won praise for asking referee Gerald Ashby not to allow a penalty given to his side in a Premier League match against Arsenal at Highbury. Despite Fowler telling Ashby he had not been fouled by Arsenal goalkeeper David Seaman, the decision was not reversed. Fowler took the penalty and Seaman saved it, only for Jason McAteer to follow up to score.
Although Liverpool won 2-1, opposition manager Arsene Wenger said it was a "great gesture" by Fowler, who was later awarded a UEFA Fair Play award.
Paolo Di Canio
The Italian famously caught the ball after Everton goalkeeper Paul Gerrard injured himself as he rushed out of his box. As the ball was crossed Di Canio opted to catch the ball with the score at 0-0. His actions saw him awarded Fifa Fair Play award. Manager Harry Redknapp said at the time: "I don't think I've ever seen anything quite like that before. It was genuine sportsmanship; it's nice to know that it does still exist in the game. We could have done with the three points but I won't be throttling Di Canio."
Arsenal vs Sheffield United 1998
In an FA Cup fifth round tie, Sheffield United kicked the ball out of play after an injury, with an Arsenal player throwing the ball back to. Striker Nwankwo Kanu misinterpreted and squared the ball for Marc Overmars, who scored to make it 2-1. After the game Arsenal manager Arsene Wenger offered a replay, which Arsenal won 2-1.
Jan Vertonghen
Vertonghen accidentally scored when trying to kick the ball back to the opposition after an injury against Cambuur Leeuwarden in a Dutch cup game in 2006. He lobbed the goalkeeper unintentionally, but Ajax graciously allowed Cambuur to score in return.
Golf - Brian Davis
Brian Davis called a foul shot violation on himself and conceded victory in a final play off at Verizon Heritage against Jim Furyk in April 2010. In search of his first PGA tour win, Davis' wayward approach shot nestled in some weeds, and after trying to dig the ball out, he caused the ball to move. He admitted to this, and told officials to check slow motion replays for clarification.
Cricket - Adam Gilchrist
The former Australian wicket-keeper was known for his honesty at the crease, walking back to the pavilion when he was sure he had made contact with a ball caught by the opposition. Sometimes he did this contrary to the umpire's decision, for example in the 2003 World Cup semi-final against Sri Lanka. Gilchrist suffered harsh words from some teammates who wanted to 'win at all costs', but he did not change his stance.
By Sam Weaver and Richard Browne
Register for free to continue reading
Registration is a free and easy way to support our truly independent journalism
By registering, you will also enjoy limited access to Premium articles, exclusive newsletters, commenting, and virtual events with our leading journalists
Already have an account? sign in
Join our new commenting forum
Join thought-provoking conversations, follow other Independent readers and see their replies