Manchester City vs Hull City match report: Kevin De Bruyne's quality proves too much for weakened Tigers
Manchester City 4 Hull City 1: Belgium international hits two late goals in Capital One Cup quarter-final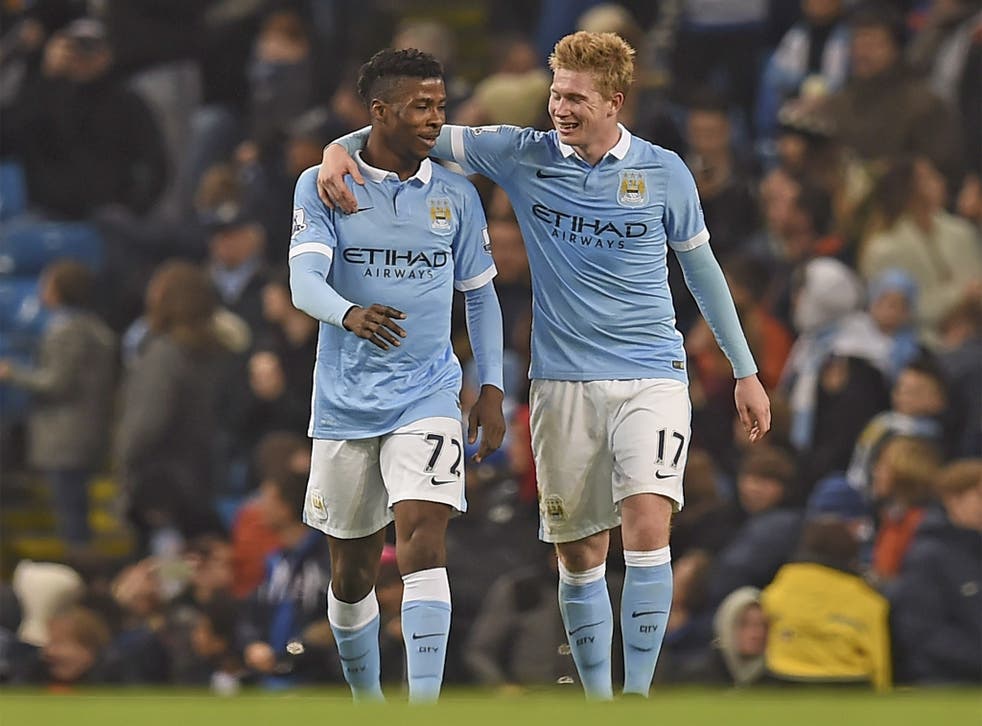 "Once it gets to this stage everyone takes it seriously," Hull's manager, Steve Bruce, had commented before this Capital One Cup quarter-final. Sadly, for those anticipating a touch of pre-Christmas romance, a football version of It's a Wonderful Life, Kevin De Bruyne took it very seriously indeed while Hull's seriousness was open to question. As an event it was as romantic as reading the telephone directory.
Hull did score but Andrew Robertson's goal, finished beautifully after a one-two with Abel Hernandez, was put away in stoppage-time when the Championship side were four down. Most of the damage had been inflicted by De Bruyne. He had made the first goal and then, with the match already won, he drove the knife deeper. First, he seized on a weak back-header and then curled a free-kick beautifully over the Hull wall for a fourth.
That Hull started with a weakened side seemed a strange tactic. Some of Manuel Pellegrini's worst moments as Manchester City's manager have been endured at home against lower-division opposition. In successive seasons, City had been knocked out of the FA Cup in their own stadium by first Wigan and then Middlesbrough.
Hull are the equal of either of these two teams but they seldom seemed confident of their own ability to cause an upset. Cup competitions are supposed to offer a sprinkling of glamour for those outside the limelight but for three clubs from the old ridings of Yorkshire – Hull, Sheffield Wednesday and Middlesbrough - this was a night that underlined the game's modern realities.
Bruce was captain of Manchester United when in 1994 questions were asked in Parliament after Alex Ferguson played a weakened side in a League Cup tie against Port Vale. According to Ferguson, one of those who complained about the lack of stars on show was the wife of the then Port Vale manager, John Rudge. Famously, that team contained unknowns by the names of David Beckham, Gary Neville, Nicky Butt and Paul Scholes, who scored twice.
Bruce would have known what the consequences would have been in terms of headlines when he made seven changes from the side that lost 2-0 at home to Derby at the weekend. The only section of the Etihad Stadium that was full was the away end, packed with 5,000 from Yorkshire, and they might have expected Hull to have had more of a go, although they chanted their manager's name throughout.
The top of the Championship may be extraordinarily tight but it is hard to imagine Hull's progress would have been seriously impeded by a League Cup semi-final.
In Bruce's defence, he had fielded a weakened side and won against Leicester in the previous round, although Claudio Ranieri had made 10 changes of his own – a very big tinker from the Tinkerman. The other point he could make was that even had Allan McGregor, rather than Eldin Jakupovic, been in the Hull goal he would not have prevented Manchester City from taking the lead.
The goal was Wilfried Bony's but the creator of it deserves the credit. Once more, it was an intervention from De Bruyne, who even with the season a third old, already looks a fair bet for the title of Footballer of the Year.
On the edge of the penalty area, he turned Alex Bruce and drove his shot hard against the foot of Jakupovic's post. Bony reacted faster than Moses Odubajo and the one scenario which this match did not need had come to pass. Manchester City, bristling with first-choice footballers, were ahead.
Hull kept City at bay for the rest of the half, although too often this game had the feel of a training exercise or a pre-season tour game. And then, gradually, as a couple of fine saves from Jakupovic denied De Bruyne's attempts to kill the match off, the stakes began to be raised.
Bruce put on some of his big players, Hernandez, Mohamed Diame and Robert Snodgrass, who was making his first appearance since August last year. Pellegrini countered with Raheem Sterling. Jakupovic made another smart save, this time from Fabian Delph.
David Silva, who had been given a standing ovation by the Etihad on his return from injury on Saturday and was making his first start since the 6-1 massacre of Newcastle in October, sent a shot whistling past the post. Bruce was becoming seriously agitated, throwing his arms around and urging his boys on. Mischievously, you began to think he actually wanted to win.
Sterling's low, hard cross and a run from Kelechi Iheanacho that saw him meet the ball ahead of two defenders and the goal De Bruyne deserved put those thoughts very soundly to sleep. City's progress to the semi-finals was as assured as it threatened to be from the moment the team sheets were handed in.
Man of the match De Bruyne.
Match rating 6/10.
Referee N Swarbrick (Lancashire).
Attendance 38,246.
Register for free to continue reading
Registration is a free and easy way to support our truly independent journalism
By registering, you will also enjoy limited access to Premium articles, exclusive newsletters, commenting, and virtual events with our leading journalists
Already have an account? sign in
Register for free to continue reading
Registration is a free and easy way to support our truly independent journalism
By registering, you will also enjoy limited access to Premium articles, exclusive newsletters, commenting, and virtual events with our leading journalists
Already have an account? sign in
Join our new commenting forum
Join thought-provoking conversations, follow other Independent readers and see their replies