Manchester United and Crystal Palace well aware of the power of the FA Cup
Pardew hoping for a bit of luck at Wembley to change losing streak while Van Gaal knows final could alter his fate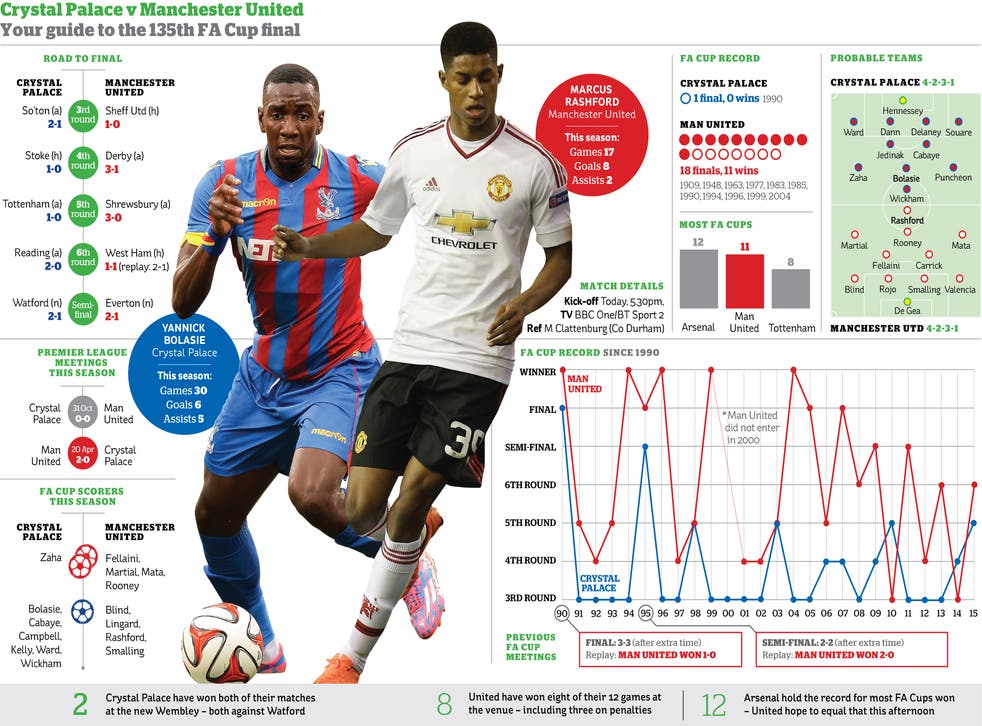 The power of the FA Cup should not be underestimated. The famous old trophy has shaped careers, ended some, started others.
Victory on Saturday for Louis Van Gaal and it could earn him another season as Manchester United manager. "Clubs like Manchester United need silverware," he said this week. Managers of Manchester United need silverware too. Lose and it looks hard for the club to persevere with the Dutchman, especially after coming up short in the Champions League chase, even though they remain tight-lipped over his future.
Of course, there is the famous old tale that the Cup saved Sir Alex Ferguson's career at United in 1990 when his side beat Saturday's opposition Crystal Palace to win it. Ferguson denies it: he claims he already had assurances his future was safe, but it certainly acted as a springboard to the years of success that followed. Arsene Wenger bought himself time with consecutive Cups in 2014 and 2015 and got the trophyless monkey off his back at Arsenal.
Alan Pardew knows the power all too well: the power the Cup has to cause pain and pleasure. The 54-year-old's earliest memories are seeing his dad get emotional when 'Abide With Me' was sung before a final and the famous, flat-out on the Wembley turf, celebration of Arsenal's Charlie George in 1971. And then, of course, he was a key member of that 1990 Palace team, scored the winner in the 4-3 thriller against Liverpool in the semi-final and was seven minutes from glory against United before Mark Hughes scored to take it to a replay. Ten years ago, he was even closer to collecting the Cup when his West Ham side led Liverpool 3-2 in injury time. Steven Gerrard struck and Pardew felt the pain again as his team lost on penalties.
Surely it owes him one? "You do need a little bit of luck," he said this week at a packed pre-FA Cup final press conference. "You need great players, you need to set your team up right, you need to make the right calls – but you do need a little bit of luck. Hopefully it will shine on me in this one.
"All I can do is prepare my team to the best of my ability. I always said to Sir Alex Ferguson he had a secret ingredient - and it was luck."
So what can he learn from 1990 and 2006 that could help on Saturday? "It's a different era," he said. "Even 2006. In 10 years the Premier League has moved on - and you need to have a different approach to a final. The training methods, the distances that we run, there's much more information for me, much more information tactically, than I ever had in 2006. So, of course, I've had to adjust to that new era."
To that end Pardew has taken a different approach to 2006 with the players, encouraging them to speak out, share their feelings so that he can tailor what he says to them accordingly. "We had a good meeting before lunch this week," he said. "I wanted to get a little bit more feedback from the players: their fears, their hopes, messages from the team. It was like: 'If he is your opponent, what would you worry about? If you were playing against Rooney? How would you get close to him, stop him dictating the game?' We talked to all the players about possible scenarios."
The most likely scenario is Palace will sit deep, let Wayne Rooney have the ball in midfield, and try and catch United on the break using the pace of Yannick Bolasie and Wilfried Zaha on the wings. United's Marcus Rashford could add the cherry on top of his super season and further enhance his Euro 2016 claims or Connor Wickham could take advantage of United's aerial deficiencies in defence. All are subplots to watch.
At least Pardew, like Van Gaal, has a virtually full squad to choose from, something neither of them has been able to boast often this season. United are without Bastian Schweinsteiger, Palace have lost Joe Ledley to a broken leg. The Eagles were flying at the start of the season before injuries bought them back to earth. But they have stayed together: fans, players, manager and chairman supportive of each other. Now, with everyone back, the mood at the training ground this week has been buoyant, the only pained expressions those of the players in their pants jumping out of the minus 135C mobile cryotherapy unit the club have been using to hone fitness.
Pardew admits that in 1990 he walked down Wembley Way thinking his side might win against Manchester United. Twenty six years on, and plenty of pain and torment later, he is more positive. "We are not going there for runners-up," he said. "As a player in 1990, I thought: 'oh, we might win'. I didn't think we would win if I'm honest. This is different. If it all goes our way, I think we can win. And this group of players think they can win, too."
It's a defining game for Van Gaal, but it means just as much to Pardew.
Register for free to continue reading
Registration is a free and easy way to support our truly independent journalism
By registering, you will also enjoy limited access to Premium articles, exclusive newsletters, commenting, and virtual events with our leading journalists
Already have an account? sign in
Register for free to continue reading
Registration is a free and easy way to support our truly independent journalism
By registering, you will also enjoy limited access to Premium articles, exclusive newsletters, commenting, and virtual events with our leading journalists
Already have an account? sign in
Join our new commenting forum
Join thought-provoking conversations, follow other Independent readers and see their replies