Manchester United vs Arsenal: What do you think of the Louis van Gaal show so far?
Louis van Gaal arrived at Manchester United hailed as the man who would restore their lustre. Michael Walker assesses a manager who has won plenty of games – but few admirers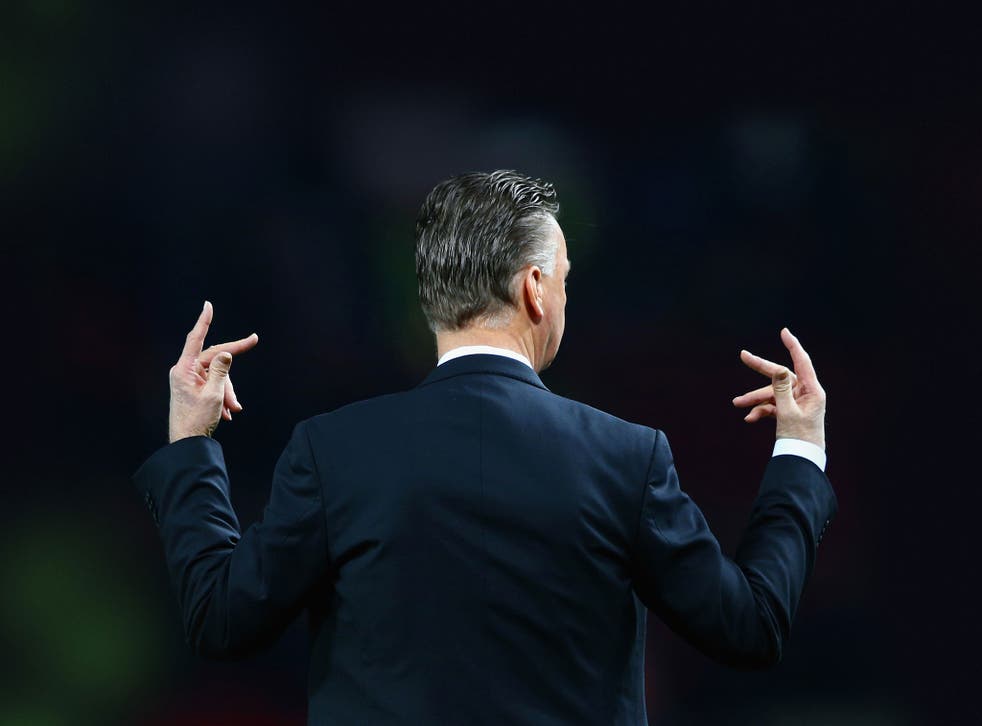 He makes you think, Louis van Gaal. It is no bad thing, of course, and one of his core principles. As Dennis Bergkamp has said: "We trained meticulously... 'Think,' Van Gaal would say. 'Consider every move you make.'"
Bergkamp was there at the very start of Van Gaal's managerial career, at Ajax in 1991. It could be said that Van Gaal's transformation of Bergkamp from a No 7 winger to a No 10 playmaker was his first flash of managerial insight and ingenuity. The idea was so novel that the Dutch media had to find a term for Bergkamp's new role. They settled on "Schaduwspits" – shadow striker.
Twenty-four years on, with four Dutch titles, two Spanish, one German, a Uefa Cup and a Champions League, third place at the World Cup last summer and a few other cups, what is most striking is that, eight months into his time at Manchester United, we don't know what to think of Van Gaal.
This man of geometric certainties is presiding over a puzzle, one that will be unveiled afresh on primetime BBC1 tomorrow night when Arsenal visit Old Trafford in the FA Cup quarter-final. It could reconfigure opinion of his season.
Manchester United summer signings - assessed

Show all 6
"Oh yeah, the jury is out – completely," said Steve Black at St James' Park on Wednesday night. Black writes for the established fanzine United We Stand. All around him travelling Reds were belting out their new retro favourite:
"Oh, what a night
Late in May in 1999
Ole scored a goal in Fergie time
What a feeling, what a night"
The mood was boisterous, and it got better when Ashley Young scored that late winner to keep United in the fourth Champions League place. But away from the songs and applause, Black speaks of musical differences and says: "If Van Gaal had followed Ferguson, the feeling would be a lot worse.
"The fact he's come post-Moyes will give Van Gaal the time to rebuild the side. [David] Moyes lost everyone along the way. He ripped the heart out of it at the start, losing backroom staff such as [Rene] Meulensteen. Van Gaal has made Ryan Giggs his assistant, bought what appear to be quality players, but we're a long way into the season and we've not had the football we've expected. Looking around now, there are quizzical faces."
United fans, who as a collective publicly backed Moyes while lamenting him privately, have chanted "attack, attack, attack" in the last two matches, a vocal display at the heart of the chief conundrum concerning Van Gaal and United: can his brand of systematic, cerebral football fit a club where for so long, as David Winner puts it, "verve was practically a tactical principle"? He is the author of Brilliant Orange: The Neurotic Genius of Dutch Football. It is a classic text in which Van Gaal features prominently, good, bad and smugly.
The great Johnny Rep is quoted on Van Gaal's celebrated young Ajax team that won the Champions League in 1995, cementing his reputation as Europe's coming coach. "I think it's a little bit boring," he says. Another former Dutch international, Jan Mulder, now an influential commentator, agrees: "There is too much cold blood in Dutch football. Much too much. Ajax won the European Cup in 1995 but it was boring, boring.
Yes! They won everything they could win, but the football of Van Gaal in those years was dull football. Dull! I like Van Gaal personally but not as a coach. He got results at Ajax but they didn't play as well as one thinks. They outplayed opponents, but it had no soul. All this passing, passing... tick tock tick tock."
This criticism of the past chimes with the present. In December Gary Neville previewed United v Liverpool as "the Dog & Duck versus the Red Lion"; last month Paul Scholes described United's football as "miserable". This week, when asked if Van Gaal was setting his sights high enough, Scholes said: "No. He looks really happy to be fourth."
He added: "I can probably forgive him for this season – he's brought new players and they need time to settle in and so does he."
It was hardly a commendation and the accusation from the past of soulless football will send a shiver through fans watching as Jonny Evans has found Chris Smalling, who has passed to Marcos Rojo – and back again – over the last two games. A lot of attention – and frustration – is focused on Van Gaal's formations but they are nigh on irrelevant when the football is so ponderous.
"Louis has always been a systems man," Winner says of the 63-year-old. "He seems less tactically rigid than he was, less orthodox – he was flexible at the World Cup.
"[Sir Alex] Ferguson's tactical system was actually very simple, the pattern was understood. United played with wingers, on the front foot and they overwhelmed teams. Verve was practically a tactical principle. You can't replicate that. Nobody can be Shankly, nobody can be Ferguson. You can't replicate these men. What you have is a more cerebral style – tactical awareness is a big, big thing for Van Gaal.
"The impression is it's not a catastrophe. He's brought a semblance of order after the car-crash of last season. He's clearly not confused the way Moyes was confused. I think he'll get there, with a couple of better defenders it will start to look stronger and more coherent."
The board might begin to wonder why Van Gaal should need more and "better" defenders given the £30m spent on Luke Shaw and £16m on Rojo last summer, just as Van Gaal might wonder why he feels the need to play Wayne Rooney in midfield given the £158m paid out for Angel Di Maria, Juan Mata, Marouane Fellaini, Ander Herrera and Daley Blind in the past 19 months.
"Rooney is maybe our best striker, but I am playing him in midfield because I have to look at which players make the biggest contribution and in what position," Van Gaal said last month after beating Burnley at home, unconvincingly.
Van Gaal has used 31 players in the league, 37 players in all, which is 15 more than Burnley, 13 more than Chelsea. His planning has been affected by injuries, but also by his inheritance: nine of the experimental team Van Gaal named at MK Dons in the League Cup in August have been sold or loaned out pending departure. United lost 4-0.
"We need an overhaul," says Black. "In the past we've had players coming through. Those fans who watch the Under-18s and down can't see the exciting talents of the past."
Amid such flux it has been difficult to locate the full breadth of Van Gaalogy at Old Trafford. The employing of Fellaini as a dartboard on which to land passes surely cannot be the United version of what Van Gaal did with Bergkamp at Ajax or Bastian Schweinsteiger at Bayern Munich. As Black points out, the Fellaini tactic is not quite "Gordon McQueen going up front in the Cup final in 1979 [against Arsenal] – we liked that."
As recently as last July, Van Gaal was stimulating his compatriots with that Tim Krul substitution in Brazil. "He built up so much credit at the World Cup," Winner says, "[in Holland] nobody is seeing United as a kind of crisis. After the history of penalty trauma – the Dutch lost in '92, '96, '98 and 2000 on penalties, when they should have won at least one of those tournaments – what he did with Tim Krul against Costa Rica was brilliant. He'd been thinking about that. That's a daring solution. The attention to detail is real. Van Gaal is one of the great modern coaches."
At Old Trafford, they await some daring. A part of the overall issue is Van Gaal's stilted English. His press conferences in a darkened bunker of a room at the training ground are brief and do him few favours.
Last Thursday's was a tense game of question and answer relating to Giggs and spitting. There was little nuance, no depth, no chance to get into a conversation about his and Arsène Wenger's influence over a creator like Bergkamp.
Bergkamp, who fell out with Van Gaal, has said: "Louis has always wanted football. Ajax football. He would never admit it but the football he wants is like the football Cruyff wants, and Wenger."
"I'm always a fact man," Van Gaal declared. "Facts are what count, not what you are saying or what I am saying. The facts count."
A fact is that United are fourth in the League and in the last eight of the FA Cup. Another is that there are harder games and possibly harder times ahead. Another is that we don't know what to think about Van Gaal at Manchester United.
Join our new commenting forum
Join thought-provoking conversations, follow other Independent readers and see their replies