Ten-man Millwall land late blow to put Leicester out of their misery
Millwall 1 Leicester 0: Despite losing a man in the second half, the home side went on to claim another scalp in the FA Cup thanks to Shaun Cummings' late goal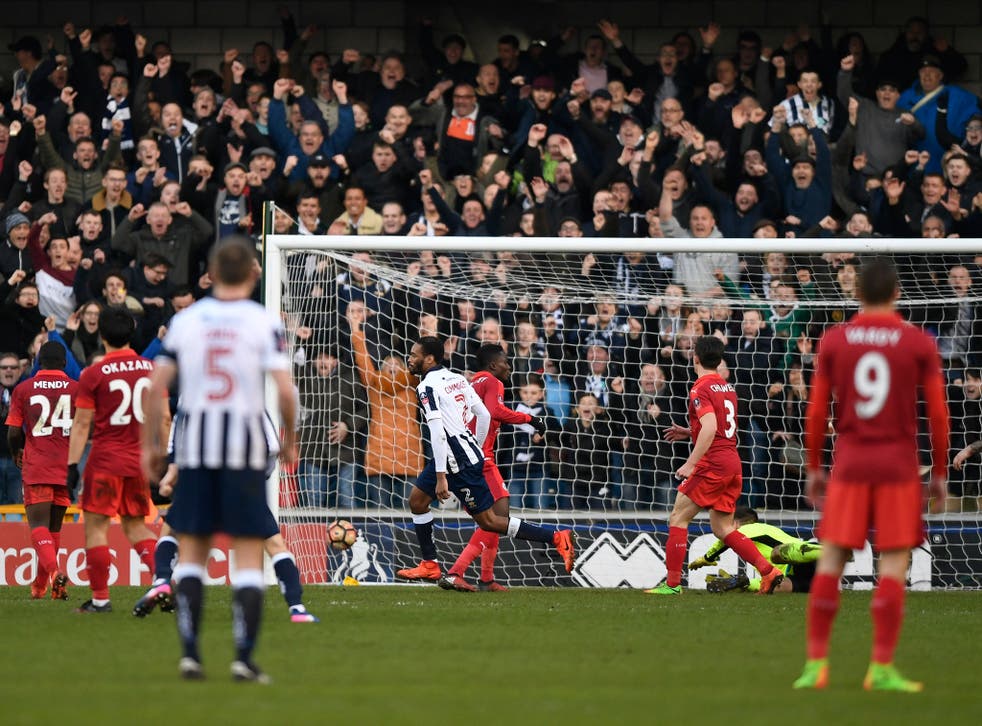 They may be champions on paper but there is little to champion about Leicester City right now. They are Foxes devoid of cunning, a team of strangers picked by a manager whose name is engraved in folklore but falling from grace.
"None shall sleep" sang Andrea Bocelli at City's title parade last May. Those at the club not being kept awake all night by the fear of relegation will have worryingly little slumber this week as they head to Seville for Champions League duty. It's not only a sobering time to be Leicester, it's a tiring one too.
Which is why defeat today at The Den, courtesy of Shaun Cummings' late goal, felt like blessed relief for the Foxes and their manager.
Claudio Ranieri claimed in the build-up that his side were underdogs against the in-form Millwall but even the most basic of psychological warfare fell flat. The Italian, looking more defeated and weary with every game instead had to reach for his most potent weapons to try and win this one, bringing on Jamie Vardy with just under 20 minutes to go but failing to find a breakthrough.
In the FA Cup they often talk of great levellers; an unplayable bog or sloping field, artificial pitches or a raucous atmosphere.
But it is football itself that levels, more specifically the league pyramid that allows us to wonder whether a team struggling in the Premier League and low on confidence are any better than an emboldened side playing well a couple of divisions below.
The answer today: not much.
Take one look at these two teams and they are notionally competing in different worlds. Leicester had several players in their team that cost between £10-15m and they face a trip to Seville this week for a Champions League knockout tie.
Millwall had just a handful of players who even cost a fee and host Chesterfield on Tuesday night.
Worlds apart, you might think, but as you peer at the sun-bathed Dockers Stand, its name standing proudly in contrast as Canary Wharf's skyscraping monuments to capitalism peek over its leaking roof, it is another reminder of the clash of the haves and have-nots.
And yet next season these two teams could be in the same division. This meeting suggested such a fixture wouldn't be out of place.
The first half, played out in front of a capacity crowd at the Den, was frustrating for both sides. Millwall were organized but couldn't get enough of the ball to mount even the suggestion of a threat to the opposition goal. Leicester, short on confidence and quality, had plenty of the ball but were ponderous in creating chances and relied too much on individuals to try and spark them into life.
Many teams that were put to the sword by Leicester's devastating counter-attacking football last season have found more success by sitting back and waiting for the Foxes to break them down and, even against League One opposition, you could see why this has proven successful.
Yet with no outlet – and Millwall really struggled to find one with Fred Onyedinma and Steve Morison up top – there is no respite. The crowd's energy and a good gameplan can only sustain you for so long.
In skipper Tony Craig and central defender Byron Webster, Millwall had defenders willing to throw themselves in front of everything and they needed it too. Webster prevented a near-certain goal when Ahmed Musa had hammered a left-footed shot goalwards from a tight angle mid-way through the first half.
Claudio Ranieri had made ten changes and there was an element of some strangers being thrown together and handed Leicester shirts in their play. Millwall, who were fielding a strong team of regulars, had the cohesion and understanding but not necessarily the quality.
It became, as they emerged for the second half, a question of which would come first – Leicester's players cobbling together something approaching cohesive play, or Millwall growing into proceedings and prodding at the cracks of a fragile team.
But as the milky February sun dipped behind the stands and energy levels began to droop, a sloppy challenge from Jake Cooper earned him a second yellow card and condemned Millwall to nearly 40 minutes of playing short-handed against top-flight opposition.
Not that it really spurred Leicester into action. Not at all.
Demarai Gray, so often Leicester's most impressive player in recent weeks, was once again their shining light. He played from the left in an attacking 4-4-2 but had license to roam and wasn't shy to do so.
But as the game wore on he fizzled out and that left his side with very little. Scrappy chances came and went, none bigger than Shinji Okazaki's two one-on-ones, but Jordan Archer dealt with both admirably – particularly a point-blank effort with just ten minutes remaining.
After Okazaki had spurned that chance, Leicester did try and turn up the heat. Jamie Vardy's introduction had added legs to their attack but what they still lacked was brains. Creativity.
Millwall, down to ten men, would have been forgiven for trying to shut up shop. But they didn't. The Lions could smell a wounded Fox and they kept going, Leicester repelling the advances of their attackers.
But with the clock ticking over into stoppage time and all of those attackers marked tightly, right-back Shaun Cummings galloped forwards for Millwall, stepping through the penalty area before prodding past Ron-Robert Zieler.
The Den erupted, Leicester downed. But for all of the raucous happiness in the stands, this felt like Claudio and his side being put out of their misery.
Join our new commenting forum
Join thought-provoking conversations, follow other Independent readers and see their replies