Norwich vs Chelsea: Five things we learned as Canaries hold lackluster Premier League champions
It was not one for the ages but the Championship side will be pleased to have held Conte's side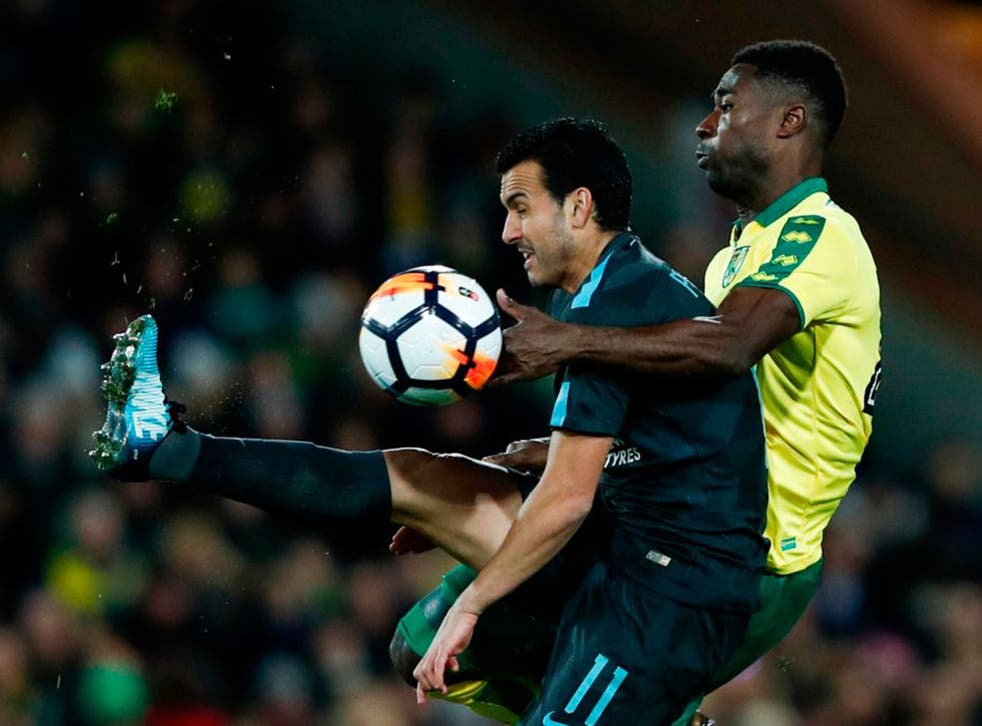 Premier League champions Chelsea were held by Championship side Norwich to a drab 0-0 draw in the FA Cup third round.
It was a game with few clear-cut chances on a brisk evening in Norfolk as the Blues - sent out with nine changes from their draw at Arsenal during the week - looked disinterested and off the pace.
Daniel Farke's Canaries were spirited but lacked the quality to cut open the Blues and they'll both have to do it all over again. Here are five things we learned from Carrow Road...
FA Cup third round

Show all 10
Chelsea's kit caught the eye
The only really interesting thing about a drab first half was Chelsea's choice of third kit; a sort of army camouflage that had been put through the wash too many times.
In a way it was apt because the Blues were fairly invisible during the first 45 minutes at Carrow Road while fans on Twitter didn't seem to enamoured with the third kit, which they didn't really need to win seeing as Norwich's famous yellow and green home kit doesn't clash at all.
"Chelsea's performance reflecting their kit - drab, dull & lacking vitality," said one fan on social media while many noted it's resemblance to Manchester City's third kit in what was literally one of the most interesting talking points on the night.
Why is Conte not taking the cup more seriously?
The Premier League title has gone. The Champions League is still on for Chelsea although they face Barcelona in the next round so surely it was a bit of a short-sighted decision to make nine changes for this FA Cup clash at Norwich.
The FA Cup and League Cup are the best chances Antonio Conte has of winning a trophy this season so one would have expected him to take is a bit more seriously, but instead he plumped for the likes of Kenedy, David Luiz and even Willy Caballero, who I had no idea had even joined Chelsea in the summer.
No wonder their display was so dis-jointed.
Batshuayi fails to take opportunity
Michy Batshuayi's future at Stamford Bridge is looking increasingly bleak with reports emerging that Conte is happy to sell him this month.
A rare start at Norwich in the cup could have been seen as one last chance from the Italian to prove his worth but Batshuayi didn't take it.
He looked lackluster and off the pace, although admittedly so did most of his team-mates. He was replaced by Alvaro Morata with 15 minutes to go on what will in all likeliness be his last start for the Blues.
Bakayoko does nothing to improve his reputation
Another player failing to make his mark at Chelsea is Tiémoué Bakayoko who is widely regarded as a bit of a flop following his £40m move from Monaco in the summer.
He too was afforded a chance to prove himself to Conte but, like Batsuayi, was a passenger for much of the game.
Much of that will have been down to Norwich's resiliance and organistion but still, against a team that had been a shambles until recent weeks, it was a chance for the Frenchman to prove he was worth his hefty price tag and he didn't take it.
Farke turning it around at Norwich
Until recently Farke was facing a player revolt at Norwich over his tough training regime while on the pitch they struggled for a win. Indeed they failed to get a victory at all in November but in recent weeks things have been looking up.
Three wins over the festive period have lifted the doom and gloom at Carrow Road and the team to 13th in the table and against Chelsea there were clear signs of that improvement.
They were organised and gutsy against their more illustrious opponents and could have nabbed it with Josh Murphy having a hat-trick of chances to win it.
Register for free to continue reading
Registration is a free and easy way to support our truly independent journalism
By registering, you will also enjoy limited access to Premium articles, exclusive newsletters, commenting, and virtual events with our leading journalists
Already have an account? sign in
Register for free to continue reading
Registration is a free and easy way to support our truly independent journalism
By registering, you will also enjoy limited access to Premium articles, exclusive newsletters, commenting, and virtual events with our leading journalists
Already have an account? sign in
Join our new commenting forum
Join thought-provoking conversations, follow other Independent readers and see their replies