Reina: Chelsea egos to blame for Torres trouble
Liverpool keeper criticises opposition for handling of striker ahead of today's FA Cup final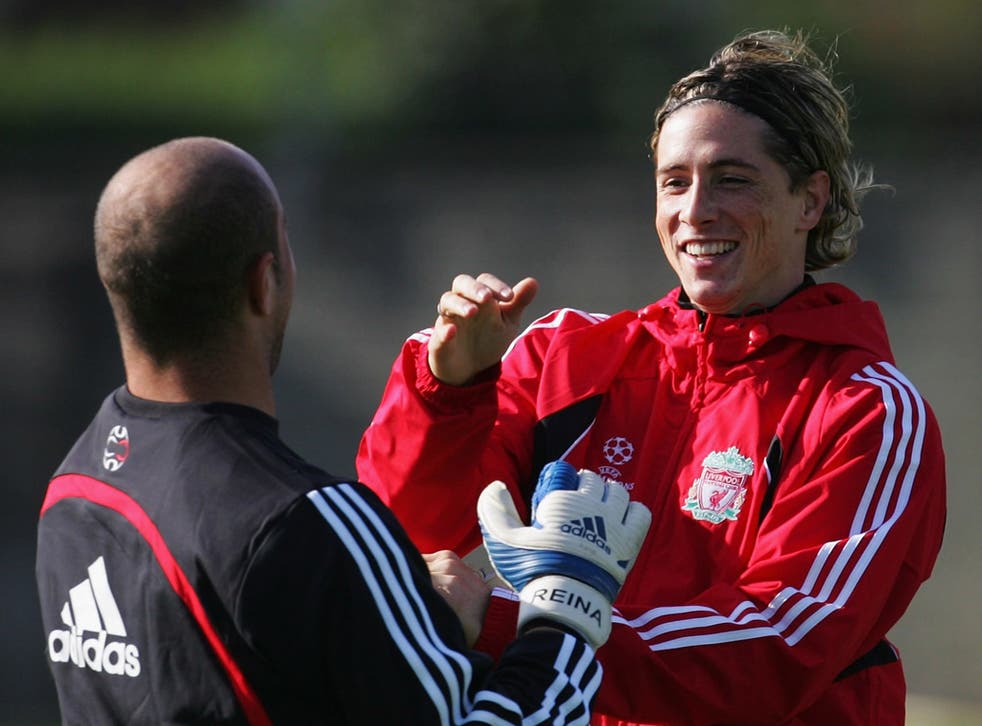 The Liverpool goalkeeper, Pepe Reina, has said on the eve of today's FA Cup final that Chelsea are to blame for Fernando Torres' struggle to deliver at Stamford Bridge, having failed to dispense with other players' egos and build a team around him. Neither had Chelsea built up his confidence when he needed them to.
Reina said he believed the 28-year-old may have regretted leaving Liverpool, where he was given a chance to flourish as a star player in a way which could not be accommodated at Chelsea. "The pressure was there [after his £50m transfer] but I don't think it was only down to Fernando. I don't think Chelsea as a club delivered for him," Reina said. "We built a team for Fernando here. Along with Stevie [Gerrard], Fernando was our star player. We had no problems admitting that. He deserved that and he earned that credit. I'm not sure it's like that at Chelsea."
Having Torres as the hub of the side was "the situation when [he] was performing at his best," Reina added. "I'm not saying Chelsea have to do that because Fernando can perform for any club in the world, but it is easier when you have that situation." Asked if Chelsea's players had been selfless enough for Torres to fit in among them, Reina replied: "I don't know. I'm not the person to talk about Chelsea. I have my own problems at Liverpool."
The 29-year-old was alluding to his own dip in form this season, during which Liverpool had provided a support the goalkeeper feels was missing for his compatriot – a close friend with whom he still speaks regularly. "The difference between Fernando and myself is that I have had the confidence of the people at my club all the time," he said. "I don't think that has been the case for Fernando at Chelsea. It is much easier to get over your mistakes when you know you have the confidence of your manager and your team-mates. With [Andre] Villas-Boas especially, I don't think Fernando felt that confidence."
Today is one of huge significance to Liverpool's manager, Kenny Dalglish, for whom the final is a significant part of his attempt to persuade John W Henry, the club's principal owner, that he should be kept on. Dalglish admitted for the first time that the club's league form – they are eighth and 34 points off the leaders, Manchester City – has been disappointing. When he managed the Liverpool side in an FA Cup final, in 1986, they had already won the league. Now, Dalglish knows the season will be assessed on the turn of one game. It will be widely deemed a success if Liverpool beat Chelsea to collect a second trophy, after the Carling Cup win over Cardiff City; a failure if they lose.
"We would love to have done better in the league but you can't take away from the performances in the cups," said Dalglish, who is seeking to become only the fourth manager to have won three FA Cup finals, after Bill Nicholson, Arsène Wenger and Sir Alex Ferguson. "If we get the league performances right then next season will be good."
The manager said he still felt he had a debt to pay back after leaving Liverpool in 1991, a decision he has always regretted. "I owe the football club a lot more than they owe me. I will always feel that. Because it's Liverpool FC, for the opportunities they have given me." Today gives him a chance to deliver Liverpool some more of the record book entries they secured so relentlessly in his playing days. They can set a new record of 16 major domestic cup wins in England, moving ahead of Manchester United, and become the first team ever to achieve the FA Cup and League Cup double in the same season on two occasions.
Dalglish has never lost to Chelsea in 13 meetings as Liverpool manager and his side go in search of a club record fifth consecutive win over this opposition.
Reina said he would relish the idea of Torres being back at Liverpool, where he scored 81 goals in 126 games. "I would like to play with Fernando every day of my life," he said. "Obviously, when Fernando was struggling he probably missed Liverpool. He was an icon here. I have spoken to many former players and when they left Liverpool, most of them have regretted it."
Join our new commenting forum
Join thought-provoking conversations, follow other Independent readers and see their replies