Swansea fans owe Joe Allen respect says Liverpool manager Brendan Rodgers
Carl Markham
Wednesday 31 October 2012 11:39 Comments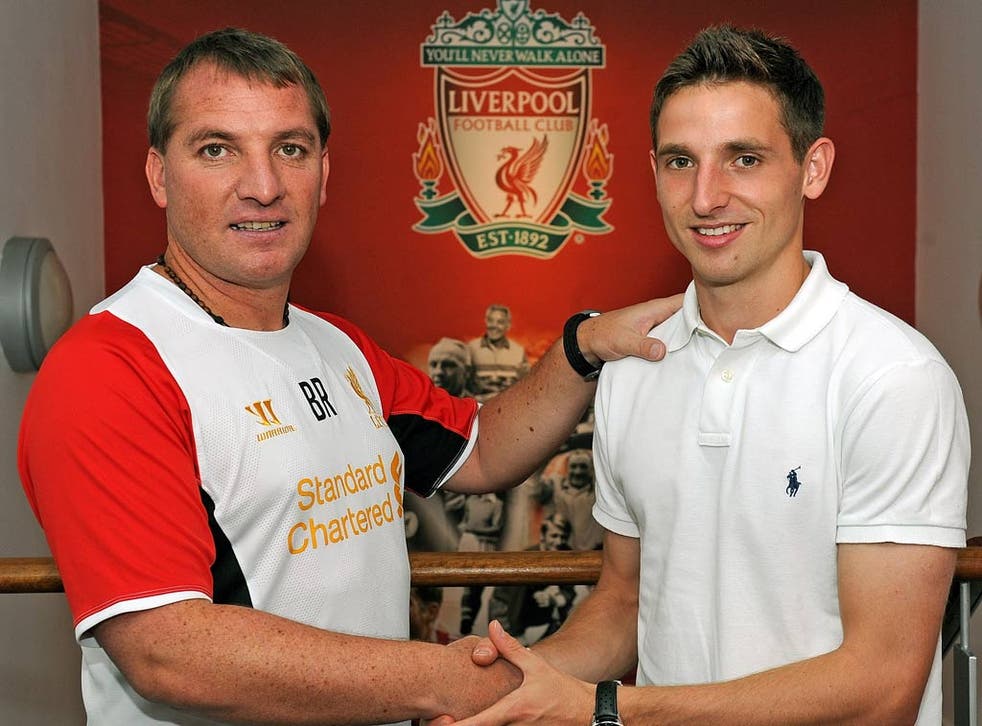 Liverpool manager Brendan Rodgers believes Swansea fans have no reason to begrudge midfielder Joe Allen his move to Anfield.
The 22-year-old followed the former Swans boss to Merseyside in the summer after the Northern Irishman replaced Kenny Dalglish in June.
Having come through the south Wales club's youth system fans felt they had lost one of their own.
However, Rodgers believed his former side, visitors to Anfield in the Capital One Cup tonight, did pretty well out of the Carmarthen-born Wales international.
"I think he'll get a very good reception," said the Reds boss of the expected visiting supporters' reaction.
"He's a kid that has come through the system there, he gave everything to the club in his time.
"He progressed into the first team, then left. Okay, the supporters are probably disappointed that he went but he has actually given them £15million plus a lot more in all his time there.
"I think the supporters will respect that. He's a wonderful talent and he was brilliant in my time there, the two years.
"I think they will react accordingly."
Allen may yet be denied the chance to face his former side as Rodgers will rotate his starting line-up after a busy 10 days.
That gives chances to the likes of Jordan Henderson, Stewart Downing - who have been restricted to bit-part roles this season - and others.
"Of course everyone wants to play in the Barclays Premier League team but Jordan's a wonderful talent and he's got a great future here," said Rodgers.
"He might not be playing as much as he has done but his appetite, application and willingness to learn and improve has really been fantastic.
"So him and the other guys that are on the outside, of course they're not happy that they're not playing but their attitude and desire to work hard has been incredible.
"We're fighting on a lot of fronts at the moment. We're making progress going up the mountain, as they say.
"We're in a competition that the club won last year. For us it's an opportunity.
"The players as a group are very tight and the spirit is very strong, and this gives us an opportunity to ensure that those players can maintain their motivation by playing in important games for us.
"We have the [League Cup] trophy here and we don't want to give it up easy."
PA
Register for free to continue reading
Registration is a free and easy way to support our truly independent journalism
By registering, you will also enjoy limited access to Premium articles, exclusive newsletters, commenting, and virtual events with our leading journalists
Already have an account? sign in
Join our new commenting forum
Join thought-provoking conversations, follow other Independent readers and see their replies