Gerard Deulofeu leads sensational comeback as Watford beat Wolves to reach FA Cup final
Watford 3-2 Wolverhampton Wanderers: The Spaniard came on as a substitute and scored two goals as Watford fought back from two goals down to reach the FA Cup final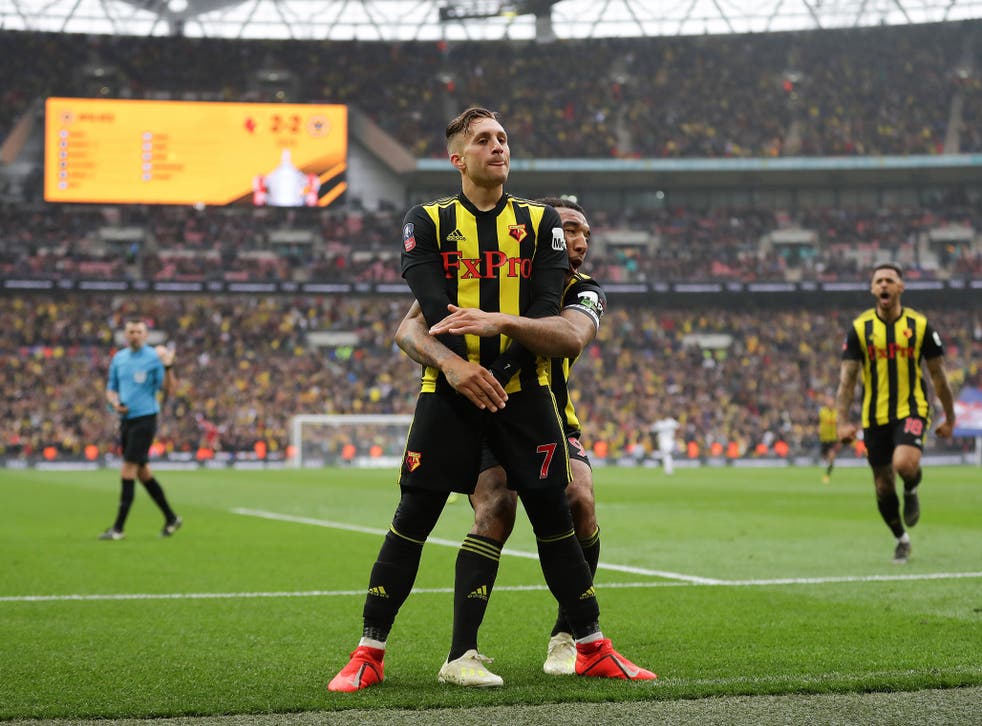 At the final whistle, just about every single player on the pitch sunk to their knees. For Wolves it was broken despair, having let slip a two-goal lead, and having been only 60 seconds from the FA Cup final. For Watford it was a kind of exhausted ecstasy, and perhaps some relief too: hammer at the wall long enough and eventually it will break.
For 78 minutes Watford had been applying concerted pressure only to find themselves outsmarted by Wolves' counter-punches; they were 2-0 down and heading out of the Cup. Yet all that pressure had taken an invisible toll on Wolves, their defensive lines gently eroded by Andre Gray's lungs and Troy Deeney's elbows, and in the final minutes they crumbled spectacularly.
Gerard Deulofeu's sublime curling finish brought Watford back into the game before Deeney's 94th-minute penalty – battered into the net with feeling – seemed to sink the final nail in Wolves' Cup run, even long before Deulofeu's extra time winner made it 3-2. Football's great invisible force, momentum, had taken a decisive hold of the game.
Nuno Espirito Santo could be seen giving a passionate teamtalk before extra time began, under the deafening noise of one rejuvenated half of Wembley, but no words could rouse his despondent players. They had already won the game once, and they could not summon the strength to do it all over again.
For so long Diogo Jota had been terrifying on the break, loitering in defensive moments like a thief before snatching the ball and skipping 60 yards upfield; in five second-half minutes his dribbles drew two yellow cards from Watford players trying to stop him. Beside him Raul Jimenez played like a deft wrecking ball, a kind of polite Diego Costa, scoring Wolves' brilliant second goal with a sharp chest and volley.
Watford vs Wolves: Player ratings

Show all 31
It followed Matt Doherty's headed finish at the far post and, at 2-0, that was that, you thought. Wolves have everything figured out. After all, this had been their MO all season: defenders soaking up pressure, midfielders cajoling opponents into safe spaces, forwards lurking for the chance to break. Bigger scalps than Watford have fallen into the trap.
But inviting pressure comes with its own risks. Wolves had been warned in the first half when Andre Gray poked over from close range and later when their captain Conor Coady was forced to throw himself in front of another Gray shot, effectively saving a goal with his nipples.
Gradually Watford's patches of pressure began to meld into something more sustained as they attacked towards their raucous support. Wolves' counter-attacks ran out of steam and the physical focal points of Deeney and Gray started to puncture holes in their defence.
Watford's way back into the game came first through the substitute Deulofeu. Stood on the left of the box, the little Spaniard seemed set to fire over a cross before teasing something much more subtle over John Ruddy's head and into the far corner. It was the first really sublime moment from Watford and it stirred their half of Wembley as their supporters tried to suck an equaliser into the goal beneath them.
In injury time it finally came: Leander Dendoncker clumsily clattered into Deeney in the box, who blasted the penalty past Ruddy and celebrated manically.
Wolves' heads slumped. Shortly before half-time in extra time, Deulofeu and Gray combined in a clinical counter to make it 3-2, reminiscent of Wolves an hour before, but by now Nuno's side were sapped. Finally, and just in time, Watford had worn them down, and it will be Javi Gracia's team who return here in May to face Manchester City with a chance to make history.
Register for free to continue reading
Registration is a free and easy way to support our truly independent journalism
By registering, you will also enjoy limited access to Premium articles, exclusive newsletters, commenting, and virtual events with our leading journalists
Already have an account? sign in
Register for free to continue reading
Registration is a free and easy way to support our truly independent journalism
By registering, you will also enjoy limited access to Premium articles, exclusive newsletters, commenting, and virtual events with our leading journalists
Already have an account? sign in
Join our new commenting forum
Join thought-provoking conversations, follow other Independent readers and see their replies