Florentino Perez's condescending rant about youth missed why the game's future really is in danger
The Real Madrid president suggested shorter matches but it is the cost of football which, if ignored, could lead to a whole generation of fans growing detached from the game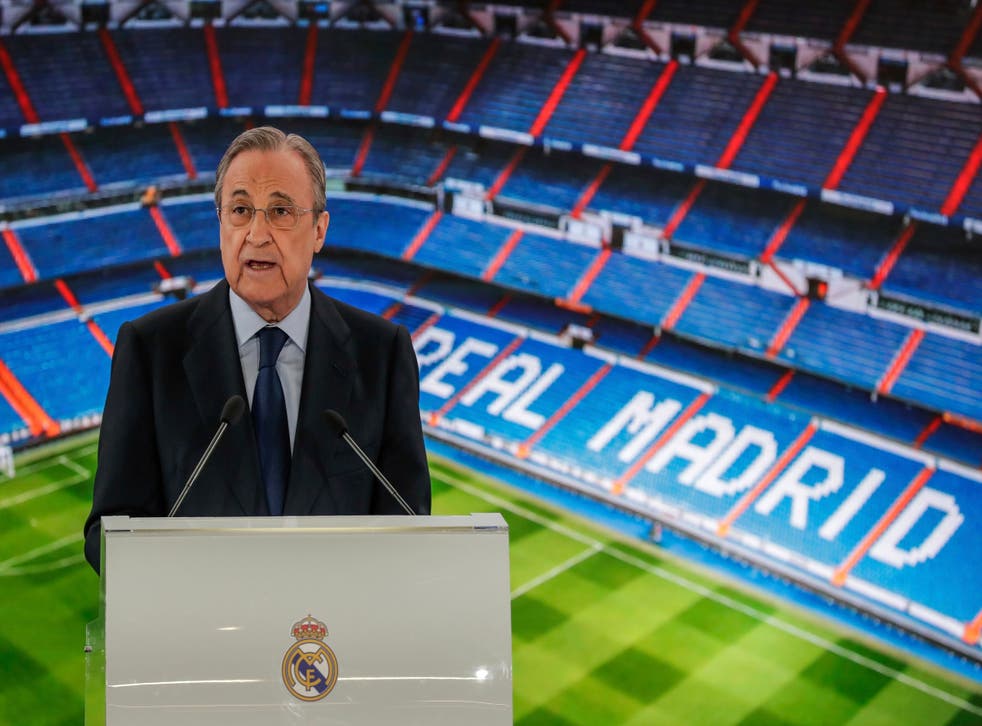 And so it came down to Florentino Perez – yes, the 74-year-old Florentino Perez – to speak up for the next generation of football fans. The demographic of supporters who, as Perez claimed, were falling out of interest in the game, who were in danger of becoming lost and disengaged from the sport. Something, he said, had to change. Without it, he pleaded, football was ruined.
It was about time someone said it. The president of Real Madrid may have interpreted some of his statistics incorrectly when arguing his case, but he had managed to stumble on to something that was not completely wrong. It was time football addressed its relationship with young people – that's the issue Perez, this unlikely protector of youth, had identified.
Perez, of course, had an ulterior motive for his sudden altruism. He was arguing on behalf of the Super League, the breakaway competition which no football fan, of any age, had asked for, the tournament that for 48 hours threatened to end football as we knew it. He claimed the Super League would save football by reinvigorating the youth audience which had grown bored with the current state of the elite level of the game.
Unsatisfied with being so disingenuous, Perez went on to make a number of staggering comments about young people. Football matches, he suggested, were too long for them, and this generation of supporters did not have the attention span to stay engaged. A full 90-minute match was too much of a commitment, especially with distractions such as Call of Duty and Fortnite lying around. The quality was too low, he went on, the match-ups often too insignificant. In the world of Marvel, it had to be the Avengers vs Thanos every week, or they might get bored.
It was unbelievable to see how far he missed the point, while also tiring to hear the same old drivel being spoken down to young people. You would have thought Perez and the Super League clubs would have done their market research before feeling emboldened enough to make such sweeping statements. Perhaps they did find that, yes, 18-24 year olds are watching less live football than they used to, but the reasoning that it's because football matches are too long or the 'big' teams don't play each other often enough was hugely condescending.
It also skirted around the real roots of the problem, issues of cost and access, that if continued to be ignored could lead to a whole generation of football fans growing detached from the game.
In 30 years the landscape of match-going football fans in the UK has completely changed. Tickets have got more expensive as the age of the average Premier League fan has risen, and there hasn't been an introduction of younger fans into stadiums to balance it out. The latest BBC price of football survey showed the average age of a match-going Premier League fan was 41, while young people aged 18-24 accounted for just four per cent of all season ticket holders. Over 80 per cent of that same age group said the cost of football was a significant barrier to them going to games.
Such obstacles exist when trying to watch football on TV, too. In the UK, Champions League football has been behind a paywall since 2015, which means there was a section of potential fans in the UK who missed out on watching Lionel Messi and Cristiano Ronaldo play at the highest level of European football during their teenage years. The same goes for those who didn't have access to iconic moments such as Liverpool's comeback against Barcelona, or Tottenham's night in Amsterdam.
When it comes to the Premier League, it took a global pandemic for top-flight football to return to free-to-air TV, and it has been exclusive content for almost 30 years. The Champions League remained accessible through the 2000s, with ITV providing football fans who grew up without expensive sports packages a glimpse at the best live football available. It played its part in hooking a generation, but the line has long been brought up.
The symbolic moment of football's united opposition against the Super League came outside Stamford Bridge on Tuesday evening, when a crowd of what appeared to be predominantly young adults protested against the proposed changes to the game. They cared, and wanted to show up to defend the sport, despite the fact that football had been doing next to nothing for them.
If anything, English football's key stakeholders – the Premier League, the FA, the Government, the TV companies – were lucky the Super League clubs rushed into this when they did, before the chasm between match-going supporters and younger fans opened up even further. If this breakaway happened 20 years down the line, would there have still been a group of younger fans willing to stand up – or would football have continued to move beyond them, alienating them from the process.
Those stakeholders now have a second chance. Following the collapse of the Super League, there has been a surge of optimism that football fans' collective voice is powerful enough to shape the game into how they want it to look. There have been increased calls to address club ownership, and for a greater redistribution of wealth among the football pyramid.
This enthusiasm needs to be extended to protecting young people's place in football as well. Work needs to be done to break down the barriers and open the game up. Youth prices do exist in Premier League grounds, but they need to go further. While getting more elite club football back on free-to-air TV should be an important goal, exposure can't just come from behind a screen, it needs to come from a lived experience and be available to more young fans.
For all that Perez was condemned for his proposals, he was right in pointing out that the future of football was in danger, that a generation could have easily been allowed to slip away without an intervention. Football has that opportunity now – a balance needs to be redressed.
Register for free to continue reading
Registration is a free and easy way to support our truly independent journalism
By registering, you will also enjoy limited access to Premium articles, exclusive newsletters, commenting, and virtual events with our leading journalists
Already have an account? sign in
Register for free to continue reading
Registration is a free and easy way to support our truly independent journalism
By registering, you will also enjoy limited access to Premium articles, exclusive newsletters, commenting, and virtual events with our leading journalists
Already have an account? sign in
Join our new commenting forum
Join thought-provoking conversations, follow other Independent readers and see their replies