Aitor Karanka has happy Middlesbrough on brink of big time after bump in the road
Just after the turn of the year it looked like Spaniard would leave club - now promotion beckons
Martin Hardy
Thursday 05 May 2016 22:58 Comments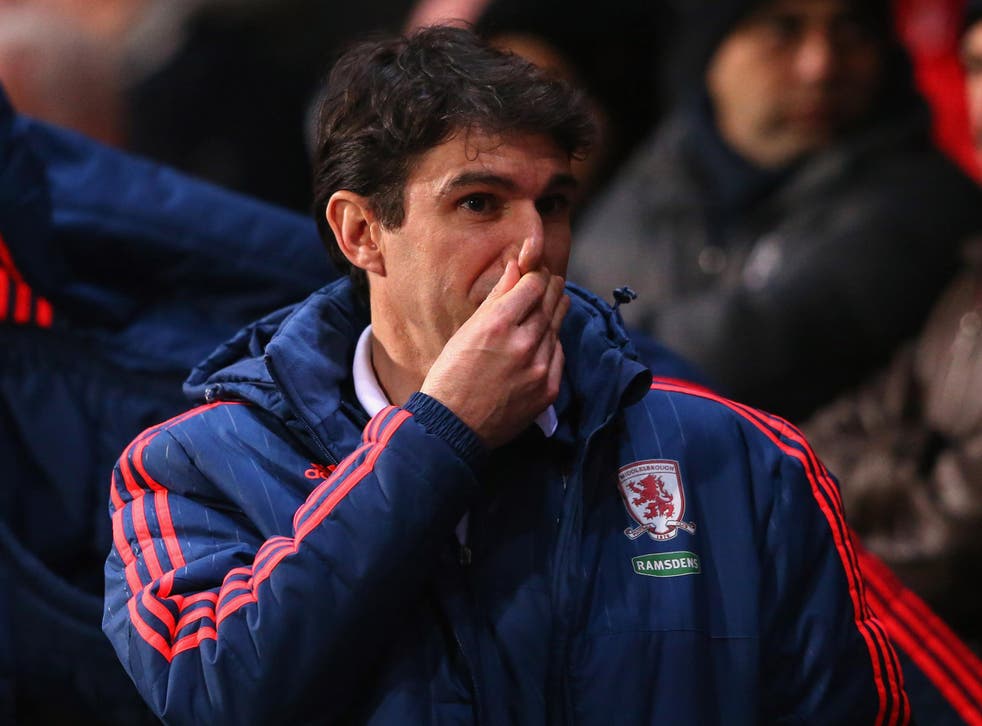 There is a commotion, and unusually high-pitched laughter from a group of young men, that immediately tells you something is up. It is the foyer area of Middlesbrough's training ground and when the half dozen or so bodies step back, a man, in club tracksuit, is wrapped up in cling film and tape and his head is somehow in a plastic bin (with air holes).
Heads pop up from behind desks like curious meerkats and all around is laughter. The group cannot quite avert their eyes from the scene, though they know there will be a fairly lively response when the man in the bin wrestles himself free. Still, they lurk at a corridor door for one last look at their efforts.
No one seems hurt - aside from a man's pride - and when the scene reaches its natural conclusion, the perpetrators are gone and everyone there goes back to the day job of ending Middlesbrough's seven-year absence from the Premier League.
It looks like a happy club - and it should be. Middlesbrough have just to avoid defeat in the final home game of the season at the Riverside Stadium on Saturday and they will be promoted. They could win the Championship with victory, and a Burnley defeat, but that, right now, is not what counts. Getting promoted is what matters. Seven years is a long time. Middlesbrough, a streamlined club, have watched attendances drop then grow, both at home and away throughout the season. It has been an admirable response to the disappointment of losing last season's play-off final against Norwich City at Wembley, said now to be the world's most expensive game.
Pick a price for this year's, later this month, but it would not be unreasonable to say that in excess of £170m will ride on it (£100m for a season in the Premier League and £70m in parachute payments).
Middlesbrough lost one of these games and recovered. It will be a feature of Aitor Karanka's words when he speaks after the bin man has freed himself. He will pay respect to Steve Gibson, the chairman whose support for his local football club remains resolute, for the support of the fans, who have travelled south in such numbers, and also to the players, who stand one point away from promotion.
It looks a harmonious football club - perhaps less so if you find yourself with a bin on your head…and yet.
On 22 April, three days after Middlesbrough drew with Burnley, Bob Mortimer, one of Teesside's most famous sons retweeted a tweet from James Brown (Leeds fans and former editor of Loaded magazine) that said: "Just heard K [Karanka] is off regardless of how they finish." Mortimer is an avid fan and was urged to throw his CV into the ring. He didn't.
If there was tomfoolery in the room at Middlesbrough's training ground, tucked away in picturesque Hurworth, there was also an elephant. Mortimer might not be managing Middlesbrough next season, but there is some who say he has as much of a chance as Karanka.
It is two and a half years since the former No 2 to Jose Mourinho at Real Madrid took over at the Riverside Stadium. Hard-working, diligent and fiercely driven, the son of the Basque region of Spain was right up Gibson's street. He kept Middlesbrough up in year one, almost got promotion in year two and has thrown in some impressive cup wins (beating Manchester United and Manchester City) along the way.
This season, there was no apparent hangover. They lost just one of their opening 12 games and all seemed well going into the New Year, but then came a wobble in January and the £10m signing of Jordan Rhodes (it is said Karanka wanted Fulham's Ross McCormack instead). In a loss at Blackburn at the start of March a player banged his boots after the defeat on the dressing room floor, so Karanka's words could not be heard. The supporters could, and they wanted two forwards played.
By the time Middlesbrough headed for an away double header at Rotherham and Charlton there was talk of serious unrest between manager and players. Following a 1-0 defeat at Rotherham, Karanka said: "I can understand 150 per cent [the booing of the fans] because they have spent their money, their time to watch a game. If I had been one of them then I think I would be the same."
By the end of the week Karanka had stormed out of a team meeting and the club's executives would not allow him into the training ground the following day. Middlesbrough lost comprehensively 2-0 at Charlton [who have since been relegated] without their manager, and from there, with a separation beckoning, Gibson called an emergency meeting.
Peace followed. Nobody knows how uneasy, but there was a spectacular upturn in form: six wins and three draws in the following nine games. Brighton is game No 10.
"I think there is pressure for everybody," said Karanka on Thursday. "A game to get promotion brings pressure for everybody who plays in it. The best way to forget about the pressure is to watch our last nine games. When you watch those games, you can be calm.
"I am still a Championship coach. If one day I am a Premier League coach, I will see how that feels - but now I am a Championship coach, two-and-a-half years after arriving here. Back then, I couldn't imagine that two-and-a-half years later, I would have this moment.
"I don't like to say what will happen if this or that, but the best way to answer those questions is to say that I have three more years on my contract. Just saying that is enough."
For now.
Register for free to continue reading
Registration is a free and easy way to support our truly independent journalism
By registering, you will also enjoy limited access to Premium articles, exclusive newsletters, commenting, and virtual events with our leading journalists
Already have an account? sign in
Join our new commenting forum
Join thought-provoking conversations, follow other Independent readers and see their replies