Plastic liberals vs conservative stick-in-the-muds: The debate around artificial pitches which isn't going away
Sutton United will have to ditch their 3G pitch if they are promoted to League Two, or face a double punishment, but rules are unlikely to change while players and clubs harbour scepticism
Lawrence Ostlere
Wednesday 28 February 2018 20:15 Comments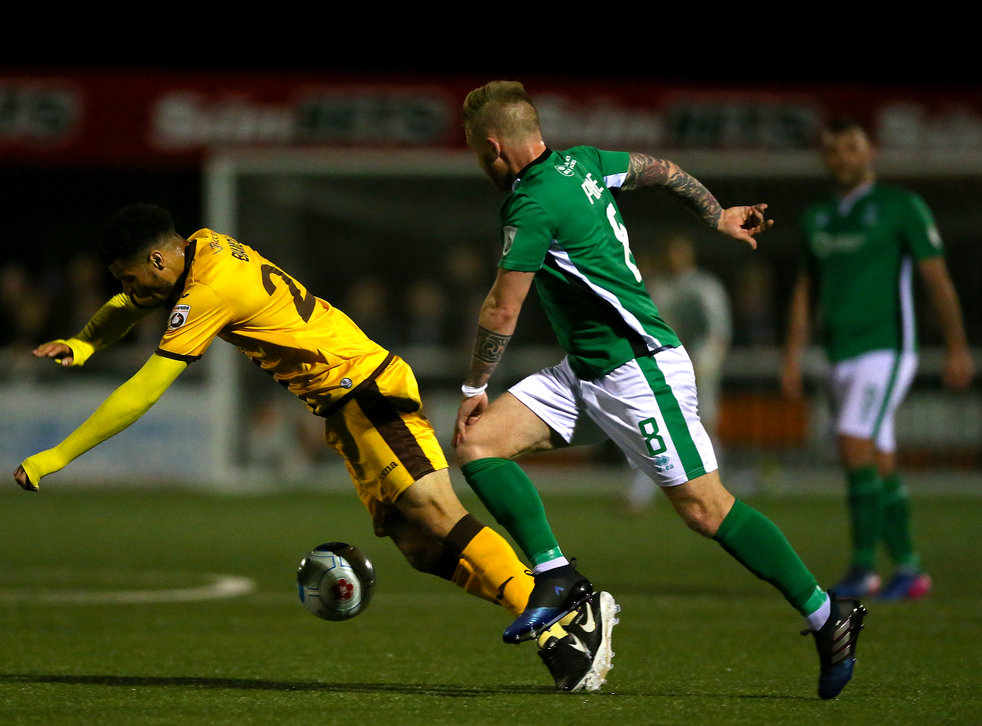 The Professional Footballers' Association quietly carried out a survey this season, speaking to more than a thousand players to find out their thoughts on a debate simmering in the lower leagues. The question: should artificial pitches be used in English football?
Before we get to the result, some context. Sutton United are currently second in the National League and closing in on a surprise promotion to League Two. They play on an artificial surface, and under current rules they would face a choice should they achieve that promotion: switch to grass and go up, or stay on 3G and be punished with relegation to National League South.
This severe penalty was introduced to deter clubs who might be intent on keeping their lucrative 3G pitch from rejecting promotion; the National League is in early talks with the English Football League over creating a third promotion place to League Two, and does not want those discussions to be soured by an end-of-season diplomatic incident.
Under increasing pressure from clubs like Sutton, artificial pitches are back on the EFL's agenda, and will be discussed in June with a view to allowing them in the 2019-20 season. There is still plenty of opposition, ranging from vehemence to indifference, but speak to people at Sutton or fellow artificial converts Maidstone United, and the benefits of 3G are obvious.
"We went one winter without being able to play a home game for seven weeks," says Sutton chairman Bruce Elliott. "Now our pitch is used by 800 players a week: first team, academy teams, ladies, disability teams. It brings a togetherness. Average attendances have increased [from around 700 to over 2,000]. It's wonderful."
Opening the pitch to the community also generates crucial income: Maidstone co-owner Oliver Ash cites an annual revenue increase of around £500,000 for a National League club investing in 3G, when taking into account the knock-on effects of community engagement leading to increased attendances. He adds that the benefits of inspiring youngsters who use the stadium are "unquantifiable".
Recently two north London giants had conflicting experiences: Tottenham played on Rochdale's Spotland pitch, relaid at a cost of £500,000 in the buildup after Mauricio Pochettino labelled the previous surface, more akin to some arable Mediterranean land than a football pitch, "a danger"; a few days earlier, Arsenal had played on the high-tech artificial surface of Ostersunds FK, which performed impressively, catering for the finely-tuned talents of Mesut Ozil and Henrikh Mkhitaryan, and the delicate limbs of Danny Welbeck.
Arsene Wenger was suitably impressed, but said it will never be seen in the English professional game. "The pitch was good but no, I don't think it works in England," he said. "I believe we have good groundsman. And I prefer grass." So agrees almost everyone at the top of the game, where pitches are carpets and money is suffixed with an M. But Rochdale would not have needed to spend the equivalent of three times their record signing to host Spurs had they played on a 3G pitch.
It has become a political football match along eerily familiar fault lines, liberal plastic luvvies against conservative sceptics. Standing in the artificial half are many smaller clubs, the Football Association (3G is allowed in the FA Cup) and a raft of grassroots organisations sick of seeing matches played out on muddy swamps, or called off. Standing on the lush grass opposite are primarily the bigger clubs of the Championship and League One – and the PFA.
The result of the PFA's survey? Ninety-Four per cent of players are against artificial pitches.
The PFA's assistant chief executive, Simon Barker, told The Independent that players have three primary concerns: increased fatigue, increased likelihood of injury (and the subsequent shortening of careers), and the more direct style of football that artificial surfaces are perceived to promote.
The science behind the health and safety stigma is fiercely debated, but mud sticks. When the politics is over, it will be the players out on the pitch and their views will count for an awful lot.
Elliott added a telling anecdote. Before Sutton hosted Arsenal in the FA Cup last year, the world's media flocked to Gander Green Lane to watch a training session and conduct pre-match interviews. At the other end of the field, while the journalists and cameramen jostled for position, a group of wide-eyed kids were enjoying a soccer schools day, on the same pitch Alexis Sanchez would grace a few days later. Several visitors told him they'd never seen anything like it before.
Both Elliott and Ash are convinced opinions will eventually change, stigmas will dissipate, rules will be overturned. They just don't know when.
Register for free to continue reading
Registration is a free and easy way to support our truly independent journalism
By registering, you will also enjoy limited access to Premium articles, exclusive newsletters, commenting, and virtual events with our leading journalists
Already have an account? sign in
Join our new commenting forum
Join thought-provoking conversations, follow other Independent readers and see their replies