Brentford's night of moments sets up what could be the best yet
Thomas Frank's side produced when it mattered most to beat Swansea and move within 90 minutes of the Premier League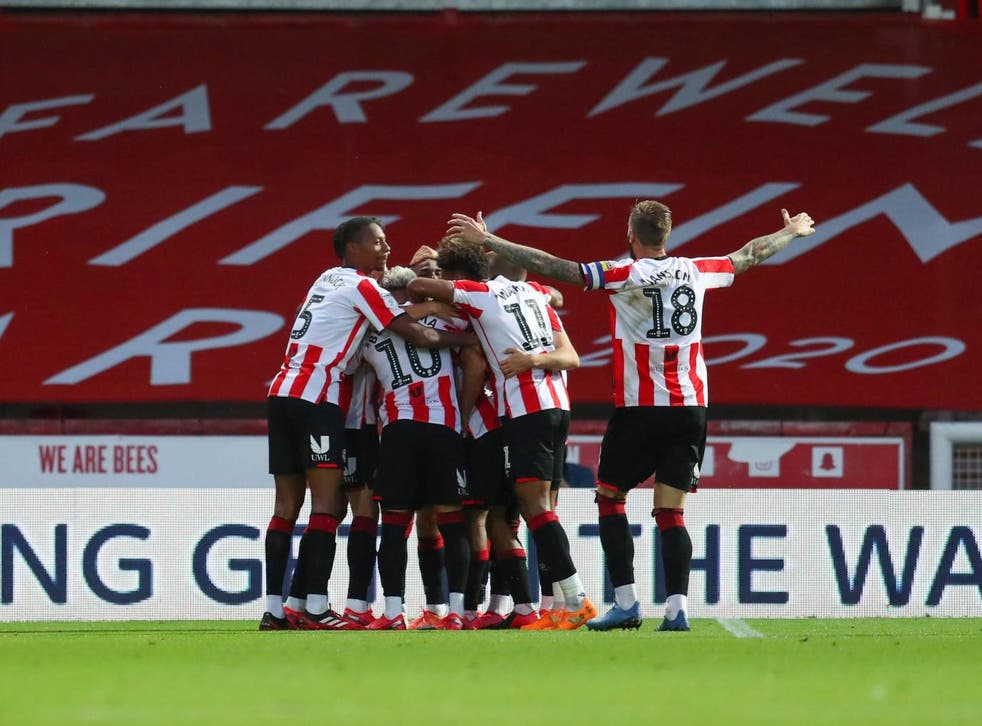 Brentford, as Thomas Frank had promised, offered their fans "that moment". The only issue was picking which one. That's how special this last night at Griffin Park was, how enriching it was as an occasion.
Most emotional was pretty much all of the players falling to their knees in joy at the final whistle, well aware this was about more than getting to the play-off final.
Most impressive was Ollie Watkins's sublime opening goal, that illustrated all that is good about Brentford's football.
Most evocative was Thomas Frank running back out on that empty pitch, turning to those allowed into the stands, and punching the air.
Most comical was owner Matthew Benham, having taken a swig of a beer before singing along to a Watkins chant, skying two penalties on that empty Griffin Park pitch.
They won't go down as the last moments in the stadium, nor will they be Benham's legacy, which has really been about the transformation of this football club into one of the most attractive in England.
That could be seen for so much of this game, but the most telling – and maybe most satisfying – moment probably came towards the end.
That was when Rhian Brewster pulled a fine goal back for Swansea City, to make it 3-2 on aggregate with 12 minutes of normal time left. Such a situation would have been tense in normal circumstances… but this?
It's almost impossible to imagine what was going through the minds of the Brentford squad. This was after all a team that had blown a big chance to go second in their second to last league game with defeat to Stoke City. This was a team that had somehow lost in the very final moments of that same league season to relegation-threatened Barnsley. This was a team going into this fateful final game at Griffin Park – with so much pressure to make the occasion special alone – having lost three in a row, and feeling like "their world was falling in".
An unmistakable murmur went around Griffin Park after that Brewster strike, the small size of the stadium only amplifying the reaction of the sizeable number here.
This was really going to be a test of bottle, for a team that had already lost theirs a few times in the last few weeks.
It would have been entirely comprehensible had Brentford caved. Many were expecting it. Frank said he was aware of the sense. The team instead rose to it.
If the preceding 78 minutes were a showcase of Brentford's football, and what the Premier League might have to look forward to, the next 20 were a showcase of the type of resolve needed to get through the play-offs. This was the type of intensity these matches bring out, the chaos.
Except Brentford had it under control.
They stood up assertively to every single Swansea attack. There was only conviction. That was present in every David Raya punch, that more than cleared the lines. It was present in every Pontus Jansson header clear, every Ethan Pinnock block.
"The players knew," Frank said afterwards. "They loved defending." That could be seen.
Brentford were at that point playing with the kind of full-blooded application that only comes in occasions of the most intense involvement, where everyone knows the outcome means so much more than victory.
There was a lot wrapped up in that for Brentford, all the history of Griffin Park, all of the effort of the current season, and so much potential for the future.
The line over the last few weeks has been that, even if Brentford don't make the Premier League, a lot of their forward line – Watkins, Said Benrahma, Bryan Mbeumo – will.
Everyone could see why this was one of the most exciting Championship attacks in recent years. On one of the occasions where they're most visible, and on the brink of the Premier League and all that entails, Brentford offered one of their most brilliant displays.
It was a display of truly distinctive football, too.
This is what is so appealing about Brentford, the midfielders like Christian Norgaard and Mathias Jensen offering raking through balls, the forwards so exhilaratingly running onto to them to express themselves.
Brentford played all of this game without doubt. That doesn't mean there isn't some for next Tuesday.
There were naturally scenes of raucous celebration after the game, and a fair question might be whether it was too much celebration; whether they put too much into this game; whether an occasion like the last game at Griffin Park may take it out of them. Something similar happened to Derby County after eliminating Leeds United last season.
At the least, from the way Frank carries himself and how he was talking after the game, Brentford have the right person to right the mood.
"It's important to celebrate – but for only one night," the manager said. "I will have a glass of red," he added, even though he'd already had a bottle of beer. "It has been one of the best seasons in our history."
They now just have to make it one of the best ever, and offer one of the great days, to go with these moments.
Register for free to continue reading
Registration is a free and easy way to support our truly independent journalism
By registering, you will also enjoy limited access to Premium articles, exclusive newsletters, commenting, and virtual events with our leading journalists
Already have an account? sign in
Register for free to continue reading
Registration is a free and easy way to support our truly independent journalism
By registering, you will also enjoy limited access to Premium articles, exclusive newsletters, commenting, and virtual events with our leading journalists
Already have an account? sign in
Join our new commenting forum
Join thought-provoking conversations, follow other Independent readers and see their replies