From brickie to big league? Charlie Austin on his journey from building sites to QPR
Charlie Austin had learnt to live with long days on cold building sites, followed by 90 minutes in football's ninth tier, but, he tells Jack Pitt-Brooke, now he's scoring goals for QPR, he's desperate to take his chance of playing in the Premier League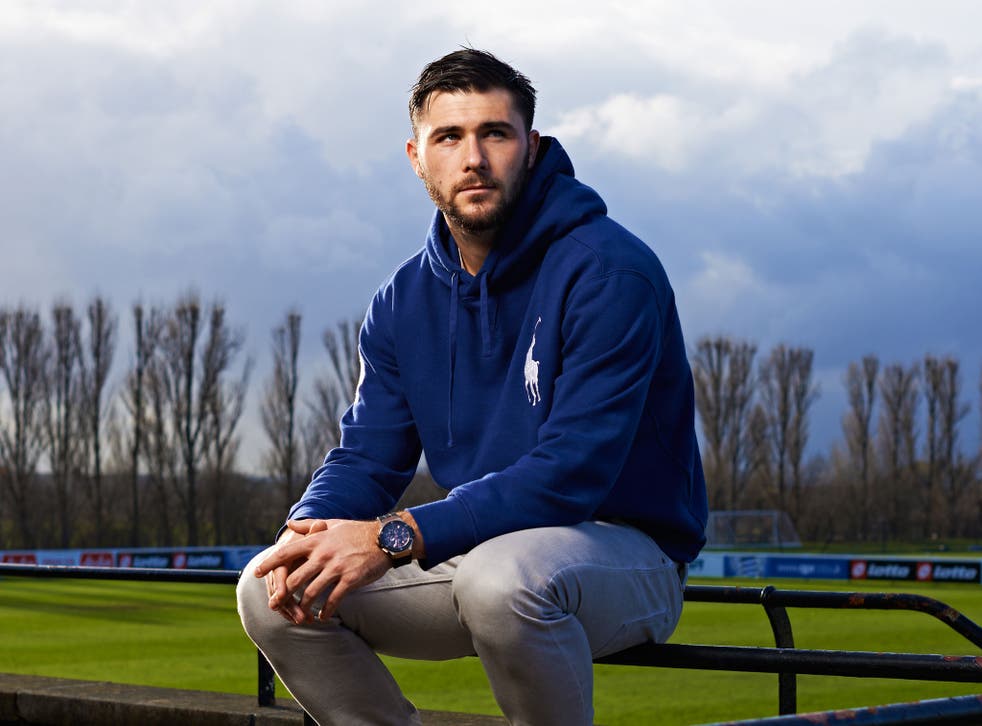 On a Wednesday afternoon in December 2008, Charlie Austin left the building site, after a hard day of bricklaying, drove to Lymington on the South Coast and boarded the ferry across to the Isle of Wight.
From there, the Poole Town players took a coach across the island to face Brading Town. Under struggling floodlights, Austin scored a hat-trick and Poole won 4-2, to stay top of the Wessex Premier Division. Then it was back on the bus, the 11.30pm ferry and then the drive back to his parents' in Bournemouth. Austin got in just before 1am, and was up at 5.30am for another day of bricklaying.
"That was the way it was back then," reflects Austin, 24, who is well aware of how far he has come. "When I think about those days, I think about what could have happened." What has happened, is one of the more remarkable stories of modern English football. Five years on from his ninth tier days, Austin is on the brink of the Premier League, his broad shoulders carrying the weight of a promotion campaign, and all that that means to Queen's Park Rangers.
In crude terms, an extra £120m, should Rangers be playing Premier League football in 2014-15. Currently in second place, they can close the gap on Leicester City if they beat Bolton Wanderers this evening.
It is a different world from where Austin was five years ago, where his football wages – roughly £100 per week – supplemented what he earned working for his father's firm, Austin Brickworks, first in Shinfield and then in Basingstoke. "I earned decent money on the yard," Austin says, but it was difficult work, from 7.30 in the morning to 4.30 in the afternoon. "It's not nice getting up at 6am, when it's pitch black and you have to get in a van with 10 other lads, to go and work in a muddy building site in the winter, and not get home until 5.30 or 6. That was the reality of it."
But Austin was settled in Bournemouth and enjoyed his life, not very different from many semi-professional sportsmen of his age. "I was happy to go to work every day, get paid on Friday, play football with my mates on a Saturday, get my football money, go out Saturday night, and watch the football on Sunday, then go to work on Monday."
His first experience with top-level football, at the Reading academy, had not been particularly happy. He joined at 10 but was released at 15 for being too small. "I'd rather have just played with my mates," he remembers.
Of course, all players look upwards, but Austin loved his time at Poole and does not give the impression that he was ever desperately keen to leave. When asked which particular ambitions he had back then, Austin laughs: "I didn't have any!" That might be self-deprecation but Austin admits the chances of being spotted at that level are fairly slim.
"I was not really worried about what ambitions I had... just to play for Poole Town. Who's going to spot me? They might as well have stuck us out there," Austin says, pointing out of the window at the pitch where QPR have just finished their morning session. "It was pretty much like playing on our first-team training pitch. Some people used to come and watch, but that was it. Who was going to come?"
News travels fast, though, and 46 goals in 46 games – winning Poole the title – was enough to alert local teams. It was Steve Cuss, from AFC Bournemouth, who first tried to sign Austin, only to be stopped by his team's transfer embargo. "It didn't go through and I went back to work thinking, 'It's not going to happen.' Luckily enough, Danny Wilson [then Swindon Town manager] came calling and the rest is history."
Austin left Poole, and non-league football, with very happy memories. He is still in close touch with manager Tom Killick and still goes to games. Those at Poole speak very warmly of him, especially when it comes to donations for fund-raisers. Poole have a material, as well as an emotional, interest in Austin: a group of fans bet £150 at 50-1 that he would one day score for England, lining up a £7,500 windfall should it happen.
"Luckily enough, it all panned out," Austin says, which is a modest way of describing 13 goals in his first 15 starts in professional football. From playing in front of crowds of 200 for Poole – nearer 700 for a derby against Wimborne Town – Austin was suddenly in front of gates pushing 10,000. His 20 league goals helped Swindon into the play-offs and into the final, against Millwall, in front of 73,000 at Wembley. Millwall were 1-0 up but Austin had a chance to equalise with 18 minutes left. He was through on goal, but the ball bobbled off the grass and he shot wide.
Undeterred, Austin continued to score – with 17 in 26 in the first half of the next season – before leaving Swindon for Championship side Burnley, a move which he freely admits he could have handled better, having demanded a transfer. "It was [done] in the wrong way, that may have been immaturity." But Austin lives to score goals and continued to do so in the north and in the Championship, a change of scene which demanded that he grow up. "It made me a better person." The second tier proved just as vulnerable to Austin's goal-plundering as the third, the ninth and the 10th. He scored 17 in his first full season, 28 in the next and he was being talked of as a Premier League striker.
Hull City tried to sign him, but the move fell through and so Harry Redknapp pounced. This is a QPR team full of players with different backgrounds. When Austin was starting out at Kintbury Rangers, Niko Kranjcar was playing at the World Cup.
But Austin has found himself, once again, carrying the goal-scoring weight of the side. He has become the indispensable man at Loftus Road, top-scoring with 13 in the league. Matt Phillips is next with three. Rangers' last two home wins – against Doncaster Rovers and Huddersfield Town – are owed to late Austin winners. In the last away win, 3-1 at Ipswich Town, he did not score and does not mind admitting frustration.
"I'm a centre-forward I want to score as many times as I can," Austin explains with a smile, "every time I go across that white line I want to score. We scored three goals against Ipswich, all right we won 3-1, but I didn't score and I wanted to. I want to score as many goals as I can and get us promoted."
Other strikers have climbed from the lower leagues to the top-flight recently – Grant Holt started at Workington and Barrow, Rickie Lambert at Blackpool and Macclesfield in the old Third Division. Austin is younger and sharper than them, and has travelled further, faster. "What they've done is brilliant, so why can't I? That's my determination. Hopefully, in May, my dream will come true."
Join our new commenting forum
Join thought-provoking conversations, follow other Independent readers and see their replies