Callum McManaman: 'I thought I'd just carry on going up after the FA Cup, but it didn't work out that way'
Six years after his man-of-the-match performance in Wigan's famous FA Cup final win, the winger has joined Luton Town determined to finally shake off his super-sub tag and reboot his career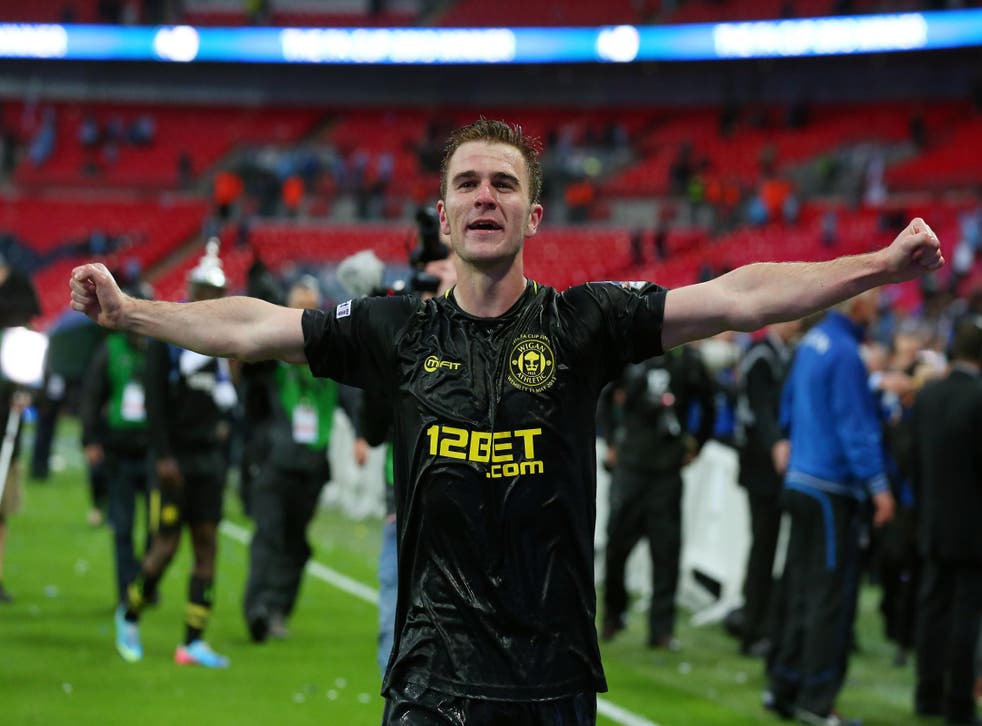 Callum McManaman is lost for words. Sitting in a small room overlooking Luton Town's training ground, the softly spoken Scouser has talked candidly about the journey that led him here, but one question has made him pause: when was the last time he enjoyed a season as a professional footballer?
"Pfft," the 28-year-old says, puffing out his cheeks. He stares into middle distance for a moment, chalking off the years in his mind. "It's been that long. It was probably when I was first at Wigan. You're talking about five, six years ago. I've had good spells in between, but I've not consistently enjoyed a season for a long time."
It probably doesn't help that, aged 21, McManaman set the bar outrageously high. He was instrumental in Wigan's miraculous 2013 FA Cup run, before his brilliant man-of-the-match performance in their famous Wembley win over Manchester City. There is a great video of McManaman in the changing rooms afterwards singing "Dreams can come true" by Gabrielle into a team-mate's grainy camera-phone, and even though he's grinning, you suspect he means it.
"I thought I would just carry on going up, but it didn't work out that way," he says. "It's tough. There's a lot of luck in football. Looking back I probably should have moved on that summer after the FA Cup, but I was a home lad then. I didn't want to move. I loved it at Wigan, I had a good relationship with the fans. I suppose I was in my comfort zone and I should have really pushed myself. There was a lot interest but nothing concrete because I didn't really pursue it."
McManaman stayed at Wigan for another 18 months before finally leaving, aged 24, to join West Brom. There he found it difficult adapting to a new style of football under Tony Pulis which was the polar opposite to Roberto Martinez's Wigan, and he struggled being away from home, too. "I was going back to Liverpool every day – that was stupid really, but I just couldn't wait to get home."
It took a transfer to Sunderland two summers ago to feel accustomed to living away, but when they were relegated to League One he was sold back to Wigan for a much-heralded homecoming. It never took off: manager Paul Cook had a settled team and saw McManaman as an impact substitute, so much so that 21 of his 22 Championship appearances last season came from the bench. "It was hard," he says. "I knew whatever I did, I wasn't gonna play. Ask the Wigan fans, I actually did well when I came off the bench, I changed a lot of games, but I knew that it wasn't going to change anything for the next game. I couldn't see the light at the end of the tunnel."
It was times like this when McManaman's career seemed cursed – by injury, by his environment, by his comfort zone, perhaps even by his own talents: quick and direct, energetic and fiercely competitive, he has all the traits you would want from an impact player. He has a sense of timing, of knowing when to ghost across a defender's blind spot, the sort that's a nightmare for weary full-backs in the final 20 minutes, but more often than not over the past few years that's all he's been trusted with. "It comes down to having the right manager," he says. "If you get seen as an impact sub, how do you fix it unless you start four, five, 10 games? One or two games is not gonna change anything. You need a run, which hopefully I'm gonna get here."
Luton manager Graeme Jones knew McManaman from his time as Martinez's assistant at Wigan. The pair met in the summer to discuss a move to the newly promoted Championship club, and McManaman didn't take long to be convinced. "He was naming games to me that he'd watched, and said 'this manager was playing you in the wrong position' or 'you were doing the wrong thing'. He named the actual game he watched from three or four years ago, so that was very impressive. I remembered them, but you don't expect anyone else to."
Jones told McManaman he was tracking back too much and wanted to play him as an out-an-out wide forward. McManaman is still working his way to full fitness and a small muscle injury has disrupted his start, but just playing in the opening games has brought back a little joy, and he wants more. "If I can play a lot of the games that would be massive for me, just to show everyone that I can and I'm not an impact sub. I'm more than that. I need to prove that again, like I did when I was younger."
The FA Cup final is little more than a fond memory now. The champagne-sized bottle of Budweiser is stowed at his parents' house, along with his medal and the man-of-the-match award his girlfriend got framed for his birthday last year. Back when he was singing Gabrielle, Luton couldn't have seemed a more unlikely destination: they were at a 90-year nadir, entrenched in the Conference. The crumbling Kenilworth Road could kindly be described as an authentic throwback, but the club is looking to the future with a shiny new town-centre stadium in the pipeline, and McManaman is convinced there is everything he needs here to reboot his career.
The target for Luton this season is simply to survive, and McManaman says that's all he's focused on. But does he still harbour loftier ambitions, to return to the Premier League, or to Wembley? "My girlfriend asked me this not long ago and I suppose I probably should do. But I've not enjoyed it for that long, I just want to get back to enjoying it again. Then maybe once I start enjoying it again, that might come."
Join our new commenting forum
Join thought-provoking conversations, follow other Independent readers and see their replies