As it happened
ended
1464460564
Championship play-off final live: Hull promoted after Mohamed Diame goal sees off Sheffield Wednesday
Follow live updates from Wembley Stadium where Hull and Sheffield Wednesday face-off in a bid to gain promotion to the Premier League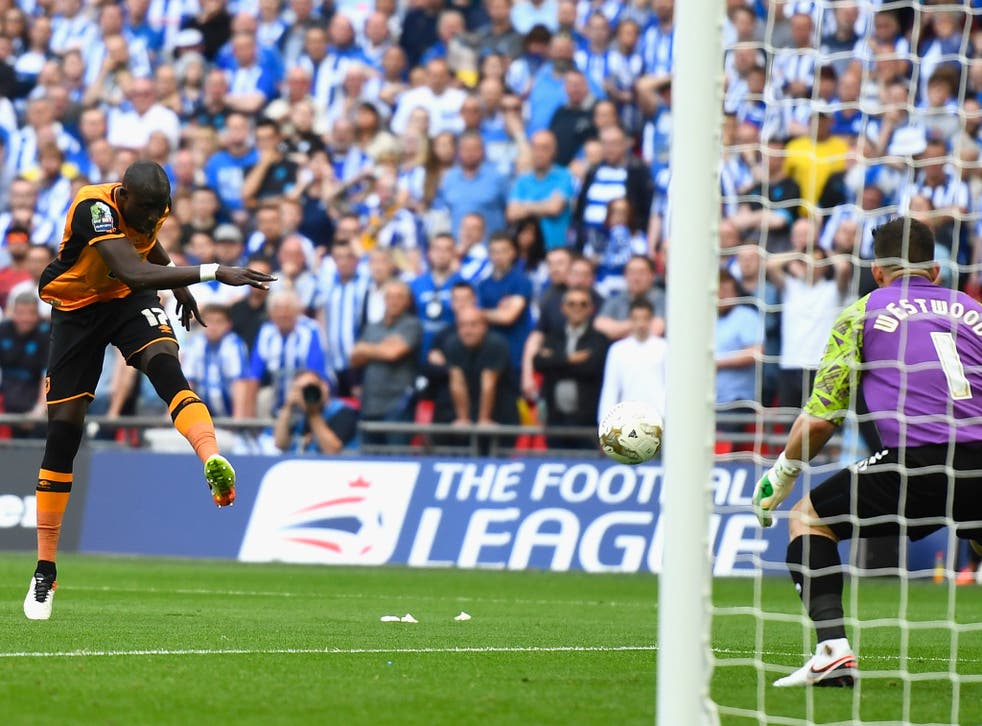 Hull City beat Sheffield Wednesday 2-1 in the Championship play-off final to win the richest game in football, given the £200m Hull will receive through promotion to the Premier League, after a goal from Mohamed Diame settled the match midway through the second half.
Follow the latest here...
Hull return to the Premier League at the first time of asking
Sheffield Wednesday remain absent from the top flight since 1999-2000
Mohamed Diame's goal decides the Wembley showcase match
Hull set to eceive £165m more than they did this season through promotion
Tigers join Middlesbrough and Burnley in promotion
Follow the live action below...
Please allow a moment for the blog to load…
Previous Championship play-off final winners:
2015 – Norwich City
2014 – Queens Park Rangers
2013 – Crystal Palace
2012 – West Ham
2011 – Swansea City
2010 – Blackpool
1464451486
4 min HUL 0-0 SW Huddlestone fires in a powerful effort from outside the area following a cutback, that Westwood holds at the second attempt.
James Mariner
28 May 2016 17:04
1464451893
9 min HUL 0-0 SW Michael Dawson, who has never enjoyed the best of luck at Wembley, becomes the first man into the book after a strong challenge on Forestieri.
James Mariner
28 May 2016 17:11
1464451947
11 min HUL 0-0 SW Jakupovic punches the free-kick clear from under his own bar as Forestieri goes for goal.
James Mariner
28 May 2016 17:12
1464452154
15 min HUL 0-0 SW Diame charges through the back of Hutchinson to give away another free-kick.
James Mariner
28 May 2016 17:15
1464452213
16 min HUL 0-0 SW Wallace sends his effort to the left of Jakupovic, who punches clear.
James Mariner
28 May 2016 17:16
1464452494
This play off final brings back some amazing memories.#blackpool
James Mariner
28 May 2016 17:21
1464454931
The teams are returning to the pitch - all neutrals hoping for more of the same..
James Mariner
28 May 2016 18:02
1464455321
50 min HUL 0-0 SW What a challenge from Curtis Davies! Michael Dawson misjudges' Westwood's long kick upfield, allowing Forestieri a run on Jakupovic's goal. He is forced wide before Davies comes haring across to block.
James Mariner
28 May 2016 18:08
1464455483
53 min HUL 0-0 SW Westwood again - Dawson left all alone at the back post but unable to compose himself in time.
James Mariner
28 May 2016 18:11
1464455778
58 min HUL 0-0 SW Lovely ball across from Odubajo but Robertson, all alone in front of Westwood, can only send his effort way over the bar.
James Mariner
28 May 2016 18:16
Register for free to continue reading
Registration is a free and easy way to support our truly independent journalism
By registering, you will also enjoy limited access to Premium articles, exclusive newsletters, commenting, and virtual events with our leading journalists
Already have an account? sign in
Register for free to continue reading
Registration is a free and easy way to support our truly independent journalism
By registering, you will also enjoy limited access to Premium articles, exclusive newsletters, commenting, and virtual events with our leading journalists
Already have an account? sign in
Join our new commenting forum
Join thought-provoking conversations, follow other Independent readers and see their replies